free downloads - upcoming shows - songs in progress - the band - contact us - what's a krelkin?
DO WHAT YOU LOVE: by Wayan; 5MB, 2012. Or plain MP3
"Do what you love and the money will follow!" We sang it in clubs & cafes. Well maybe it did once but now it rings hollow...
SABOTEUR: by Wayan; jazz song based on two dreams, 2012, 7MB. Or plain MP3
I dreamed I met my inner saboteur. Then I became my saboteur. Success is immoral!
DAWN'S DREAM: by Dawn Z and Wayan; 2.3MB, 1999/4/1; or plain MP3
My friend Dawn dreamed she crawled into a dumpster to live, and at last felt at home, secure
A TOUR OF YOUR BRAIN: by Wayan, 3.4MB, May 2004, a rock-jig. Or plain MP3
A lobe-by-lobe musical tour of your brain with Buddha as your tourguide
GOD'S SONG: by Mike Marrelli, 3.4MB. Or plain MP3
God tells all! "I admit I've a split personality..."
GAIA'S SONG: by Wayan, 2.1MB, 2002, an old English ballad on robotics. Or plain MP3
Gaia appeared in a warning vision. Only she wasn't warning us, but our silver successors
PINK EARS: by Mike Marrelli, 2.2MB; or plain MP3
A sea-chanty mourning how Nic's stuffed bunny fell overboard into San Francisco Bay
COYOTE SENT ME CASH!: by Wayan, 3.1MB, a 2007 jazz-rap telling a 1982 psychic dream. Or plain MP3
A true tale proving the Trickster God really will provide. We're lilies of the field!
I WANNA BE: by Mike Marrelli, 3.25MB. Or plain MP3
Tell me--what's your secret desire? Now... can you act on it?
NEXT KRELKINS SHOW:

Currently not playing out
We're recording in
Snoring Dog Studio,
San Francisco
Info: Nic (415) 830-2808
Migrate through Fire: we furry cave-creatures loved to sing, but music lured the sabertooths. So our herd set out to...
Fight to Win: the music business takes stamina and resilience. Can you bounce back?
Memory Pie: we incarnate, acquire new memories... rampant downloading! Sue somebody!
He Talks About: and she sings about it. Can there be love between consumer and non?
Flying High: let the giraffes and little ducks guide you through the spirit plane
Engendering Dysphoria: a Renaissance ballad about contemplating a sex-change operation
The Ness Man: if, as Calvin Coolidge said, "the business of America is business", is the stillness of America stillness?
This Could Be All Right: if we all just sat in the backyard
Bonfire of the Vanities: seeing the future apocalyptically is hardly a new fad
Cyberspace Baby: it's virtually love!
Hold On, Harry!: a bluesy tale of love and underwear whose elastic is nearly gone
Joy is the Queen of Denial: a hymn to the Egyptian goddess who holds the key to bliss: deny everything!
Toothy Little Women: as shark populations drop, finding a mate gets hard. Singles bars fill up with lonely sharks...
Tidal Wave: our local ecosystem is devastated by an invading species: financially solvent people
You've got a Problem: you're really strange. And no one likes you the way you are. Don't ever change!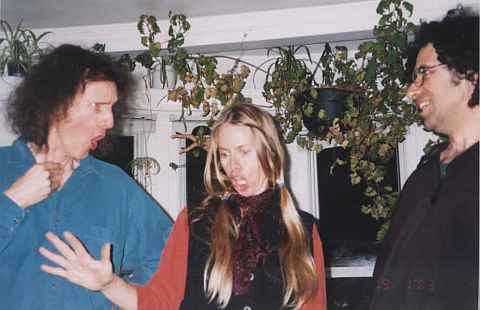 WHO ARE WE?
A San Francisco band playing originals. Many of our songs come from dreams. Most have three-part harmonies. Some have accordion. Only one has quacking.
Nic Griffin: drums, vocals, accordion, kazoo (center)
Mike Marrelli, guitars, bass and vocals (right)
Chris Wayan, keyboards and vocals (left)
Erik Gross: drums
WHAT SORT OF SONGS DO WE PLAY?
Originals.
WHAT STYLE OF MUSIC DO WE PLAY?
Each song gets the sound it needs. Rock, jazz, folk, baroque, punk, classical, salsa, rap.
Then comes the next song.

MUSICAL ROOTS
Mike Marrelli: 50's-70's pop, Beatles, John Lennon, Neil Young, Randy Newman, surfrock, the blues, the funk, The Doors, Frank Zappa, Bob Marley, Bob Dylan, Paul Simon, Leonard Cohen, Joni Mitchell, Grateful Dead, Dan Hicks, 10cc, Bob Wills, Louis Armstrong, Django Reinhardt, Beethoven
Chris Wayan: Fiona Apple, Squeeze, early Tori Amos & Kate Bush, the Beatles, REM, the Incredible String Band, Jill Sobule, Leonard Cohen, Kate & Anna McGarrigle, They Might Be Giants, Threepenny Opera, Pete Townshend, Tom Lehrer. Locals: Alison Craig, Lauren Crow, Eliza Rickman, Jellyfish, Erma Kyriakos, Andrew Page, Rabbit Quinn, Rin Tin Tiger, Bob Scott, and of course the Wally Cutthroat Duo.
Nic Griffin: Someday she will have a moment free from turning trash into couture and will answer this question.
Erik Gross: the Stranglers. Also, the Stranglers.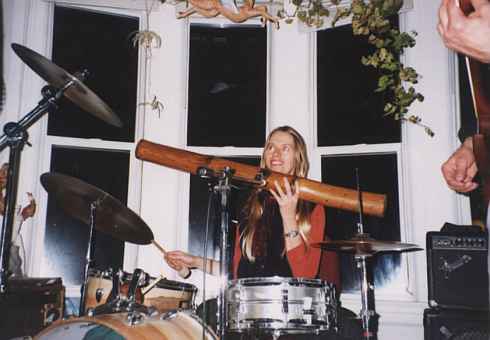 Email: thekrelkins@yahoo.com
Phone: (415) 648-4907 or (415) 830-2808
NicGriffin.com: Nic's trash fashion
WorldDreamBank.org: Chris's dream art
Nothin' But Fun: Mike & Erik's cover band
REFERENCES
Leigh Radtke, rogerleigh@comcast.net or (650) 291-1270 (show at Sanchez Art Center, Pacifica)
Joy-Lily, events@joy-lily.com or (415) 826-8248 (show at Isis Oasis, Geyserville)
WHAT'S A KRELKIN?
Krelkins are strange beings I keep meeting in my dreams--something like maned, horse-tailed herbivorous greyhounds, or hornless deer-sized unicorns... with opposable thumbs and huge brains. On rare occasions, I've dreamt I am one, a wonderful experience, since Krelkins enjoy life: amiable, sensual, humorous and highly intelligent. Like human shamans, they like to roam between realities. They're not Club Med-type tourists, either--they'll explore bizarre, backward places. They'll even come here.
Anyway, the other band members liked the strangeness of the name--we'll never get mistaken for anyone else. Since no one else can spell it.
--Chris Wayan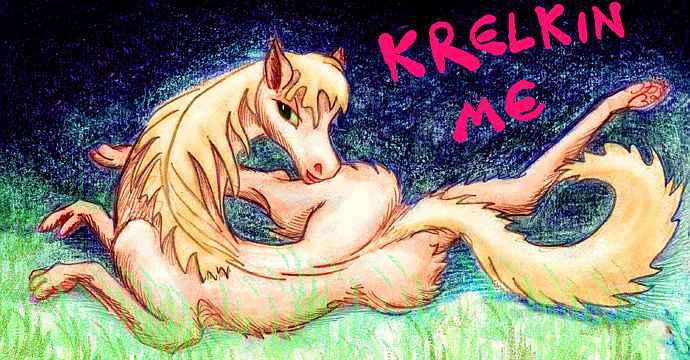 This is a guest page of the World Dream Bank, a site for dream art, dream stories, dream poetry, and dream music. It even has krelkins.