World Dream Bank home - add a dream - newest - art gallery - sampler - dreams by title, subject, author, date, places, names

Experiment with Time

Dreamed 1948 by Nancy Price

Source: Acquainted with the Night by Nancy Price (1949), selections from an experimental dream journal she kept for one year.
I was in a fine old Queen Anne house that I knew well as a child. I can see it now with its magnificent avenue of elms, the big square hall, panelled rooms, the round pigeon house and walled garden with its wealth of luscious fruit of every variety; and the birds were something I will never forget, although I never saw the house after I was eight years old.
One brother and three sisters lived in this house. He was a reserved man, tall and angular in build, I realise now how fond he must have been of children, animals and birds, though he shunned any other society. Two sisters were typical spinsters, narrow in outlook but good in essentials. The third sister was a widow, I yet see her pale face and great violet eyes, "the beautiful lady" I called her as a child, but she rarely spoke even to her little girl, a frail, frightened little thing, with whom I tried to play. I had forgotten about these people, perhaps it is more truthful to say that I thought of them not at all. Yet though I knew this house so well and it vividly returned to me in my dream, the owner was now not the man I had known, but a man I had met much later, and whom I instinctively disliked. That he should be living here caused no surprise to my dream mind. Another thing that was entirely different about the place as 1 had known it, was that the servants appeared dilatory and impertinent, and everything in the household instead of being so orderly that it made an impression upon me even as a child, was now neglected.
In the library suddenly appeared a girl I had met in real life recently. She told me she had the chance of playing Juliet with an important management, but it was necessary that she should be sixteen.
"Well, but you are sixteen," I said.
"Yes, in one way I am," she hesitated. "Or supposed to be. They are coming to see you about me, they have found out that I am really sixty-one, probably more."
"My dear child," I replied, "that is quite impossible."
"Haven't you ever noticed my eyes? Don't you see in them signs that I have lived for very many years?"
"Perhaps I have," I said doubtfully.
"Well," she continued, "I had better tell you. You see somebody has come upon an old newspaper in which I am quite sure my case was reported, I imagine that is how they know. I am actually a foundling and adopted by the people with whom I live. You see I was kept at Guy's Hospital under observation for years and years."
"Whatever do you mean?"
"Well, over sixty years ago, a curious boat was washed up on the West Coast of Scotland, everybody it in was dead save me. My history was found in strange writing in a container fastened to my body, which I believe was deciphered at the British Museum. It was decided that the people in the boat came from Algeraic, a forgotten island, where a witch doctor had injected me as a baby with a Time-concoction germ. I was in fact used for an experiment in Time. I was to live and be fed but should not actually use my bodily force or grow visibly older for very many years, though my mind, my spirit, would live and experience. During these years my spirit certainly wandered free, and I am sure I saw a multitude of things and people with uncomfortable clarity, rather as you do in a dream. I loved, suffered, hated, but no one knew this, my world was not seen by others. At the appointed time I began to develop as you know development, then I was no longer a curiosity for hospital observation and I was sent to a home for foundlings and from there adopted. I believe that the man and woman who adopted me are ignorant of this matter, they are not aware that I am older than they are. Yet all that life which I experienced is of no value to me now, it fades from my mind with only occasional flashes of remembrance. For instance, I remember that once I lived in this house, I know you as you once were but cannot remember enough to make the scraps into an intelligible whole. Now tell me, what am I to do to satisfy the management about my age in order to get this part of Juliet?"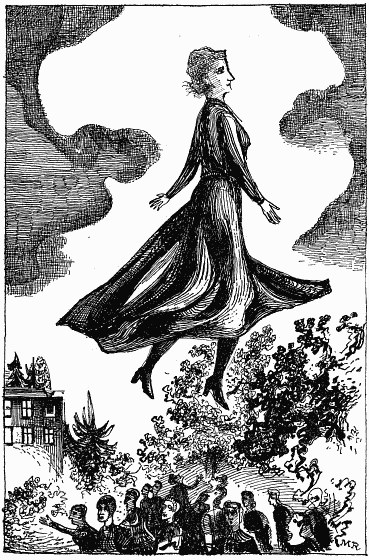 "My dear, don't you see that you are far more interesting than any ordinary girl of sixteen. You ought to be able to get anywhere and do anything you want."
"Yes, I ought, if I could only remember distinctly, but can you remember your dream world? At the moment you may be aware that you are dreaming but you may see me to-morrow and forget all about it. Time is queer, the clocks tell it, the body obeys it, but the mind and memory disregard it for in a flash you can be anywhere, at any age, meet anyone you wish and there is no death for those you will to live."
"That's memory or imagination," I said faintly. "And now I am tired, I wish I could wake. I like familiar things, I do not think I altogether enjoy these excursions into the unknown."
"We are expecting visitors," said the man I disliked, who suddenly appeared from nowhere taking the place of the girl, whom I tried vainly to follow with my eyes. "Do you hear," he said. "You must go, we do not want you, go where you belong."
"Where is that ?" I said, feeling woefully lost. "I have forgotten."
"They know, they can tell you but you will be sorry if you wait to hear."
I looked out through the window, it was raining, the clouds were heavy. I saw a long procession coming up the drive. Something terrified me about it, there was no sound of wheel, horse or engine, no sound of voices.
"Don't look at it, and don't wait, or you will have to join the procession," whispered someone unknown and unseen.
I immediately drifted through one of the open windows over the treetops. Could I keep in the air long enough to avoid that procession? Could I keep the level of the treetops? I knew instinctively that if I got higher I could never get home. I gripped the topmost branches and I woke finding myself gripping the pillow, my face wet as if with rain, and in my hand I clutched a green leaf. Maybe it had drifted in through the open window, for there was a gale blowing that night.
--Nancy Price

EDITOR'S NOTES
Experiment with Time: this title echoes JW Dunne's classic dream-book "An Experiment With Time." Dunne tested the idea dreams refer mostly to the previous day: reading his dream-journal both forwards and backwards, he found his dreams just as plausibly referred to the future, indeed were often clearly predictive, such as A Factory Fire. But here, the 61-year-old girl isn't experimenting with time; she is the experiment. Quite a clever twist that alerts a dream-literate 20th Century reader to expect a challenge to accepted dream-theories.
The house now mismanaged by a man Price dislikes: her self, her life? Yet it isn't her house, just one she visited. In drama a "house" means a theater--and Price was an actress and a theatrical manager. The dream has theatrical concerns: the 61-year-old girl wants to play Juliet.
The young-old girl who can't access much of the wisdom she's acquired, or thinks she can't:

A deep character-judgment on the girl Price had recently met?
Price herself? Her dreams in Acquainted with the Night are intense, often leading into deep water, and she dreamed vividly all her life, as in Troutbeck (1933). But she was just too busy for deep introspection.
The side of Price that lay dormant all those years when she was so busy in the world? She was herself in her sixties when she dreamt this.
Price's dreams personified? After all, the girl prompts Price "you are dreaming", and compares her own hazily recalled other lives with Price's dreams, suggesting she improve her recall and gain the benefit of her dreams as life-experience.

The girl's weird biography: this expository slab is so Shakespearean! Half his comedic characters tell of shipwrecks. So the young-old girl has the proper Shakespearean pedigree of a heroine who ends happily. Why seek a tragic role? Price quite rightly says "don't you see that you are far more interesting than any ordinary girl of sixteen. You ought to be able to get anywhere and do anything you want."
The role of Juliet: an ingenue whose love ends tragically but reconciles two warring families. Naïveté? Love? Passion? Tragedy?
The age-limit: a real theatre might want proof a young actress is over 16 to avoid child-labor-law troubles; but here they require a Juliet no older than 16! Does the dream hint that life-experience cures passion? Does even dream-experience turn tragedy comic?
The silent procession Price must join if caught: Time? Death? "You must go, we do not want you, go where you belong" sounds like the worldwide myths of Land of the Dead: visitors always find we trouble the dead as much as they trouble us.
Don't rise above the trees, grab onto a tree as an anchor: Trees consistently help out Nancy in her dreams, even talk to her. Do they mean nature here? "Don't soar beyond commonsense"?
Wet face, holding a leaf: did rain and leaf blow in the open window, causing her dream? Price doesn't jump to this conclusion; some details make paranormality harder to dismiss. She's a precise enough observer to have said "wet with tears" if her face had been salty, and to have said "my bed was soaked" if the open window had let rain fall on her bed. The leaf's green, as if fresh-picked, while most storm-blown leaves are dead--they're more easily wind-plucked.
Dreams leaving physical traces: sounds crazy to most readers, but before jumping to conclusions, remember that many sleep researchers dismissed lucidity as a myth until it was observed in the lab. Such dream-traces are rare, but have a long history; see Natalian dreams. You may not believe (some?) dreamers have real experiences in other worlds, but the dream itself argues that--the young-old girl urges Price to treat her dreams as life experience, not as symbols to be interpreted a la Freud. Even if you're sure this dream just used a couple of fortuitous props, you must admit it's far more than a mere dream of rain! Either the dreamer has been on a tour de force into another world, or her dreaming mind grabbed an opportunity to set up a clever drama from minimal props, and did so in the service of a clear message. Theatre with a point!
All in all, I'd say this dream offered Price a shamanic initiation: hints of past lives and wisdom beyond her years, fascinating stories, flying, a journey to the land of the dead, even hints of paranormality at the end. But Price declines the invite. She'd rather just have (as she wrote elsewhere) a peaceful night's sleep.

--Chris Wayan
---

LISTS AND LINKS: lucid dreams - guides - trees - flying dreams - the dead - age-bent dreams - drama and theatre - Shakespeare - mad scientists - weird medical procedures - dreamwork in general - dreams discussing dreams - dreaming personified - shamanic dreams - Natalian dreams - more Nancy Price

World Dream Bank homepage - Art gallery - New stuff - Introductory sampler, best dreams, best art - On dreamwork - Books
Indexes: Subject - Author - Date - Names - Places - Art media/styles
Titles: A - B - C - D - E - F - G - H - IJ - KL - M - NO - PQ - R - Sa-Sh - Si-Sz - T - UV - WXYZ
Email: wdreamb@yahoo.com - Catalog of art, books, CDs - Behind the Curtain: FAQs, bio, site map - Kindred sites