World Dream Bank home - add a dream - newest - art gallery - sampler - dreams by title, subject, author, date, places, names



Kakalea:
Liarote Archipelago
by Chris Wayan, 2016
for the neglected peoples of Irian, Sulawesi, Halmahera...
Kakalea basics--map--geology-- creatures-- Building Kakalea
More worlds? Planetocopia!
The continent of Ata is almost as big as our Asia. It's the biggest continent on Kakalea--probably. Kita-Homa, the north polar continent with a huge unfrozen lobe, may be as big as Ata--certainly it comes close--but it's hard to tell under all that ice.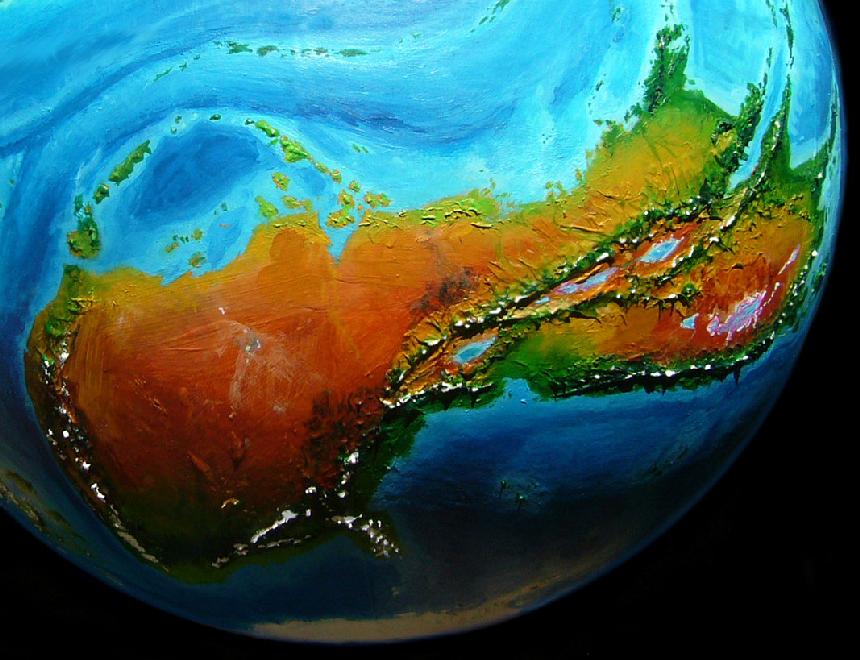 Ata's two-lobed, East and West; because each is continental in scale, I've treated them separately:
East Ata is mostly fertile, though it has one of the nastiest deserts in the world, a salt- and alkali-poisoned basin below sea level with salt lakes full of halobacteria; their pink is visible from space. But the most prominent feature in the East is a huge rift zone that comes ashore much like our East African rift--like ours, the East Atan Rift raises wide fertile highlands around it, breaking up what otherwise would be another hot dry Kakalean outback.
West Ata is bigger but less fertile overall. Atypically for Kakalean continents, most of its biomass is in the temperate zone, some of it subpolar--quite Nordic. Almost an antipodean Europe! But the bulk of West Ata is desert. No surprise there; it's true of every large continent but Bima. But West Ata, if it were a separate continent, would be the desertiest of all: over 70%.
Nearly half the population of West Ata (and half the biomass) lives not on the mainland but the Liarote Archipelago off the north shore. So although it's not continental in area, Liarote deserves its own tour.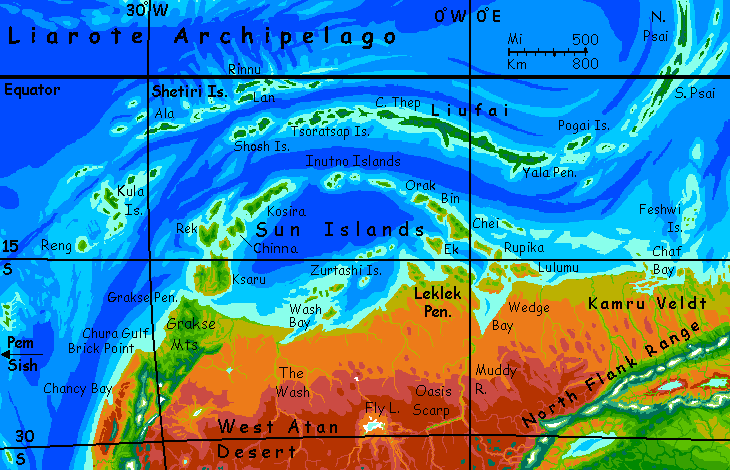 The Liarote Archipelago has three roughly parallel island arcs or chains running 6000 km from Reng in the west to the Psais in the east... and north across the equator. Much pleasanter than the mainland, and far more fertile. The southern chain, the Sun Islands, is semi-arid to Mediterranean. Close to the mainland, they're more affected by its deserts. The northern two chains, straddling the equator, are collectively called the Rainies. Are they? It's hard to compare, since the year-length is different and evaporation faster than on Earth (thin air), but I'd guess they get the equivalent of 48-60" of rain a year (125-150 cm). Not Amazonia, but it's a lot for Kakalea, enough for large and in some areas luxuriant forests.

The main Liarotes are bigger than the Antilles (Cuba, Hispaniola etc) though not quite Indonesian (or maybe they are: the biggest island, Liufai, is fully twice the size of Java).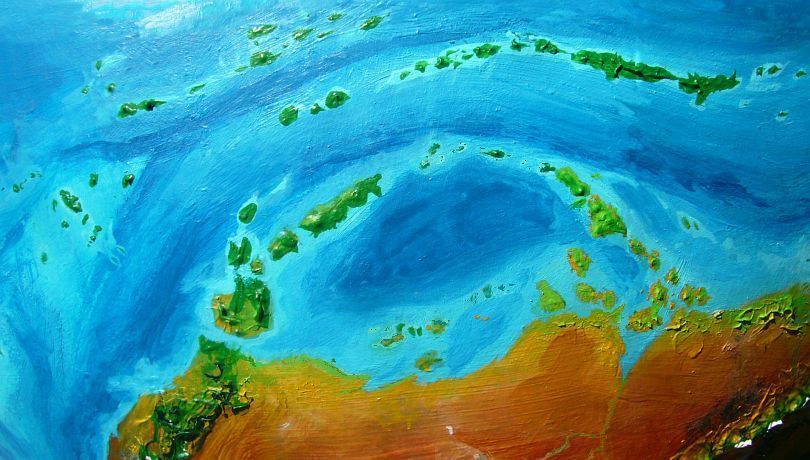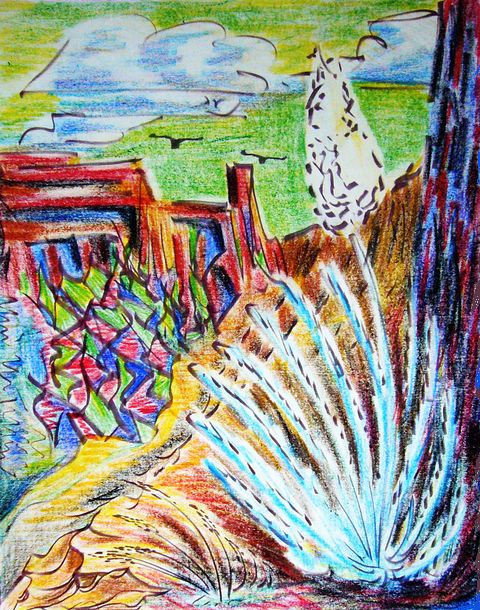 Canyon, southern Lulumu; pastel by Kimur of Washport

You start on Kamru Veldt, Ata's north-central coast, near Wedge Bay. Gold dry grass most of the year--except when it's flooding for a month in the summer monsoon. When there is a monsoon.
Only small catamarans trade along this arid coast; ports are small. It takes you a couple of days to get a spot on a cat headed out to Lulumu. As its hills rise from the sea, you can already tell it's an improvement over the mainland. Actual trees. Lulumu's spindle-shaped, 300 km long and over half as wide (180 by 100 mi). Semiarid shores, even desert in spots, but with occasional creeks from the greener central hills; rising up to a kilometer, these snag enough rain for open woods. Port towns remain small, but they're pleasant--hot but not the dusty baking heat of the mainland, with its winds off the desert.
Your cat heads west to Rupika, the two-bodied island. A little drier than Lulumu, but the central hills of each lobe do catch some rain, especially North Lobe, farther from Wedge Bay and the mainland desert. Though North Rupika is smaller, the population is as big as the South Lobe, and probably better off. Your catamaran cruises along this north shore all day, some 200 km (125 mi). She makes a good 10-12 knots, even in these light Mediterranean winds; Kakalean cats are fast. More bike-tour speed than the leisurely walking pace we associate with Earth's age of sail.
As long as we're this close, we'll flirt with the mainland for a day--it's almost worth it here. From northwest Rupika it's just a couple of hours west to the Leklek Peninsula, the most fertile stretch of this north-central coast, thanks to hills blocking the worst sandstorms in the winter dry season and catching what rain there is during the summer monsoon (weak most years, but now and then, floods!) Still, Leklek is just as fertile as Rupika. We may as well count it as an island. Ecologically, it is. If you hiked south along the shore ot Wedge Bay, within a hundred miles the hills would soon subside to dreary desert flats. Brush and thornweed. Not fun.
Trust your crew. They head west along the Peninsula's north shore. Ports are still not much--little to trade--but pleasant if not spectacular.
When the Peninsular coast bends south into Lek Bay, your crew heads offshore again--north to the Isle of Ek. Here fish-, beach-, and reef-lovers may wish to transfer to another cat and cut across the Sun Sea along the small Zurtashi Islands. Small ships do trade along this chain, though fewer than along the larger, greener Sun Chain. Since so many Kakaleans (especially here) are subsistence farmers, they tend to settle in larger numbers on the rainier islands, or the rainy sides; and the Suns arc well to the north of the Zurtashis, getting up to twice the rain--still not much, maybe 60 cm a year not 30 (24" not 12"--adjusted, as I said above, for the yearlength and evaporation rate).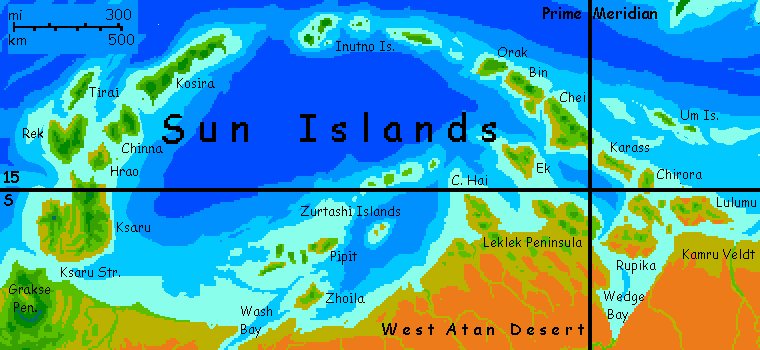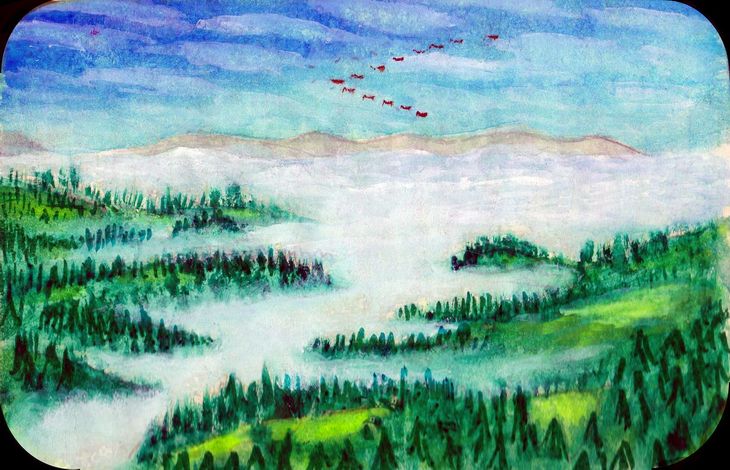 Sea of fog ebbs on Orak; gouache by Bergia of Ek
But at first, as we reach up the west shore of Chei, it seems just as dry as the mainland. But this is the arid side of this hilly island--the central hills and the northeast catch most of the rain. You can see dark pinewoods on the heights, but down here it's still mostly grass, brush and seacliffs, with trees only in the canyons.
Through Bin-Chei Strait and northwest along the seaward shore of Bin. Here you really notice the sea-change. This is the windward side. Hill slopes are a quilt of meadows and groves; tongues of forest reach down canyons from the central heights. At night, fog closes in; your cat must anchor in a cove. Until now, your crew chose to run many nights--they've been cool but dry and clear, with a couple of moons up. Not now. Fogbells ring on the bluffs, waking you deep in the night.
In morning, a leisurely start as the fog slowly thins and burns off. West along Bin's coast all morning. Around noon, a gap opens to the south: Orak Strait.
West to Orak, greener yet. Mostly woods, though patches of meadow still open up here and there. You run along this chain of small ports till midday next.
Out into deep water, along the Inutno Islands. Three days of island-hopping. Narrow and low, these islands are all wooded--of all the Suns, they're farthest from the desert and nearest the equatorial rainbelt.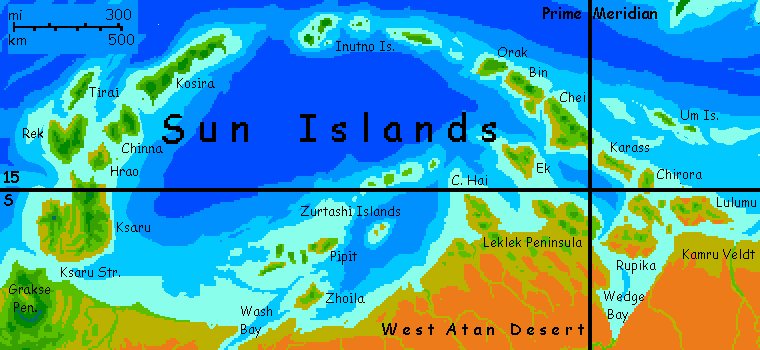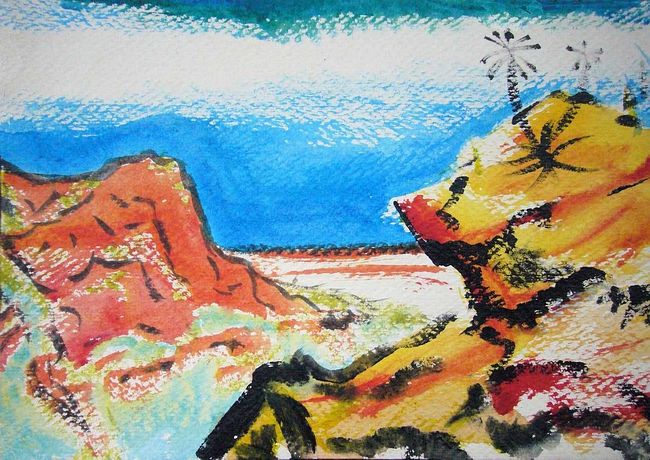 Palm canyon, Grakse Peninsula, West Ata; watercolor by Sidera of Chol

You sail west a day without land in sight: Sun Gap. At dawn, ahead, long green Kosira rises. Kosira's the greenest island in the Suns, partly due to its distance from the mainland desert but partly from its rugged topography, snagging more rain than its lower, gentler neighbors. Forests cover the central peaks and the southern shores; even the drier north has open woods.
Two-lobed Chinna, like a green-gold moth pinned to the sea.
Little Hrao, no bigger than Hawai'i (remember Kakalea's rather dry; seas are shallow so islands are many and large).
West to Rek, as big as both Chinna's lobes plus Hrao, and more fertile--farther from the desert, sheltered by the inner islands.
South to huge Ksaru, nearly as big as Ireland or Iceland. Sunny, rocky lowlands, but with fairly reliable creeks descending from the wooded East and West Hills. An island this big deserves a whole guidebook, but here I am with a whole planet to cover... barely a line.
The Grakse Peninsula is an isolated Oz. Physically part of mainland Ata, but cut off by the western desert. More akin ecologically (and culturally, I bet) to the Sun Islands to the north than to the rest of Ata. Relatively green, Grakse has monsoon woods and savanna. Like far Northern Australia? But twice as rugged--and twice as big. Grakse's uplands continue south along Ata's West Coast, a green(ish) strip dropping sharply to barren flats. But that's another tour.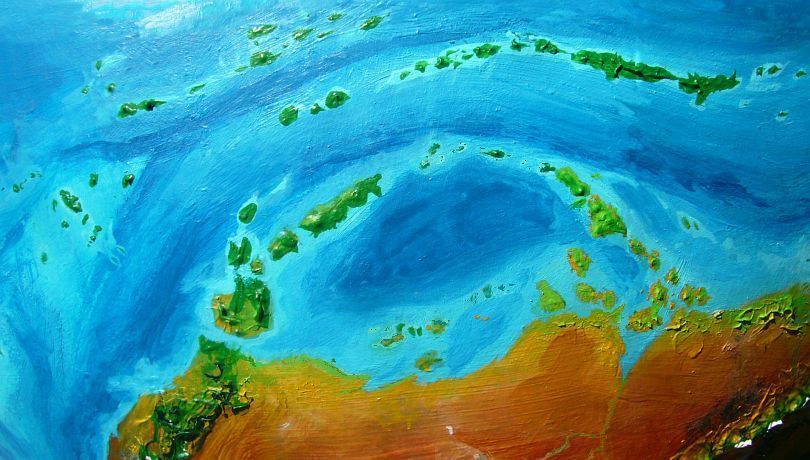 We'll head out from the Grakse Peninsula over deep water to the Kula Islands. Green and fertile after the dusty drought-prone isles we've explored so far. The Kulas are a roughly triangular patch about 1000 km across (625 mi). Great Kula is both central and by far the largest--some 20,000 sq km (8000 sq mi), over twice the size of Hawai'i. Gentle hills, open forest and meadow.
Here's a stylized representation of Kula as the locals themselves see it. Of course it's a dance; this is Kakalea.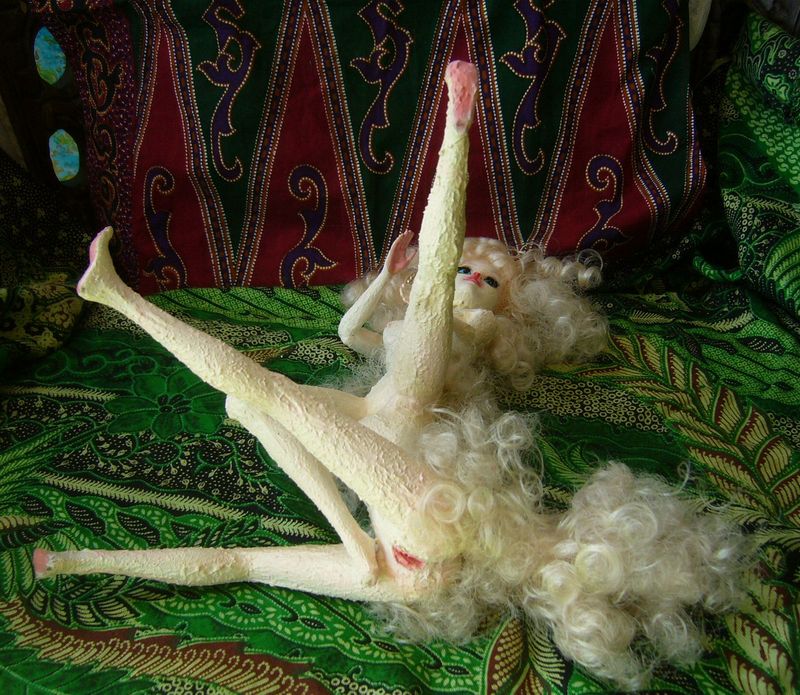 Dlana in The Forest's My Divan as performed on Great Kula, Liarote Archipelago
Ironic that Dlana, the star, isn't local at all, but imported talent. You can tell from her poofy hair/fur. Her woolly subspecies had to evolve in a much colder climate. Native Liaroteans are all shorthaired. It's the only way to be comfortable in the humid heat. Even Dlana has trimmed most of her natural coat short, poodle-style (okay, her 'do is a bit more complex than a Terran poodle, but then few dogs have TWO pelvises.)
A day and a half southwest to lonely Reng, westernmost of the Liarotes. Though small, around 125 km across (75 mi), Reng's more fertile than most. The hills lack that Hawai'ian fluted steepness. Rains, and their consequent erosion, are milder here than on Hawai'i; and the rocks are different. The Liarotes aren't all volcanic. This is one rim of a living rift where strata tilt up. Not just basaltic seafloor; a lot of old reefs uplift into air. Limestone. That has scenic consequences we'll soon see. The cultural consequences aren't visible from the coast, except in the obvious prosperity. Like the Kulas, the interior is well settled, not just the coasts.
From Reng, readers wanting to explore off the beaten track can head west into the outermost reaches of the huge Pem Sish Archipelago. Unlike the Suns and Liarotes, the Pem Sish are deep-sea islands far from any continent and little influenced by land, either culturally or ecologically. A super-Polynesia!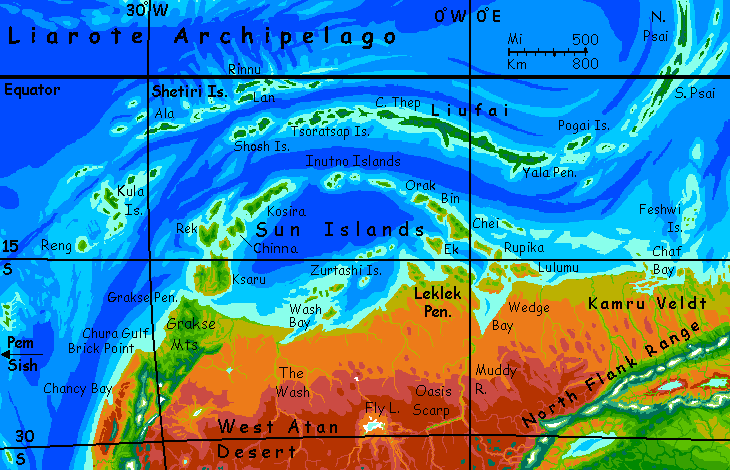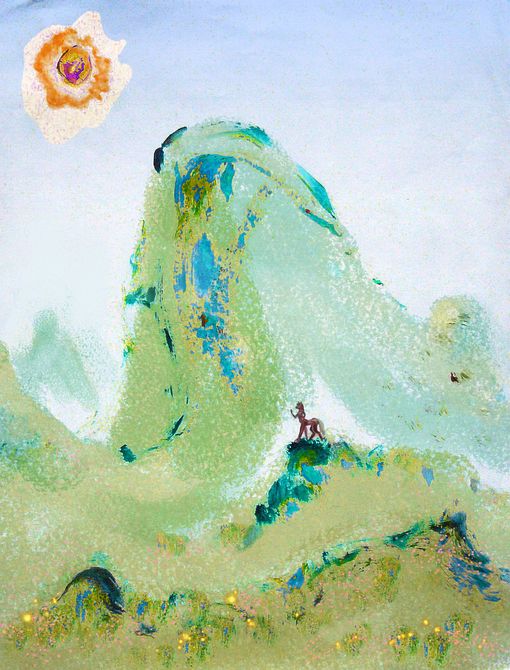 Karst crags, southeast Ala, Shetiri Islands; scroll by Nila of Resincove

Two days back to Great Kula, two more reaching northeast through the Outer Kulas, then due north a full day and a half over deep, islandless blue: the Rift.
You make landfall on western Ala in the Shetiri Chain. A rugged two-lobed island 320 km long but only 50-75 wide--just 5 on the long isthmus linking the two halves (200 mi long, 30-45 wide, down to 3 mi at the neck). You take two days running along the scenic south coast. Not volcanic but uplifted and tilted, this shore rises sharply in cliffs and crags from deep sea. Ala is the very lip of the Rift.
We're nearing the equator now. About as far, ecologically, as we could be from the desert continent to the south! Colloquially, the Shetiris are often called the Rainy Islands. Guess why.
The regular equatorial rains have consquences. In the Shetiris, limestone from old reefs is uplifted in many places. Rain erodes and sinks into these porous rocks, creating what's called a karst topography: dramatic limestone crags full of caves, rising over scrub forest and heathlands with few surface streams, despite the rain.
It looks like an ancient Chinese scroll--not a coincidence, since Chinese landscape painting is (understandably) obsessed with the spectacular karst terrain of South China.
Tired of islands? In Eastport, there's a cat heading north. It's just a few days' sail to the gigantic Tail Peninsula, the most fertile part of the continent of Fika. But that's another tour.
For those who stick with the tour, the next few days are easy. Wander east through the Narrow Isles, a few small and two very long islands, all, as the name suggests, narrow jungle ridges--former coral reefs uplifted by the Rift. Cliffs, clouds, fishing villages. Lots of mango drinks. Well, lots of mango everything. And the Kakalean mango-equivalent, even more than any Earth mango, is loaded with resins; like a dash of turpentine. Locals have acquired a taste for it. Guess it's like hot peppers; gradual acclimatization. They urge and tease you to try the strong stuff. Like a smoothie with a dash of Pine-Sol or oil paint.
It seems to get them mildly high (tropical glue sniffers?!), but it just gives you a slight headache.
Oh, well.
Wobbly centaurs. At least they're not koala bears--living on eucalyptus leaves loaded with laurel-like terps have left the entire species drunk, slow, and profoundly stupid. You do NOT want to trust your life to a crew of koala sailors.
Your crew, being sensible centaurs not koalas, does sober up--the rebound time seems shorter than for alcohol. Your catamaran meanders more or less consistently east... and a bit north. You're just a degree or two from equator when you slip between Rinnu and Lan, the heart of the Shetiris. Each would make a decent Bali, though without the central volcano--just modest hills.

From Lan, your catamaran heads south a few hundred km over the Rift to the Liarote Chain proper.
First landfall: West Shosh. East through the Shoshes. Mid Shosh is smaller, but East is very big, very green. Fiji!
Into the Tsoratsap Islands. At first these are mere islets (as in "no bigger than Oahu") but fertile and heavily populated on the coasts--the fog-wreathed inland hills see little sun and are unfarmably, unlivably steep (the heavy rains erode the basaltic rock into palisades--the Tsoratsaps are volcanic like Hawai'i). No one in the Greater Tsoratsaps ever crosses an island; you sail around. Society is maritime. And why not? The best weather, the fastest transport, and the best food is down at the beach.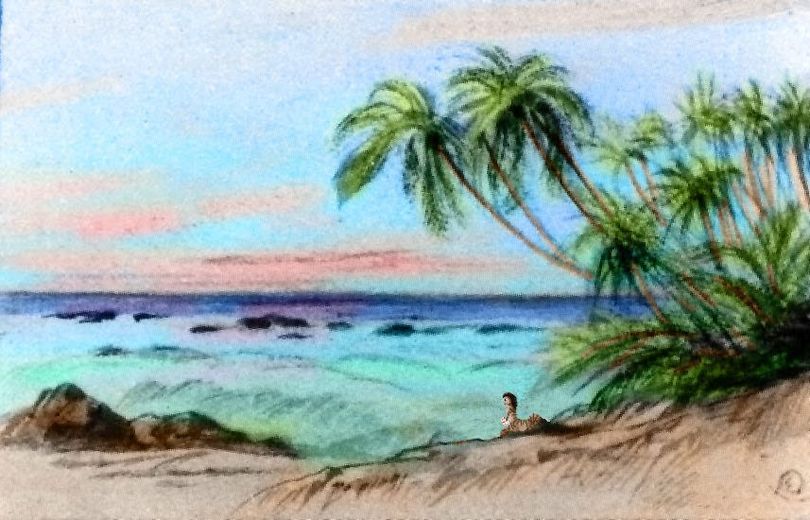 Palms on East Tsoratsap; watercolor sketch by Lir of Yongi

Most of the forest's fruit and nuts are high in the canopy, no more easily accessible to centauroids than to humans. Paradise up there for parrots, but the thin Kakalean air and higher gravity limits the size of flying birds to about half Earth's; quite large enough for ape-smart parrots, but unlike some of Planetocopia's worlds, conditions just aren't right for a megaparrot who can attain full personhood. Oh well.
Days along the Tsoratsap Chain, as the 'islets' grow from hundreds to thousands of square km each. If it seems like you're approaching some geographic climax, you're right.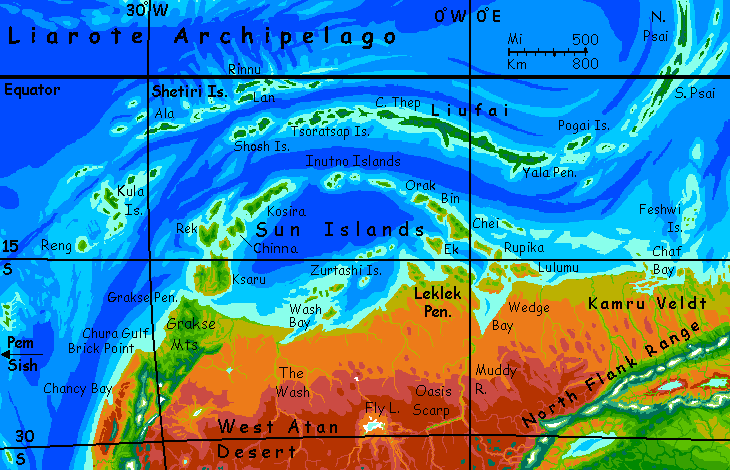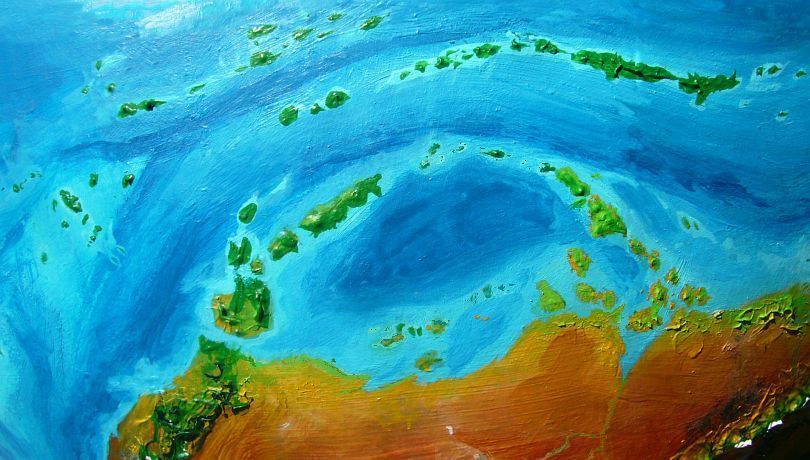 Liufai is the cultural and economic center of the Liarote Archipelago. Long, narrow, fertile, rainy. A spine of volcanic cones, but the shores are largely flat and offshore waters shallow; mangrovelike swamps are common. Because Liufai's less rugged, clearings and villages extend inland, not just along the coast.
Liufai is twice as big as Java, and oddly similar in culture (except for the language, religion, politics, arts, sciences, social and sexual customs. Oh well, never mind). What do I mean, comparing nonviolent oversexed dance-mad centauroids to humans anyway? Are there ANY common points?
Well, yes. Ecology shapes mind. Consider two very different Terran island peoples--the Balinese and the Haida (Queen Charlotte Islands off British Columbia). The only common factor is dense rainforest--one equatorial, one cool-temperate. But that claustrophobic density of foliage on land (and the equal richness of reefs offshore) get reflected in their art. Dense, complex. Even their folklore is similar--a bit anxious. What could pounce from under all that cover? Spirits everywhere, and not necessarily friendly ones.
So it is on Liufai. The mangrove coasts, offshore coral reefs and cloudforested volcanoes have shaped the Liufan mind. Stylized art, dense textures, baroque and sometimes dark imaginations. Here's a sample piece showing a huge, bare "mangrove"--nearly as massive as a sequoia. But done in just a few brushstrokes--and locals would immediately recognize that the 'brush' is a broad, fibrous frond from that very species of tree.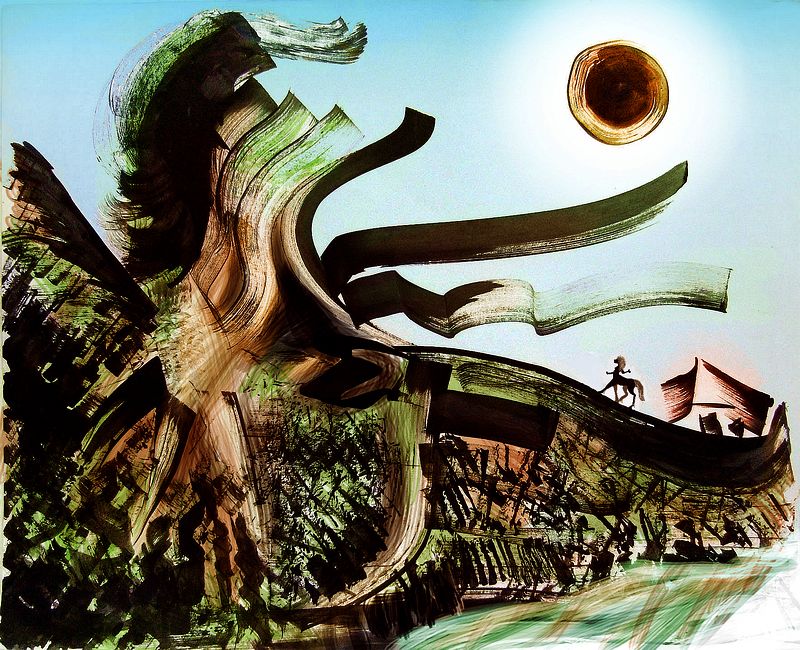 Brush painting, "Mangrove Guardian", by Suplica of Chenza

Note the figure--not just its scale, but its shape. The style may be fairly realistic--a much finer brush than for the tree--but look with native eyes. Kakaleans are centauroids, yes, but gracile ones, with light, rather human torsos and legs. They're not especially equine.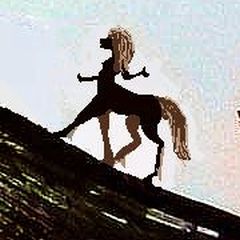 But this figure, with its long snout, pointed ears, powerful torso and horse-legs, looks uncanny to a Kakalean--beautiful, but quite as eerie as Arthur Rackham's sly-eyed, pointed-eared, anorexic fairies look to us.
This is no villager. This is a spirit. And not necessarily friendly.
Let me put on my special hat and become Plod, the Unimaginative Creator of Kakalea, so I can belabor the obvious. Belief in dangerous spirits is useful, especially in such dense ecologies. Turns you cautious in a space full of touchy, territorial, very real creatures. And if you over-harvest or pollute, the spirits will get mad and ruin your luck. So you conserve land and sea. You don't foul your nest.
And--said with my hat off--this is me now--for all I know, those superstitious folks aren't just better conservationists. They may be right. It's hard to prove nature's not sentient. And Cartesian mechanomorphism--the belief that critters unlike Wonderful Skeptic You aren't really conscious--is a fatal assumption on many levels. Terran civilization historically asserted this about quite a few entities: apes, whales, elephants, ravens, kids, dark people, women. The Cartesian track record is a mess. So cut the Liufans some slack. Maybe the spooks they meet in dreams are real.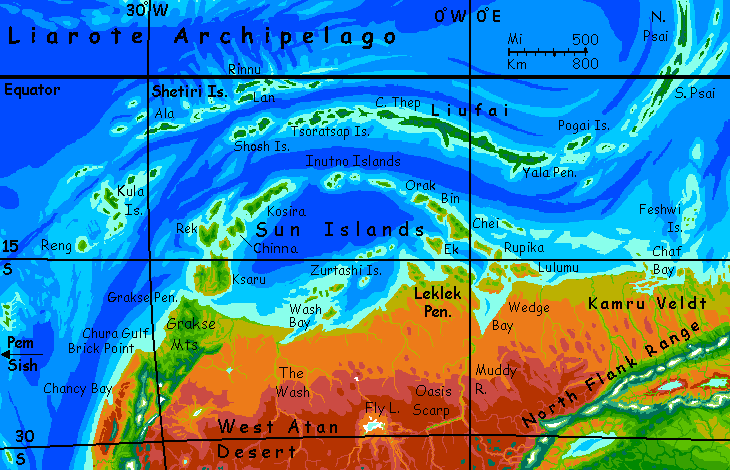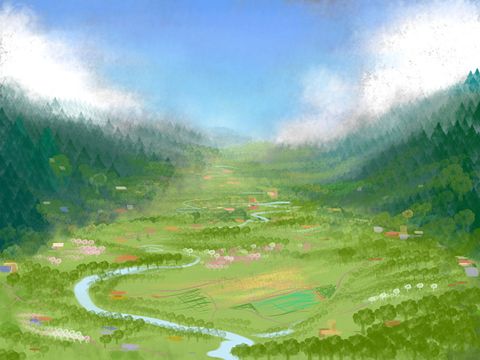 Several days through the Pogai Islands. We'll skip West and East Pogai, the largest--they're a little north, off our path. Instead, you sail in a slow steady arc, first east then curving gradually north. Low coral atolls, quite Micronesian.
Northeast into the South Psai archipelago. South Psai itself is by far the biggest. Shaped like a stretched capital H, it straddles the equator. Its odd shape reflects geological reality--most of these islands are the higher bits of the Rift-rim, but here two parallel ridges rose well above sea level. And most storms break on those ridges, dumping the Earth equivalent of up to three meters a year (120") on their slopes and heights. Here, erosion's severe, jungles dense, and villages coastal.
But the sheltered valley between has just half the rain--still wet, but open forests and meadows. Towns dot the whole valley. An inland civilization is rare in these parts--indeed, all over Kakalea--but the curve of the Rift here favored it.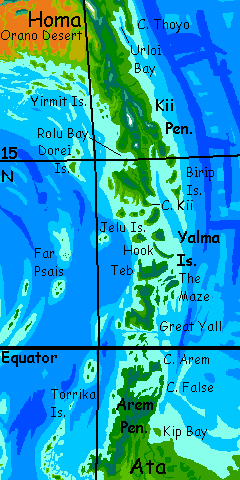 North past little Tikei...
...to North Psai. Just as big as South Island. Shores and ridges just as wet. There's a sheltered valley running up its middle too, but much narrower; fewer people inland, more in coastal fishing towns. A more maritime, Polynesian feeling to the culture here.
East and north of the main islands for hundreds of kilometers, lesser isles dot the sea: the Far Psais. They seem like the back end of nowhere. But they're not really:
Follow the chain northeast a few days and you'll reach the larger Jelu Islands, just a day offshore from Cape Kii, the southern tip of the continent of Homa.
Southeast? The water turns dark and deep, but just a couple of days later you'll make land in the Torrika Islands, and a day beyond is Cape Arem, the northern tip of East Ata.
Due east? You still can't miss land. Two days of deep water, then the Yalma Islands, twice the size of the Psais. The Yalmas bustle with shipping between tropical East Ata and temperate Homa.
North or northwest? A few days to the Yirmit Isles and then hot dusty dry Port Yol or Rorlit in southern Homa.
Okay, it's true that heading due west along the equator you'd be many days at sea before landfall in the Shetiri Islands, and you could miss them. If you tried. Diligently.
My point? Kakalea, for all its faults, does make it hard for lost mariners to starve at sea. Water-poverty, shallow seas... Islands, islands everywhere!
Of course, shipwreck is all too easy.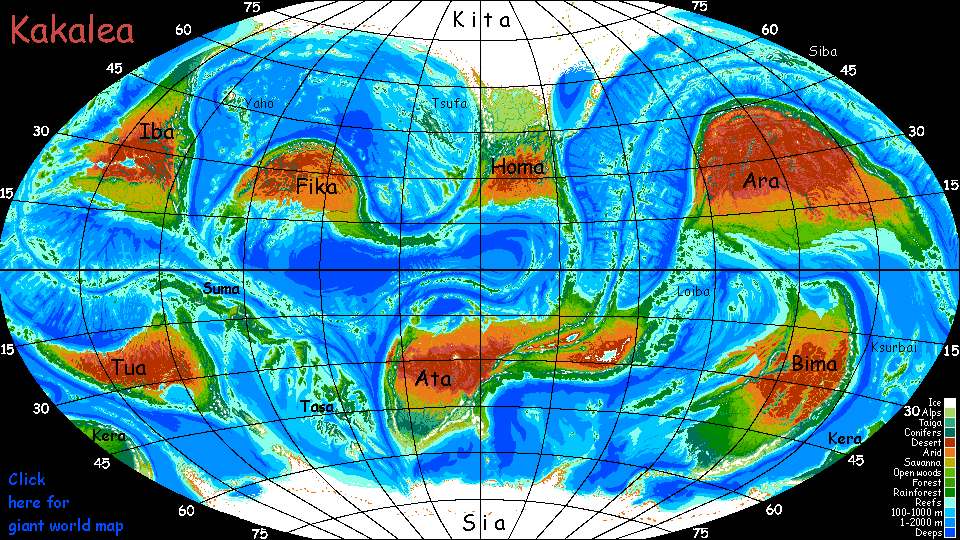 Kakalea basics--map--geology-- creatures-- Building Kakalea
---
LISTS AND LINKS: More worlds? Planetocopia! - dreams of other worlds - ecology - climate change - evolution - natural disasters - terraforming - sculptures and 3D art -
World Dream Bank homepage - Art gallery - New stuff - Introductory sampler, best dreams, best art - On dreamwork - Books
Indexes: Subject - Author - Date - Names - Places - Art media/styles
Titles: A - B - C - D - E - F - G - H - IJ - KL - M - NO - PQ - R - Sa-Sh - Si-Sz - T - UV - WXYZ
Email: wdreamb@yahoo.com - Catalog of art, books, CDs - Behind the Curtain: FAQs, bio, site map - Kindred sites