Introduction - West - Central - On Coral - East
The west is big--the biggest section of the Pem Sish chain. Forked, and both forks Indonesian in size.
Climate: warm and rainy, then hot and rainy, then rainy.
Did I mention rainy?
Because of those rains, most of the Pem Sish are smothered in jungle. Interiors are rugged too. Access is difficult. Most Pem Sishans live on shore and look to the sea. So the sheer size of the western islands does not mean more people live here; in fact the population center's well to the southeast, in central Pem Sish, where long narrow islands provide more coast per square kilometer.
I suspect for this tour you're going to be booking passage on a trader in art--taking the term art broadly. Small portable pretty things. Coral, for one. Pearls of course.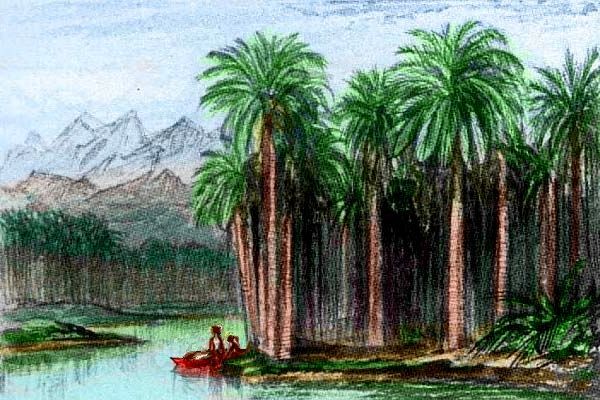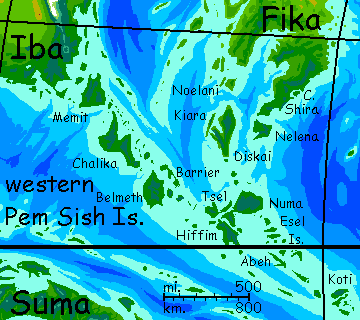 You start on mainland Fika, on the tip of the Shira Peninsula. Lush tropical forest.
Over the narrow strait to the isle of Nelena.
West to huge Diskai--up and around, down the west coast. This takes days--the lesser Isle of Kiara (still as big as Crete) shelters this shore, creating an inland sea full of coral bays. Rich trading here, and your crew can't be hurried.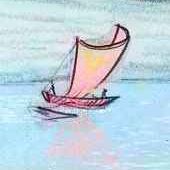 From Diskai your cat heads west, round the southern tip of Kiara, and sails two days across the Rift--deep water--to equally huge Chalika.
Down the northeast shore, zigzagging between mainland Chalika and the hundreds of inhabited islets around it on this side. Like Diskai, a world of its own.
Southeast a few hours to Belmeth. More of the same--zigzags between the major ports of Barrier Island and Belmeth itself. But note that the population and prosperity are skin-deep. Villages form a simple ring round the coast. Inland Belmeth is steep, overgrown, wet, and nearly unsettled.
East a day or or two, stopping in the bays of northern Tsel, to equally huge Numa. Equally maritime Numa. No one lives inland. Kakaleans like it hot, but not this wet!
Three days through the Inland Passage winding between Numa, Tsel and Hiffim. A zigzag, more challenging than the seaward coasts, but twice as many villages and ports to trade in. First west, then south.
Here's a paint-sketch on some driftwood (all I had) of sunset in the Inland Passage on the second evening.


The next morn, you leave Hiffim. The cat tacks eastward, zigzagging around the rising sun, struggling to reach to the Esel Islands...

Days in this complex little group, only a fraction of the area of Diskai, Chalika, Belmeth or Numa, yet with nearly as much coastline, and sustaining nearly as large a population. Your cat zigzags south...

The last isle is different. Long, narrow, steep Abeh has impressive palisades and only tiny coves rather exposed to heavy surf, churning up the bottom. In places, the water's surf's a muddy green, not the crystalline water you've seen in the coral seas so far.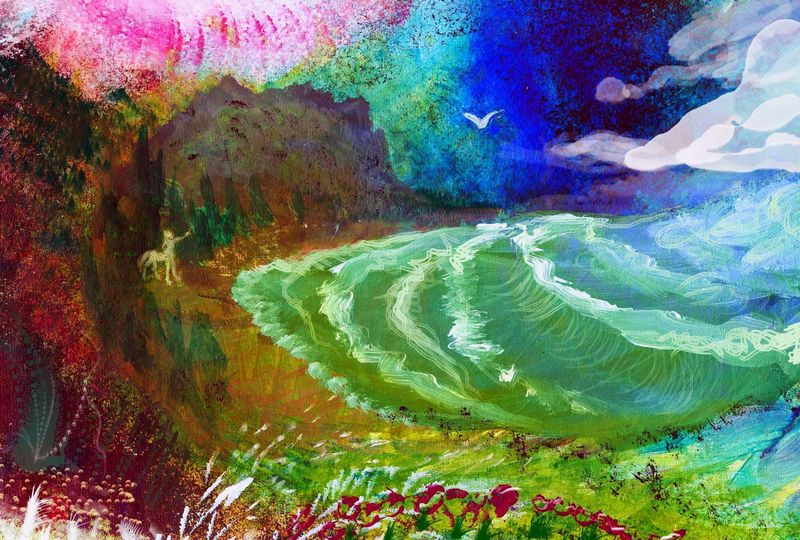 Your boat reaches across the wind all day down Abeh's straight northeast coast. Each village is in its own hanging valley. Isolated except by sea. On this side, Abeh is an absolutely classic straight ridge--one of the thousands of corrugations as the Rift spreads. We'll be seeing a lot of these for the next few thousand kilometers.

Abeh's actually more complex; it's a great V or Y shape where two such ridges meet at an acute angle; not so common. The bay inside the angle has sheltered water and most luxuriant reefs--and larger, more prosperous ports too.

But coming from the Esel group, the sheltered side of Abeh would require backtracking. It's a common problem here in the Pem Sish--a maritime version of the Salesmen's Problem. How to hit the best ports and minimize travel between? There's no easy answer and we'll inevitably miss a lot.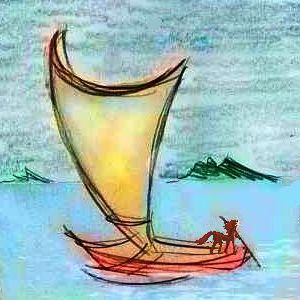 Southeast to Goodwind. This time your crew chooses the southwest shore, though there's little ecological difference: Goodwind is a simple, straight sliver, mountainous but with no dry side: storms blow lengthwise down the central ridge and both shores are equally emerald-green, with no towns (no large harbors, no navigable streams) but fishing villages every few miles.
On to the Koti Islands, portal to the Central Pem Sish. Your crew takes their time here, wandering its inland passages. Koti's a little world of its own, a cluster of volcanic islets nothing like the simple ridges of Abeh, Goodwind or Charis.
Introduction - West - Central - On Coral - East

The central Pem Sish Islands are rather like the Lesser Sundas in Indonesia. No giants, but a steady sprawling tangle of reefs and islands. They're nearly all rainforested--only the southernmost like Eshesh and Daito have "dry" sides, and they're just open woods instead of jungle. No surprise: these central isles are lower and more equatorial than the Hawai'ian chain, both factors weakening rainshadows.

A third un-Hawai'ian trait: the scale. Kakalean seas are shallow, remember? Riffim and Eshesh are each over 400 km long (250 mi), and dozens of the Pem Sishes are larger than Hawai'is Big Island. More like our Caribbean, or an Indonesia with no giants, just endless county-sized islands...

These lands are close enough, and mountainous enough, so even primitive sailors could always see the next isle on the horizon. Trade was constant from the beginning. Still is. Socially, culturally and politically, Pem Sish is just as unified as any continent.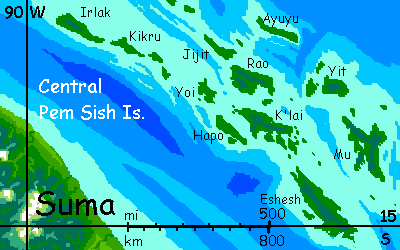 Your course runs from the Koti cluster due south a day or two to Irlak. Days down its long northeast coast.

Kikru and Little Kikru. Long steep ridges, all coast and no interior.

Due east a long day to Jijit. Down its southwest shore. Villages under cliffs. Small waterfalls. Like Kikru, a Jijit's an uplifted, tilted fault block paralleling the rift.

South an hour or two to big, volcanic Rao. You can't see the central peak: cloud-mantled as usual. Rao's north shore is a straight run, hills dropping into deep water; but the south is ragged, complex. Despite the navigational risks, your crew steers south. More villages, better trade around the sheltered inland sea between Rao and K'lai. Cross to the north shore of K'lai... east along it.