World Dream Bank home - add a dream - newest - art gallery - sampler - dreams by title, subject, author, date, places, names

PEGASIA
GAZETTEER


by Chris Wayan, 2006-9

Pegasia's homepage - Map - Geography & climate - Evolution - Critters - Gazetteer - Sketches - More worlds? Planetocopia!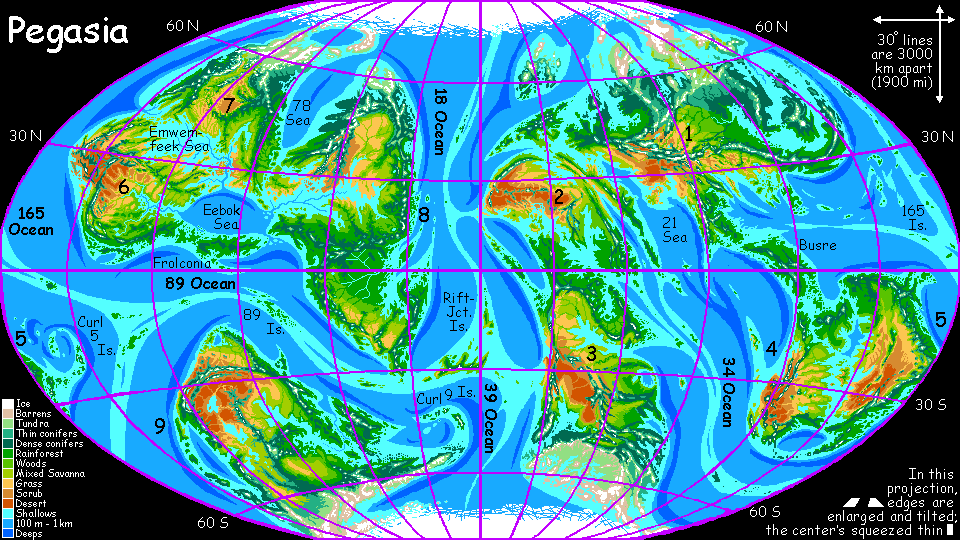 MOONS AND PLANETS IN PEGASIA'S SYSTEM
Zeus (primary, a gas giant larger than Jupiter but in an Earthlike orbit.)
Pegasia, a huge Earthlike moon orbiting Zeus
Tharn (a Marslike outer moon of Zeus; probably a small captured planet)
Galilea: Zeus's inmost moon. The size of Pluto, Galilea grounds a big, nasty electrical arc from Zeus, as strong as the currents on Io. Tidal stresses and vulcanism are as severe as on Io, too.
Twin hot worlds inside Zeus's orbit, like small Venuses: Tarzan and Jane. Or Romulus and Remus? Yin and Yang, Bagel and Lox... okay, I'm out of ideas here. Should I be raiding ancient Greece or Edgar Rice Burroughs for names, here? O for a consistent mythos! Fat chance.
NAMES ON PEGASIA
The gazetteer is still embryonic! Over the next year, I'll take these hundreds of place names and firmly assign them to surface features. They're words in the languages of at least ten different species. If you're thinking of designing a species, there's a variant of this page specifically for you, sorting the placenames into language groups. One may fit your species. One may even inspire a species. They're not required, though. Make up your own if you like.
MAIN FEATURES--names of large lands and seas are in CAPITALS.
TOURS IN DEPTH: Every entry's title links to a regional tour with maps and a closer look at the feature. Links inside an entry mostly take you to simple definitions.
LONGITUDE: Latitude is marked north and south, but all longitudes are east, from 0 to 360. 0-180 is the Outer Hemisphere (Zeus is below the horizon); 180-360, the Inner Hemisphere (Zeus is visible and there's a daily eclipse).
A -- jump to A - B - C - D - E - F - G - H - I - J - K - L - M - N - O - P - Q - R - S - T - U - V - W - X -Y - Z