World Dream Bank home - add a dream - newest - art gallery - sampler - dreams by title, subject, author, date, places, names

Marjane

Dreamed 2005/6/3 by Wayan. Large screen? The full, original watercolor comic
THAT DAY
I'm reading Marjane Satriapi's "Persepolis" books. She grows up during Khomeini's Iran. Never fits in. She escapes to Europe, but nearly dies on the streets there before she finds her path...
All day, Marjane's harrowing journey blends in my brain with the news: the nut-case presidents of Iran and the US trading threats! Will it be war?
THAT NIGHT
I'm in Tehran. Occupied Tehran. Now Iran's been invaded too. It's not a mess like Iraq, though. People seem calm. The US immediately turned over administration to the UN, whose peacekeepers pledge to leave in months, right after the new election (open to ALL candidates, unlike the sour joke of an election the mullahs allowed last time).
The military just built an archery range and is encouraging Iranians to use it. Archery was a major sport here in the old days. Better that than guns, I guess...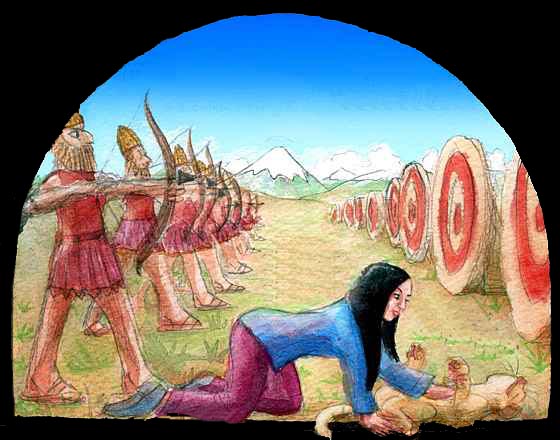 While discussing this with a guy, we meet a wild cat--no, a lion cub! I pet the cub. Gold fur. It rolls over and mock-fights with me, but is well-behaved--doesn't scratch. Enjoys having its tummy petted. I like this too. Politics can't keep me from living for now.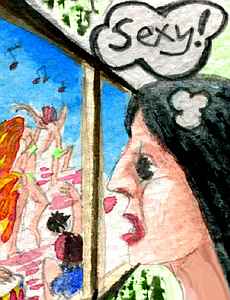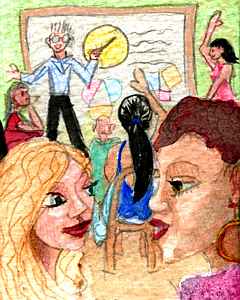 Only... suddenly now is gone. Tehran is gone. I'm trapped indoors... in a classroom in San Francisco.
I hear music outside. It's Carnaval--they're dancing in the streets! Wish I was out there meeting girls.
Except... the music is really bad. Lame techno, boring birimbao. Rhythm with nothing behind it. It's not THAT tempting, really. Just better than school.
But then I'm not taking full advantage of this class either. Some hot girls here--but I never really talk to them. Passively stare out the window and wait for class to begin. Why won't I flirt with them at least?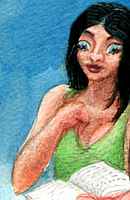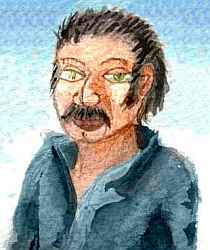 Oh. Right. Because I'M a girl today. And most of my classmates are straight.

Besides, I have a boyfriend. My Iranian boyfriend.

I forgot. I totally forgot him. How's that for love! Great, huh? What's YOUR prognosis for our grand romance?

The class ends at last, but Carnaval's over too; the streets are nearly empty. Two friends pick us up. We're going out on a group date somewhere. My boyfriend Reza knows the way, so he takes over the wheel. I wait in the back seat between two friends, but don't talk--I'm reading a fascinating article. I don't realize Reza's waiting for me to finish while I'm waiting for him to get started! Five minutes while I finish the article and the others smalltalk around me, not realizing why we're waiting. Stupid. Now will we be late? Our watches disagree. "We'll go find out" says Reza.


He drives north on Harrison Street through the Mission District. Among the artists's co-ops around Project Artaud, a car noses out into the street...
I glance in as we pass. The driver's tense, sweating. My inner alarm goes off. The guy behind him, grabbing his neck, held... a gun? No, couldn't have been.
Just as our cars line up, BOOM! BOOM! Our car lurches, hit. I feel no pain, yell "Are you all right?" My friends don't answer--and slump over. All three of them. No one's driving. Our car slews to a halt, up on the empty sidewalk. I grab for cell phones and punch 9-1-1 and blurt "At least two people have been shot near Harrison and 16th, we need an ambulance! The shooter is a little south on Harrison, in a car..." trying to stay coherent when I don't really know how my friends are. No visible wounds or blood, yet all three knocked out. My best guess is, two shots went through that hostage in the other car, and slowed by that impact, they hit my friends at reduced speed. Stunned? Dead? Did his death slow those bullets enough to save my friends? But then how did two bullets knock out three people? Aside from what they must have done to that poor guy at point-blank range.
I know it's bad. But not how bad. And I wake, heart racing, still unsure if my friends slumped around me are stunned, or dead.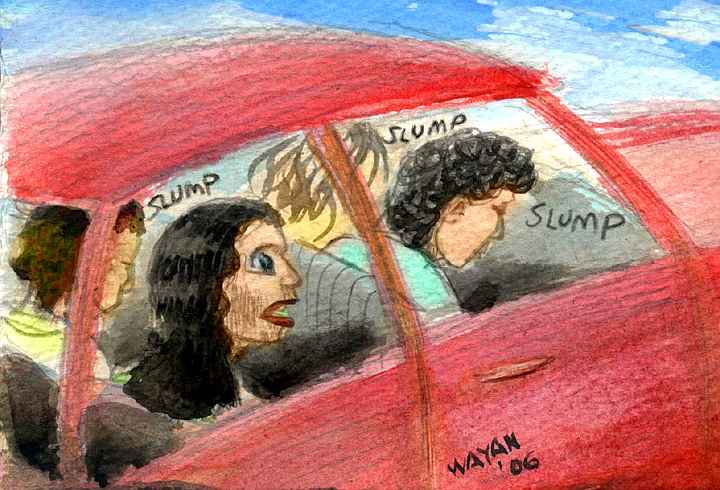 NOTES
I'm female, misunderstandings with Iranian boyfriend = I just read Marjane Satrapi's PERSEPOLIS duology.
Iran = me. Habits block change, just as the mullahs disqualify all the reform candidates in Tehran's elections, turning them into a joke.
Invasion doesn't lead to Iraq-style chaos = breaking my habits may be good!
Not a feral adult cat, a lion cub! = less mature, but with more potential than I thought.
Pet the cub, not scratched = following my urges and hunches is safer than repression
Iranian boyfriend = conventionality, habit. Marji marries mainly because you have to in Iran. Her dad gave his blessing though he knew the marriage would fail. "You had to learn." He sensed she needed to return to Europe--a born artist, just too constricted in Iran.
Trapped in class = soon I start a speech class required for a degree.
All the problems and failures early in the dream (to find a dance with the right music for me, to leave boyfriend and go for the girls I really want) all look trivial compared to the crisis at dream's end.
Murder(s?) = recently read David Brin's Kiln People and Nina Kiriki Hoffmann's short stories "The Skeleton Key" and "Haunted Humans." All three have murder victims who survive as ghosts of one sort or another.
Friends go limp, no visible wounds = in "Skeleton Key", the ghost narrator can unlock a soul from its body so they can converse on the astral plane, though it's risky--the body goes unconscious and could stop breathing. But it's worth it to name her murderer. So...
My boyfriend and friends gone limp = sides of me paralyzed! Out-of-body, not dead! They may return with new information.
Murder around 16th and Harrison = Near the shooting-site is a huge cubist mural by Chuy Campesino, one of the very first large murals in the Mission. Or was. A new owner painted it over! Why, that's articide! Lawsuits. Last I heard, it was gonna be restored--again suggesting mere coma, not death...
So what was the dream warning me of? Well, I've had a virus that keeps flaring up. I get tired, lose my "drive"... when I go along with others, as Marjane Me did in the dream. But I get my energy back when I do exactly as I please!

Pretty Zen virus, huh?

A NOTE EXACTLY ONE YEAR LATER

I just went by the shooting-site in the dream. That giant historic cubist mural was supposed to be restored. But instead of removing the paint as city law requires, the new owner has defiantly painted a second layer over it--paint the dull red of dried blood!

Well, I guess that puts a second bullet in that mural's head. Articide in broad daylight--and it looks like he's getting away with it.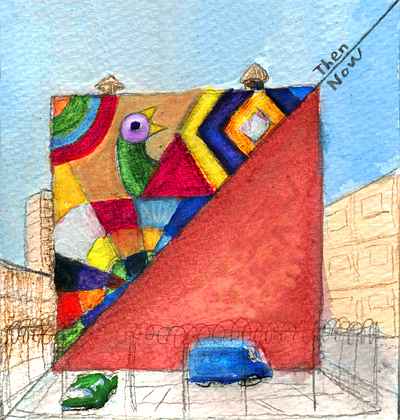 ---

LISTS AND LINKS: the future - Iran - lions - school - lost opportunities - dating - lesbian life - I'm Just Not Myself Today! - cross-gender dreams - romantic advice - individualism vs conformity - violence - guns - heads - death - trance - out-of-body experiences - predictive dreams - arts and artists - Only in San Francisco - watercolor - two more dreams provoked by Nina Kiriki Hoffmann's spooky tales: Self-Possessed & Rabbit-Eared Doe

World Dream Bank homepage - Art gallery - New stuff - Introductory sampler, best dreams, best art - On dreamwork - Books
Indexes: Subject - Author - Date - Names - Places - Art media/styles
Titles: A - B - C - D - E - F - G - H - IJ - KL - M - NO - PQ - R - Sa-Sh - Si-Sz - T - UV - WXYZ
Email: wdreamb@yahoo.com - Catalog of art, books, CDs - Behind the Curtain: FAQs, bio, site map - Kindred sites