World Dream Bank home - add a dream - newest - art gallery - sampler - dreams by title, subject, author, date, place, names

Soul Restored

Both dreams 2016/12/4 by Wayan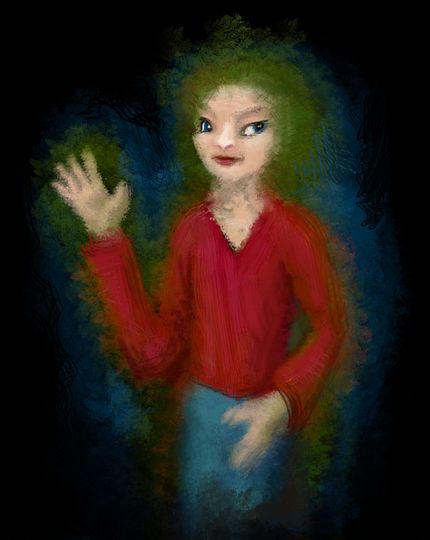 1: My Soul Restored
When I was very young, shadowy protectors put a spell on me. They swapped out a piece of my soul for a shard of a tree's soul--the soul of a huge old coast redwood.
There were clear costs. My unmodified soul was busy, informal, thriving on risk, improvisation, adventure... in a word, active. Typical mammal! But now for decades I haven't been. Because I wasn't fully me. Part tree.
Being not-quite-myself had side benefits. Calmed me, gave me a long view of time--too long for my physical body, really. But I seem young for my age; did that redwood splinter slow my aging a bit?
I wonder how the poor redwood felt--being, for a few decades out of eons, part mammal. Chafing at its own roots?
Neither longevity nor calm was the purpose. It was to make me unrecognizable to magical predators hunting those like me with a certain kind of aura, marking formidable magical talent. Killing us before we get too strong.
It's all over now. About two months ago, in early September, the spell was rescinded. Whoever stuck that piece of redwood in me quietly swapped the shards back--restored my full soul. My protectors thought I was ready, I guess.
Adjustment's been gradual. So far, I've only noticed I'm stronger, bounce back from stress faster. It'll take time to fully use that new strength and speed; a lifetime of slow vegetable caution isn't easily unlearned.
Also, the side benefits of being part redwood (and just plain peculiarities) will gradually wear off now. And I've only known life as tree-me, see that as me. Expect disorientation! I'm not who I think I am. I need to hurry up and learn to be a whole-hearted mammal again.
If not a typical mammal. I'm magically strong, so I may unknowingly manifest weird stuff if I don't acknowledge & control my new powers.
And now I may be visible to magical predators. Though, having grown up safe, I may be able to fight off all but the biggest. My mysterious guardians clearly thought so.
Big enough to stand on my own. Without bark support.
Notes in the Morning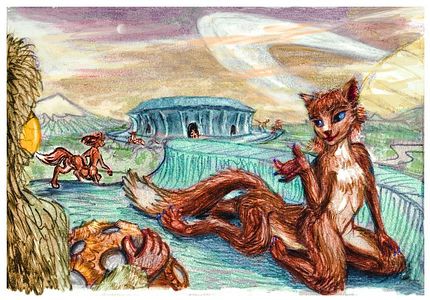 Dates: in my dream it was early November, not December, so if my soul was restored "two months earlier" that'd be early September. My journal shows nothing odd that week. Well, it's true that...

my unconscious wishes gave me Anti-Lucid Flight (and nearly anything I visualized),
I died repeatedly, passing through Incremental Heavens, and
I dated a methane-breathing Tritonian Foxtaur at her wizard school orbiting Neptune...

OK, point taken. I've never passed very well as human.
Redwood protection: I'm a native Californian. So are they. Shaggy redwood bark is fire-resistant, it protects the living layers, just as a blanket of redwood soul protects me here. And remember the woven cedarbark rain-repellent hats & cloaks worn on the Northwest Coast in the old days.
New stamina: real. I get recurrent fevers & aches, but this year the attacks mostly shortened to just a day or two, not three. A few bad ones still, so I've discounted that improvement. Dream says "No, it's real." After the hard exertions of the last couple of days, I feared a relapse. Nothing! Is this my new normal?
Predators: literal? Are there hostile as well as friendly spirits, as most folk traditions assert? Or if you reject spiritism, it could mean the recurrent infection I appear to have, and my immune response to it. Something calmed me, made me rather passive, but also avoided triggering attacks--fooled the parasites somehow. But now the game's changed.
Child hidden from hostile forces till grown: echoes Harry Potter, of course! A neglected orphan who needed neglect--hidden under the stairs till he grew strong enough to claim his birthright. A part-redwood soul hid me till I grew strong enough. Now, apparently.
ACTION: Go out in the world more, I guess. As healthy mammals do.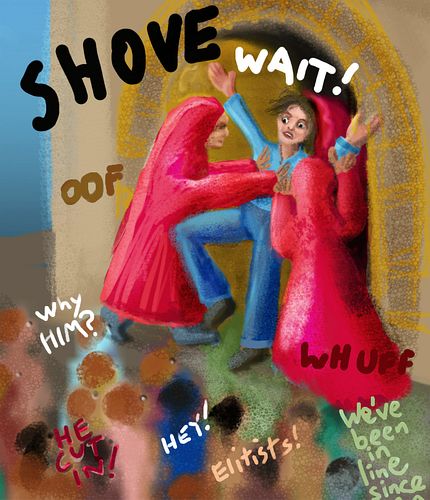 2: Red Robe of Initiation
I bike downtown to an event in an alley jammed with students--the crowd's so dense I gotta walk the bike. Spot my sister Miriel, ahead of me. The alley dead-ends; we line up in double file, waiting to get into... a school for magic?
Girls sing around me. So many attractive ones... though I feel shy and just look. Well, and sing. Love the music. But I WOULD like a girlfriend...
An initiate in their distinctive red robe walks up. We're well back in line, so we expected to wait an hour more. I'm shocked when the guy plows straight to me and drags me through the crowd to the Portal. Sure, I'm academically qualified, I was a top student in our magic classes, but still... I thought I'd have more time just singing. Wait, am I regretting graduation?
Too late now! They lead me through the Door, and present me with my own Red Robe. Time to start training as an adept. Not a musician. Magician.
Notes in the Morning
Enjoy singing: sang this evening, and it WAS fun. But don't assume that makes it my life-path!
Magic: some more abstruse art than music? Or literal? I have been manifesting odd, intriguing stuff the last few years.
Magic school , red robe: I just saw Doctor Strange. A surgeon's hands are crippled in a car crash. Seeking a cure, he studies at a Nepalese school and learns to save lives a new way--with magic. A sentient red cape likes his energy, so it joins him...
Initiation: echoes dream 1 with a twist--there, a red robe of sorts comes off: an aura like shaggy redwood bark blanketing my soul.
ACTION: well... keep recording our songs--I love music as much as Dr. Strange loved surgery. But I better be ready for shocks ahead. My soul itself may change. Or be changed.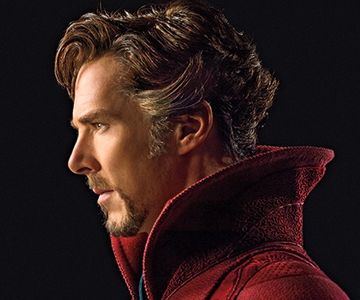 Doctor Strange, in his red robe
---

LISTS AND LINKS:
My Soul Restored: odd dream beings - spirits - guardians - trees - souls - longevity - hunted! - disguises, armor & self-defense -
Red Robe: music - letting go - initiations & rites of passage - universities - magic & mages - Doctor Strange
Both: shamanic dreams - dreams inspired by JK Rowling - films - digital art - related dreams: Creature Becomes Creator, Soul-Shard, & Magical Graduation

World Dream Bank homepage - Art gallery - New stuff - Introductory sampler, best dreams, best art - On dreamwork - Books
Indexes: Subject - Author - Date - Names - Places - Art media/styles
Titles: A - B - C - D - E - F - G - H - IJ - KL - M - NO - PQ - R - Sa-Sh - Si-Sz - T - UV - WXYZ
Email: wdreamb@yahoo.com - Catalog of art, books, CDs - Behind the Curtain: FAQs, bio, site map - Kindred sites