World Dream Bank home - add a dream - newest - art gallery - sampler - dreams by title, subject, author, date, places, names

Tibetan Disassembly

Dreamed 2007/7/5 by Wayan
I'm in Tibet--but not our Tibet. Tibet in a parallel world. China never invaded--never dared. For Tibet's fiercely independent--in fact, splintered into little kingdoms sharing just one thing: xenophobia. Foreigners are banned, on pain of death.
The land has changed too. Parts are lower: stretches of almost Californian oak-hill country, rising to broad conifer forests. Still plenty of alps and barren altiplanos and jagged ice-peaks, but it's a patchwork now--terraced plateaus with famous waterfalls between. Himalayan ranges still surround and run through the complex. Beyond, the Central Asian lowlands are still desert--cut off from rain by the highest ranges in the world, what else could they be? Some things can't be changed.
I'm following the journey of a middle-aged English woman who's boating on one of these new rivers winding across Tibet. They're navigable between waterfalls; travel's easier than in our world. But not safer. She's running a big risk: the Ban.
And today's the day she loses her long gamble. Horns call! Armed men on the hills ahead, both sides of the stream. The river's lazy, here--can she turn around, paddle back upstream? She brings the boat around, but it's no use--more men come out of the woods behind her. She's trapped, and by a large, well-prepared force. What to do?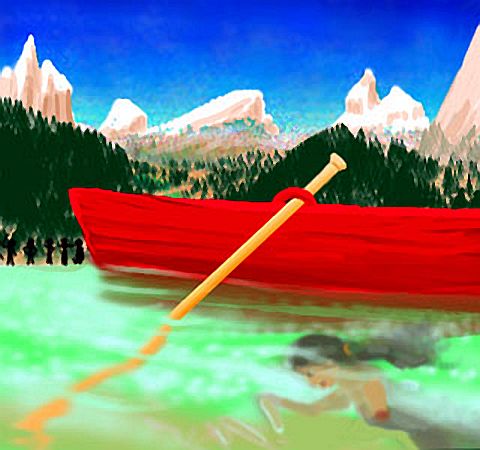 She dives into the river--and doesn't come up. Holding her breath under the boat, she loosens her bones and takes them apart one by one, though it hurts to do it. She binds her life-force inside each bone and lays them on the riverbed.
Now the Ban's been honored, for she's technically dead. But her bones are all numbered and accounted for and stored; a traditional shaman's technique to preserve one's life. She may be re-assemblable. It's why I said "technically": in this Tibet, death too takes a subtly different shape.
As a disembodied spirit, she applies for a job serving a powerful Tibetan god--now adopted into the Buddhist canon, but originally his own thing--indeed, perhaps in the beginning he was a mortal shaman like her, just one with a lot of tutelary spirits. Or perhaps he was just a smart employer... Whatever his roots, today he runs a large operation--the biggest god on this particular plateau.
He's delighted to hire her; not so much for her shamanic power, but her knowledge of the West. He's a fan of the exotic, and scarcity creates value! "Western science is so wonderful!" he says. Not that he knows firsthand--the god is no techie, but he's hired several information-science spirits on staff, maintaining a vast database of divine knowledge; it fills several servers. One perk of working for this particular god is that she gets access to all that divine wisdom.
And she studies hard--or so it seems. She sets up her own huge database on the god's servers--some of it copied from the god's files, but mostly her own data. Is she really devout, or... is she after his unused hard drive space? Looks like! She seems to be storing her own personality on his servers! More than that, her body specifications--is she planning to set herself up as an AI with a virtual body on the Net, or to rebuild her physical body somehow from the specs, with the god's resources?
Her tactics may be mysterious, but her goal's not: independence again. And even if he knew, which I doubt, this god just isn't techno-literate enough to stop her.
One way or another, her bones will rise again.
NOTES
Woman at risk in mountains, joint trouble =

My sister Althea told me "I hurt my wrist skiing; it's weakened my violin playing and the damage looks permanent."
My friend "Lee" is furious. Started a business, slaved to get it running, deferred her own pay. Her funders promised a health plan but stalled. Lee found a health plan herself, agreed to pay most of the cost herself. Her backers promptly fired her and stiffed her the $40,000 back wages they owe her. Why's Lee need coverage? Numb fingers! She's a graphic artist and teacher, and suddenly she can't draw or type! Diagnosis: multiple sclerosis.
My friend "Brenda" hiked in the Sierras high on mushrooms. She and her stoned friends got utterly lost--couldn't recognize the trail even when they were on it. But they met some hikers even more lost--in fact, Brenda's friends suspected they were hallucinations--nobody real goes mountain climbing in swimsuits, with no water or food, right? Wrong. Real--just tourists crazier than 'shroomers, without chemical assistance.

God who won't learn technology = me. Lee asked "how's your spiral piano coming along?" No progress--I won't build the prototype myself. Am I just lazy? Rather do sexy cartoons than soldering, even if the Coil has more potential. But I have good reason to avoid soldering--it's toxic for me. Must rely on others.
sick and trapped? I have a mystery illness that flares up under stress. CAN I support myself? Lived on savings, but they're running out; I do feel trapped.
"Western Science is so Wonderful!" Title of a Cordwainer Smith story on a Chinese Communist Party cadre who talks a Tibetan arhat into emigrating to America--a secular exorcism. Or a new Chinese export item: shapeshifting, overenthused demigods!
That big database on servers = the World Dream Bank itself!
her private dabatase = a part of the World Dream Bank that I'll reorganize my life around, saving me! But what exactly? The art gallery, preparing me for a dream-art show? The editing skills learned from opening the Dreambank up to a hundred other dream writers? Or Planetocopia, which gets a disproportionate amount of attention? Or the section on genius and child prodigies? Brought me love, friendship, knowledge, work...
Her information-science plot is mysterious, but aims to reassemble her: I hope so! I feel disassembled; I'm ready to be someone else now.
ACTION: don't despair! Neglecting money may make sense--it's part of a plot to disassemble the old me and rebuild me. But in the meantime... ow, it hurts.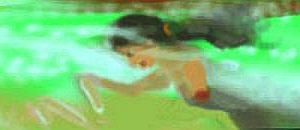 ---

LISTS AND LINKS: shamans - parallel worlds - Tibet - mistakes - hunted! - death - Buddhism - gods - spirits - the World Dream Bank and the Net in general - rebirth and reincarnation - metamorphosis - inheritance - robots and artificial intelligences - money - drugs - illness and disfigurement - same dreamer, forced dismemberment: Dissecting Pessimism - Cerridwen happily beheads herself, except What's in the Basket?

World Dream Bank homepage - Art gallery - New stuff - Introductory sampler, best dreams, best art - On dreamwork - Books
Indexes: Subject - Author - Date - Names - Places - Art media/styles
Titles: A - B - C - D - E - F - G - H - IJ - KL - M - NO - PQ - R - Sa-Sh - Si-Sz - T - UV - WXYZ
Email: wdreamb@yahoo.com - Catalog of art, books, CDs - Behind the Curtain: FAQs, bio, site map - Kindred sites