BAND-AIDS: by Bagheera Pardus; c.1985, a lucid re-entered nightmare turned to joy.
Giant snakes chased me. I go lucid, turn & slay one. As I woke, the snakes cried. So I re-entered...
CAUTION: SNAKES, BEHEADING, REHEADING

BLONDIE AND CRAZY: by Wayan; 1984/12/25, a bloody warning dream
Quiet Blondie seemed sane enough, especially compared to her driven, talkative friend Crazy, until...
CAUTION: NUDITY, A LITTLE BLOOD

BLOOD DANCE: by Larry Vigon; Sept. 1997; an initiatory commitment dream
A Gypsy man invites me to dance. But he cuts my arm, deep; then even his touch multiplies
my wounds. Last is a needle through my wrist. But I'm committed to the full dance now...
CAUTION: BLOOD; CURIOUSLY, NOT PAIN

BOYS WHO RUN WITH THE SCISSORS: by Wayan; 1986/1/26, a shamanic dream-joke
Women who run with the wolves? Ha! In Mongolia, the only ones who can beat lightning-demons are...

BREAK FREE: by Emily Joy; 2006/5/11, an encouraging dream on the price of safety.
I search for family skeletons, but then a talking plant on TV inspires me to seek the sun and fly free.
But certain velociraptors and barbarian swordswomen object...
CAUTION: DUELS, FISH ABUSE, THE F-WORD

CAT WITH A KNIFE: by Wayan, 2000/6/24, a nightmare of a Jungian Shadow changed by patience
A guy threatens me with a knife. I sit on him and wait patiently.
Slowly he turns into a huge black cat! I set him free in a garden...

CHANGE THE CORE PROGRAM: by Wayan; 1995/6/28, a dream of sudden progress.
I meet a tragic heroine--great heart, rotten luck. But I open her magic sword and find a bad chip...
A CLOSE SHAVE!: by Wayan; 1971/11/7, a short poem of a goofy counterfactual dream
An over-eager landscaper mows my dad's new Assyrian beard, unasked. Debate in court!
Is the art of mowing free speech, or is your face your castle?

CROC BOY: by Wayan; 2008/8/17, a dream-poem, Dreamverse #7.
I visit a witch-smeller, who judges apprentice shamans.
But when a boy dreams he's a crocodile, she freaks out...

DAMOCLES LODGE: by Wayan; 1998/12/22, a dream on what hangs over us.
I meet a nice werewolf in a hall of past-life junk, so sharp and rusty we dare not play...
DICK, HOW WONDERFUL: by Dick and his mother; 1951-54, shared telepathic hallucinations
As a man on shore patrol in Manila is attacked, he and his mother simultaneously see and hear each other...
DREAMS BLOCK VAMPIRE ARROWS: by Wayan; 1995/3/30, an encouraging nightmare.
Fighting vampire archers is risky enough WITH proper armor! And all I have is dream-journals...
CAUTION: VIOLENCE

DREAMKU, MARCH 2007: by Roswila; various dates up to March 2007; 31 dream-poems--mostly haiku
Dream poems laid out like a calendar. Themes? Horses, camels, abused girls, vampires--all want their freedom...
GARDEN OF SWORDS: by Louis MacNeice; 1937, a dream foreseeing World War II.
I'm at a garden-party when They attack. I flee through a garden of swords, but a guard with a bayonet...

THE GENERAL: by Wayan, mid-December 1975, a nightmare warning of real danger
I'm a child in a Latin American city who's murdered on the street. Then I'm my brother,
seeking my own murderers. I find the General behind it! Unfortunately...
CAUTION: DYING. DYING TWICE. AND THEN NEARLY AGAIN, AWAKE...

THE GIANT: by Jim Shaw; c.1994, a dreamlet on rage about... what?
At a beach, a man attacks the genitals, buttocks and thighs of a giant who sits half in the surf, ignoring him...
CAUTION: NUDITY, MUTILATION ATTEMPTS

GREAT GODDESS, or, SACRIFICE: by Jenny Badger Sultan; 1970; an epic painting of a troubling dream
I'm a priestess standing on a stone terrace, holding a ritual axe. Before me kneels a sacrifice to the Goddess...
GUILLOTINE: by Louis Alfred Maury; 1865, a dream researcher's own famously inexplicable dream
They led me to the guillotine. As the blade struck my neck, I woke to find my headboard had broken loose and fallen on me...
HELL HALL: by Anonymous #3; c.1920?, a dream of initiatory cannibalism
A revival meeting goes bad--suicides, 'long pig', a hell-pit. If you sup with the devil, carry a long fork!

HIS MINE: by Wayan; 1985/12/2, a wild dream epic.
I'm a hobbit seeking Henry Fonda's haunted gold mine, but I end up in a showdown in a shaman's bar...

IN THE STAR; 1988/9/12 by Wayan; an epic, out-of-body, intrastellar quest-dream
I tour the heart of a red supergiant, where dreaming souls explore
their fears and heart's desires, unconstrained by solid matter...
CAUTION: SWEDENBORGIAN VISION, UNICORN NUDITY
JACK DANIELS: by Wayan; 1983/10/14, three short dreamtales.
Three dream-reactions to a (real) psychic experiment that went badly awry...

THE KEY TO OUR INHERITANCE: by Wayan; 2010/9/12; a nightmare whose victims organize
The dead treasure-hunter's will ordered us, his heirs, to convene in the wood.
Attacked there by a knight in armor, we near-strangers must unite to win our...

A KNIFE AT HIS THROAT: by Wayan; 1991/1/1; a political dream-cartoon-fable
A courtroom hostage-drama where I'm forced to commit... tracheotomy! And then the Gulf War begins...
CAUTION: CARTOON VIOLENCE

LAURIE ANDERSON SHENANIGANS: by Larissa King, art by Jesse Reklaw; pre-2000; a surreal dream
I'm watching MTV. Laurie Anderson gets inside my remote control. I try to change channels
and she turns my head into an apple. I grope for a potato peeler, and carve a new mouth...

LIBERTÉ: by Marie-Claude Girondé, c. 2005?, a dream painting.
"Freedom is a gift you give yourself." But it doesn't always involve seahorses or babycarriages covered in quills...
LONG ROAD TO HEAVEN: by Edwin Muir; 1920, an epic hypnogogic shamanic initiation
Creatures in the primal sea touch my third eye, dragons cry their eyes out, I fight the Sphinx, and arrive at last in...

THE MAN WHO DESERVED TO DIE: by Jim Shaw; c.1994; a dream of moral rescue
I don't want to kill my friend, though his clothes say I must. But
a sculptor lets us sit on her metal trees and drink tea instead...

MANDALA DURING A TIME OF WAR AND DISINTEGRATION:
by Jenny Badger Sultan; Jan-Feb 2003, painting of a dream-series
My dreams were troubled by war. So I painted them in concentric rings--lotus, fire, children, animals, and nightmares...

MILK ADDICTS: by Wayan, 1974/6/2, an early psychic dream.
I'm in what seems to be a village of very conservative Muslims. But they're really alien castaways...

MUSTARD REVENGE: by Wayan; dreamed 1982/2/15, a nightmare sympathizing with the enemy
After eating iffy food, I had gut pains all night--but I dreamed of rebels with swords
fighting a fascist empire. Were my dreams siding with the food? Well, no...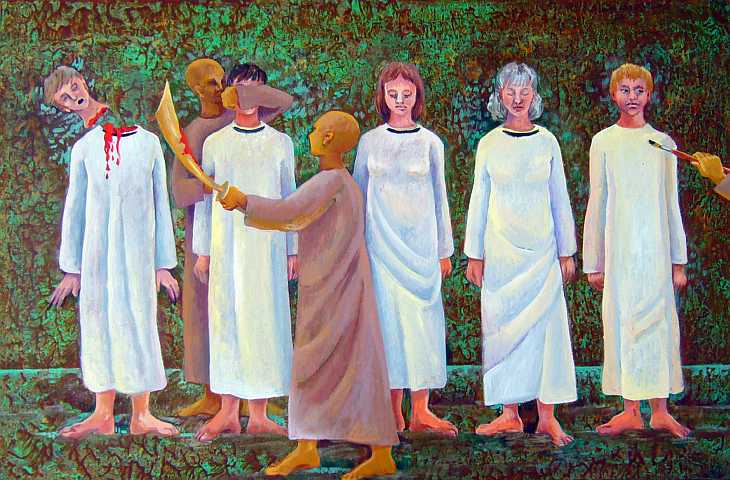 MY RITUAL BEHEADING: by Jenny Badger Sultan; 1996/3/24, painting of a nightmare
We stood meekly in line to be beheaded. I tried to accept my fate and commended myself to God... CAUTION: READ THE TITLE!

NEANDERTHAL EXTINCTION: by Wayan, 2008/7/30, an academic argument turned horribly personal
I challenge my teacher's claim human historical patterns are universal.
She challenges me by dragging us both back to the Ice Age and...
CAUTION: VIOLENCE

OLD AND IN THE WAY: by Wayan; 1999/5/3, a veiled predictive dream.
On the street called Old And In The Way, I meet a psychic I crushed on as a kid,
and then, in a hearth, fight the tentacled alien who's been stalking me...

ORPHEUS AND POOH: by Wayan; 1972/4/9, a dream echoing Cocteau's film Orphee--before seeing it
I meet my true love during a coup. We go through Hell together, like Orpheus and Eurydice--only we...

PARVATI SAWS THE WALL: by Wayan; 2013/6/26, a dream-poem about a Himalayan kook
Martial-arts student Parvati just won't fight the teacher she loves (too much!)--
not even for her final exam. Instead she gets a rotary saw and...
THE PERFECT MUSICAL GENIUS: by "Agnes"; before 1922, a Romantic romantic dream.
I'm to be martyred. I ask if the man I love can strangle me. Yes! I say farewell to our hermaphroditic genius baby...

PULL THE PLUG ON THIS WAR: by Rick Veitch; pre-1995; a surreal dream
I'm a Confederate officer. The only way to save my men is to end the war by
pulling the plug at the bottom of the lake! I dive in, fighting a Yankee, who...
RAGS TO RICHES: A FIGHT FOR LOVE: by Hyal; October 2006, a dream of courage.
I was just a street rat, but I danced with the princess at a ball, and fell in love. Three rich suitors pulled their blades...

SAMURAI BULLET: by Wayan; 1985 automatic drawing, 3x5", ink; tinted 2001.
I didn't know myself what this was about, till I had to write this note--and suddenly I got it...

SATANIC LION'S WARNING: by Eldon B.; 2007/1/19, a nightmare with poltergeist activity
I fled a demon into a shadowy construction zone where an even worse telepathic lion-devil
lured me in with soothing flattery. I woke shaking--and then things in my room began to move...
CAUTION: DEMONS, POLTERGEIST PHENOMENA

SAW HER IN HALF?: by Wayan; 2008/8/28, a warning dream-poem, Dreamverse #15
A sorceror's apprentice describes a medical procedure her teacher plans.
Yow! I sure wouldn't trust anyone to try that on ME...
CAUTION: TALK OF BLOOD AND SEX
SPUTTERNIK: by Wayan; 1979, a Beat poem: the comedy of the streets.
A street poet preaches a gospel of smallness, until he pokes at capitalism in a slightly too personal way...
STABBED ALIVE: by Roswila; 2007/10/9, a nightmare-poem
I defeat the knife-wielder, in spite the blade in my belly I can't pull out. I may have to let it be...

SUSHI CIRCUS: by Wayan; 1982/2/17, an illustrated psychic dream.
To avoid being stabbed, I flee the Psychodrama Circus. Wisely--the place explodes!
But it's the filling of the sushi roll that really upsets me...
CAUTION: CANNIBAL MAKI

THE SWORD DANCE: by Wayan; 1988/4/29, a very unlikely predictive dream.
I visit my friend Xanthe's lungs, where I meet a swordswoman in a red bikini. I get a unicorn pendant,
go lucid, and become a heron too, but next day, it's the red-bikini-swordswoman I actually meet...
SWORD IN MY BACK: by Franz Kafka; 1915/1/19, a surreal but un-Kafkaesque dream.
I slept late and felt a bit stiff, but until my friends pulled it out of my neck I had no idea...
THE SWORDSMEN: by T.A. Williams; late 1930s, a surreal dream.
Dusk. A plain. A troop of swordsmen approach me, draw their weapons...
and toss their spinning, shining swords up to the stars...

TAROT: WAKING FROM A NIGHTMARE (9 of swords): by Wayan; Tarot card, 3x5", summer 1978.
The card confirming those silly fears are true. The nightmare is real. You're in trouble...

TAROT: THE UNICORN QUEEN (Queen of Swords): by Wayan; Tarot card, 3x5", summer 1978.
Having (or living with) a sharp mind is like living with a unicorn. That horn can kill or heal...
TARTAN ACID SPIDER TORPEDO: by "Thomas Mountain"; 2008/1/31, a cliffhanger dream.
I get speared by Irish warriors, slipped an LSD dose, chased by giant spiders, torpedoed--hey, I'm not bored!

TEMEMTIM: by Wayan; 1995/3/3 and 3/16; two linked archeology dreams.
My cold-sensitive dinosaur friend makes a find at our archeological dig by thinking like the Old Ones...

THIEF OF DREAMS: by Wayan; 1996/11/29, a sexy soul-swap dream; a 22-page comic (or text w/pics)
I was a mermaid trying to find Count Coyote's stolen dreams, so I could marry my human girlfriend...
CAUTION: NUDITY, SEX, LESBIAN MARRIAGE, ANTI-FUNDAMENTALISM
THYROID: by Marc Ian Barasch, c. 1985; a set of life-saving diagnostic nightmares
In 1985 I was flooded with nightmares about heads and necks. They had an unparalleled intensity...

VOW, CHOP, DOOR: by Wayan; 1997/1/26, a psychic dreamtale.
I make a weird vow--while I absent-mindedly slice up other people's cars! The next day...
CAUTION: DREAM VANDALISM

WHEN BLOOD FLOWS, THE DANGER IS PAST
by Jenny Badger Sultan; 2000/3/23 & 2000/4/19, twin dreams of carved women
A woman is knifed by the sea. I cradle her, but she's probably dying...
For my intitiation-ordeal, I have to cut designs in my own back! I can't reach, so...

WITH WILD AND TURQUOISE EYES: by Joan-lee Woehler; c.1950, a dream of a Jungian Shadow
I slay the beautiful dragon attacking us, despite my regret.
And then, as I sleep, glowing eyes advance on our keep AGAIN...