World Dream Bank home - add a dream - newest - art gallery - sampler - dreams by title, subject, author, date, place, names

Tie Mark Up

Dreamed 2019/2/1 by Chris Wayan
Dream 1: WEIRDO PARADE
Walking through a garden between apartment towers, I come to a concrete bridge over a deep canyon. Hear crowd-noise behind me. I hastily cross the bridge and hide amid ferny rocks to one side, and watch as a weirdo parade crosses to my home tower. First a few Crystal Skulls, each striding alone--they've wizards who've replaced their skulls with glass, letting you see their decorated brains (sometimes gold-plated--showoffs!) pulsing like a bad horror movie. All guys. Probably bald guys. A drastic solution for baldness.
I find a rock bowl full of crystal pebbles and finger them. Quartz I think. Pretty, but I don't want to replace my skull with it, thank you.
Now a larger group crosses--tawny blonde furries with pointed ears, lion-manes (both male & female), fangs, slit eyes. Cat people! But not merely dressed as cats. Their ears swivel toward me. Actual cat people. They WERE humans--football types, players and cheerleaders, far as I can tell from their looks and loudness. Still, even footaballers are human. Or were. Once.
Next come several very big lizard or dinosaur folk. Must weigh a ton each! Can the footbridge take it? And the parade's not over...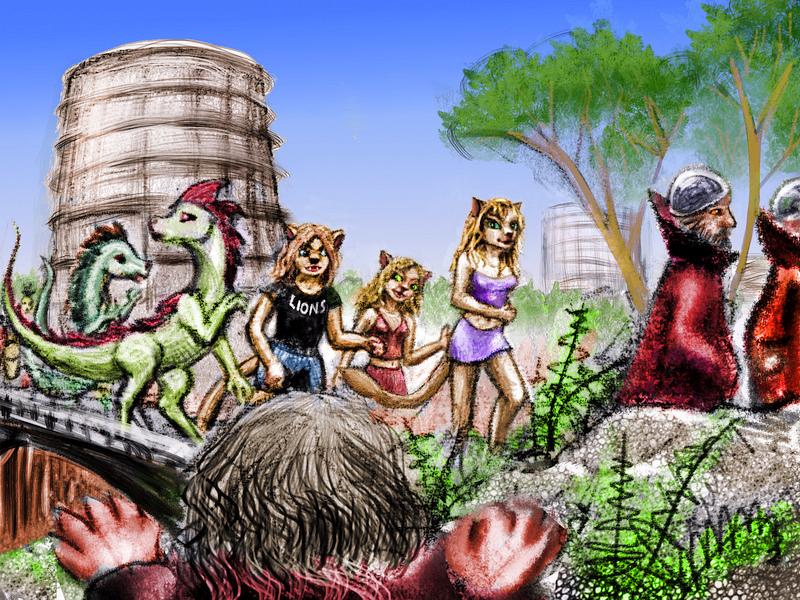 I know in the dream this isn't cosplay--knew it from the first crystal skull, baring a live brain. These grotesques are real. I'm in another time, another world. The far future?

Dream 2: CURL UP WITH FURS

I meet three furries, of different species. We're all tired and curl up to sleep. I find them all sexy but they're skittish and shy with me. One squirms away, leaving a cold gap in our curled-up knot. Finally she calms and returns; then we're all warm. I feel good. Accepted, at least provisionally.

Trust before love!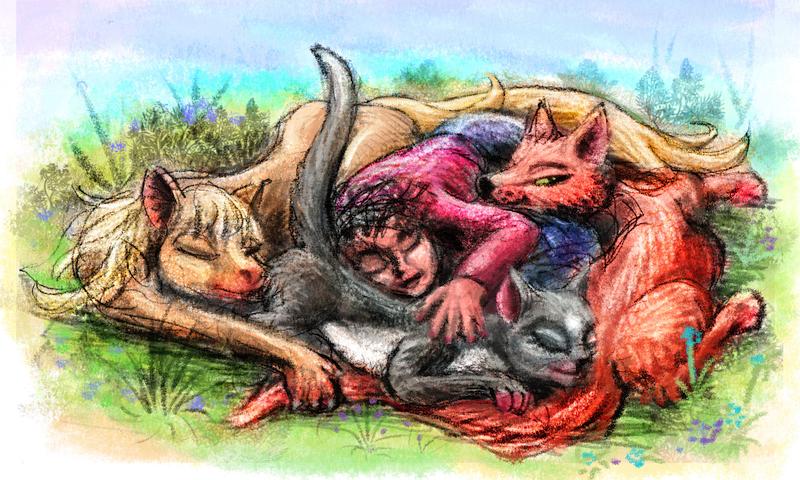 Dream 3: TIE MARK UP

I'm a young woman about 25, with a slight build--unlike my big-framed male day-body. I'm living in a different house, too--well, if you call it living. I'm just renting one end of its kitchen as my bedroom! And the kitchen door is the main entrance. No privacy at all. Hard to work, sleep interrupted, sex impossible.

Why'd I settle for this?

One night, my old friend Mark comes to visit me in my kitchen-room. But to my new smaller body, Mark looms over me--huge, tall. I feel irrationally scared of him.

Maybe not so irrationally. He's in a dress with the breasts cut out--hairy man-boobs stick through. So grotesque. And he acts grotesque too--angry and strange.

He tries to rape me, there in the kitchen. Terrified, I grab a big glass jar and hit him in the head, hard as I can. He collapses, stunned. I tie him up. Keep looping cord till he's massively hogtied, can't stop till I run out of rope. Don't call the cops. Don't know what to do with my friend who's become a monster. Exhausted, wrung out, I just crash on a sofa and sleep.

Wake to daylight. Mark's on my floor, still hogtied. My housemates, including my stern, cadaverous dad, come in and make breakfast, stepping around him. They assume I'm into bondage or S&M now and this is my idea of a date! Dad disapproves. I tell them he attacked me.

They don't believe me. "You would have called the cops right away." I was just too shaken--after tying him up I just collapsed, exhausted.

Mark's awake and glaring now. But he's not much like my friend Mark now--changed in the night. Younger, taller, leaner, muscular... deadlier. I say "I won't untie you till I can be sure you'll leave me alone. I want you out of my life totally. Forever."

I plan to call the cops and ask how to get a restraining order. As I decide I have to tell them, even if they too won't believe me... I wake.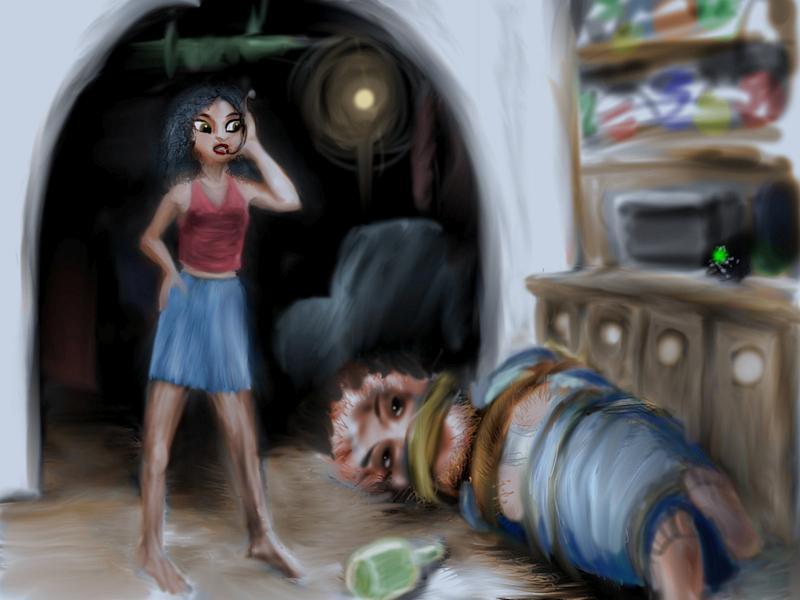 NOTES IN THE MORNING
WEIRDO PARADE

Living skulls: today I read E.D. Baker's A Question of Magic, a twist on the myth of Baba Yaga. A girl gets drafted to be the next one--Baba Yaga's not a name but a job title! Each person she meets gets the first question they ask answered truly--it just pops out. Trouble is, she feels trapped. And each oracular pop ages her unnaturally. Blue rose tea counters the aging, but one day she's robbed and loses her tea stash. Within months this teen's a crone. Problems!
Anyway, in AQOM, talkative skulls guard Baba Yaga's chicken-legged hut.
Cat people: the talking cat in AQOM (every witch needs one). But... football types? Way rarer and weirder in my dreams than lion-people.
Crystal skulls: a lucidity-prompt I do follow, but just think "it must be a dream of the future" and don't test it or act on it.
The parade as a whole: The Normal Americans, I think.
ACTION: Give up trying to fit in. Talk about bizarre dreams--that aspiration's ridiculous.

CURL UP WITH FURS

Sleep with furry creatures: kinda literal. All over my bed (and keeping me warm) are life-size plushies of dream creatures I sewed: the Foam Furs.
Warm/cold: when stressed I get chills & sweats at night; part of Ehlers-Danlos Syndrome. I suspect a mild attack in REM--enough to notice, but not severe enough to wake me.
ACTION: Curl up with other wild or feral creatures, but remember, they'll be nervous like me. Slow and gentle. An abusive childhood isn't quickly overcome--never, really--not entirely.

TIE MARK UP

Sleep in kitchen, no privacy: our downstairs neighbor has been letting her sister crash for months now on a mattress in her kitchen while she gets clean & sober. Working, but the crowding stresses both.
Girl has to hit male abuser on head: I just read Tom Holt's Goatsong--in it, Athenian playwright Aristophanes is portrayed as a violent drunk; he drags the narrator's future wife Phaedra out of her house; she has to conk his head.
Call cops, get restraining order: formal acknowledgment of a problem, asking for help from professionals?
Mark: not literal since I haven't seen him lately; just phone calls. He was abused a lot as a kid, so he may mean memories of abuse, and the resulting low trust. He does see women strangely, as 'other' (not that I can criticize; I see men as other).
Dream repeats two nights later: a cute vampire girl keeps biting me flirtatiously. But her bites HURT. I keep slaying her and she keeps reviving and biting me again. She seems to mean sex/romance--and the old pains it drags up. Interesting that the dreams have parallel scenes but flip the genders.
ACTION 1: The recurring infection I have is tenacious. No magic bullet! Just restraining it at all is a victory--maybe all I can hope for. Steel myself. Be vigilant.
ACTION 2: Abuse left me with memories and habits as bad as Mark's, and I need to eject them from my life. And that'll take hard work and professional help--can't just tough it out, go it alone as I usually do.
---

LISTS AND LINKS:
Weirdo Parade: weird dream beings - towers - parades - wizards - heads - skulls & bones - furries - lions - lizards & dinosaurs - lucid dreams
Curl Up with Furs: beds - furries again - sexy creatures - hot and cold - romantic advice - trust & distrust
Tie Mark Up: I'm Just Not Myself Today! - gender-bent & age-bent dreams - size - home - privacy - rape, violence & self-defense - bondage - false waking - dads
General: book-inspired dreams - skepticism & negativity - healing from abuse - therapy - pencil dream-art

World Dream Bank homepage - Art gallery - New stuff - Introductory sampler, best dreams, best art - On dreamwork - Books
Indexes: Subject - Author - Date - Names - Places - Art media/styles
Titles: A - B - C - D - E - F - G - H - IJ - KL - M - NO - PQ - R - Sa-Sh - Si-Sz - T - UV - WXYZ
Email: wdreamb@yahoo.com - Catalog of art, books, CDs - Behind the Curtain: FAQs, bio, site map - Kindred sites