HIS MINE: by Wayan; 1985/12/2, a wild dream epic.
I'm a hobbit seeking Henry Fonda's haunted gold mine, but I end up in a showdown in a shaman's bar...
HIS VISIT HOME: by Anonymous #26 as told to Louisa Rhine; 1924/5/15, a predictive hypnogogic dream
I saw my husband come to my bedside, smile, visit our little son in his crib.
Then he vanished. But at dawn, my husband, dressed exactly as in my...

HITLER'S ROOST: by Wayan; 1983/2/14, a fierce dream-poem hinting at a dirty secret later bared
I built a Bavarian treehouse with a great view, hoping Hitler'd confiscate it.
He did! Now he's exposed to Allied spy planes--and assassination...
CAUTION: CHILD-MOLESTING THERAPIST

HOT-AIR FEMINISM: by Wayan; 2019/1/3; a harsh political dream
The latest MeToo meme is to leave a door open at night with a heater on, so a hot-air plume marks
a refuge for women in danger--or, of course, burglars! So I stalk our neighborhood locking doors... CAUTION: DECRIES HOT-AIR NAÏVETÉ
A HOUSE BY THE RIVER: by Wayan; 2011/10/10; a possibly psychic but definitely practical dreamlet.
I find bargain homes in a hidden tract by the river. I think "My sister's house-hunting, call her!" She calls me...
HOUSE OF BLUE LIGHT: by Wayan; 1994/4/3, a dark dream.
As my grandmother is dying, I have a dream about what really went on in her house...
CAUTION: CHILD SLAVERY
HOW TO BE HAPPY: A FABLE BY TOLKIEN: by Wayan; 1994/6/16, a dream, not by Tolkien.
I'm a librarian in an English village hit by fads--new philosophies and lifestyles. I learn what works:
HUMPBACKED COAT-THIEF: by "Anonymous #15"; c.1919, an acted-on warning dream
I dreamed of a beggar in our house who had been stealing. It was a very small man with a hump. Weeks later...

HUNG BY ELDER: by Wayan; 1997/7/30, a nightmare.
A disowned heiress and I sneak onto the family estate, but they'll go pretty far to hide their skeletons...
CAUTION: VIOLENCE

HUNTERS' FIRE: by Wayan; 1997/9/8, a nightmare that may be a memory.
I'm an orphan shot at by hunters. They shoot my sister! But no one believes me...
CAUTION: VIOLENCE
HYDROGEN INITIATION: by Wayan; 1981/1/6, a shamanic nightmare.
I'm an initiate in a Sung Dynasty monastery. But I have no idea how far the hazing can go...
CAUTION: DON'T TRY THIS AT HOME

I AM THREE: by Wayan; 1957-58, my three earliest dreams.
My first memory is of being a wild horse and waking up to find I was suddenly a human child...
I CAN'T JOIN THE TRIBE: by Wayan; 1997/8/12, a nightmare on madness.
After the eco-crash, I try to join a tribe in the jungle that was Oakland. But they reject me, for good reason...

I FIGHT FOR BEAUTY: by Wayan; 1990/1/1, an incubated dream within a dream within a dream.
From Hawaii to Wyoming, I fight for beauty, always waking to find I'm someone new...
I THOUGHT HE LIKED ME: by Wayan; 1994/8/16, a dream of rejection... or worse.
I join the Seattle Tribal Council, which of course means marrying them all. The husband I'm to sleep with
on our Council Honeymoon seemed to like me, till he pulls that practical joke...
CAUTION: GROSS!

I WAS A SEX SLAVE: by Wayan; 1994/11/20, a dream on isolation
I'm a slave dancer. I run for it, and make it over the border. But my owner comes looking for me...
CAUTION: NUDITY, SLAVE SOCIETY

ICK! DOGS!: by Wayan; 1990/1/3, a Star Trek dream.
I'm Jean-Luc Picard, and my Enterprise has been taken over by a pack of brilliant, paranoid wolves...
I'M A VESTA, NOT A MAN!: by Wayan; 1980/1/6, a dream of when it's over.
I'm the animal guardian of a deep crater, but when a human girl rejects me, I set out to leave...
CAUTION: ORAL SEX, UNREQUITED LOVE, SPECISM

IN IO: by Wayan, 1981/8/7, a wild otherworldly dream with 3 illustrations.
I live on Io. It's nicer than its photos. At least inside, where the oceans are--where I grow a second head...

IN THE SHADOW OF MAN: by Wayan; 1994/3/4, a dream on how to escape the cage
I'm a lab animal who discovers voice software and creates a personal zine, testifying for our rights...

IN THE STAR; 1988/9/12 by Wayan; an epic, out-of-body, intrastellar quest-dream
I tour the heart of a red supergiant, where dreaming souls explore
their fears and heart's desires, unconstrained by solid matter...
CAUTION: SWEDENBORGIAN VISION, UNICORN NUDITY

IN THE VAULT: by Wayan; 1983/4/6, a dream of treasure.
I was a sheltered girl till I entered my family's secret ancestral vault. I didn't expect to meet...
IN WOMEN'S PRISON: by Wayan; 1994/7/23, a dream of faith.
A woman in prison loves her counselor, but she's a barely literate hooker--she knows he won't love her back...
INTRUDER: by Georges Perec; Feb. 1971, a dream unsure if it's warning, erotic, subliminal or psychic. Dream #50
Someone's broken in, prowling my apartment. Man or woman? The scent gives her away.
I wake, calling aloud "What is it?" Moments later, C. knocks on my door...

IRONY: by Wayan; 2007/6/15. A vertical comicstrip burned into (naturally) an ironing board
Iím so sick of irony I decide to get my sense of irony surgically removed and replace it with...
CAUTION: PLAYING WITH FIRE

IT IS THE ONLY WAY!: by Rick Veitch; c.1960; a child's career-predicting dream
My bedroom window is choked with dirt. I dig up to the surface
and find a man reading comics. He says 'It is the only way!'...
JACUZZI JAIL: by Wayan; 1979/10/12, a dream of parental poison.
My family has shackled my little sister in a hot tub full of carcinogenic bubble bath...
CAUTION: INCEST ISSUES AND A SLIGHTLY DYSFUNCTIONAL FAMILY

JAMIE THE SORCERESS: by Wayan; 1984/11/14, a characterological dream.
I get back from vacation to find the landlady's installed her daughter Jamie in our shared house...
JUMBLE by Nancy Price; 1948, a comically exaggerated predictive dream
A bewildering dream of a boy's borrowed bath, absconding renters' furniture and fly-eating turns real a few weeks later...
JUNG'S CELLARS: by Carl Jung, mid-1909; his dream of the mind's structure--and a weird follow-up
My home seemed antiquated but pleasant. I found a stair down to a darker, medieval floor.
A dark stair led down to a Roman cellar. A trapdoor led down to a cave with ancient skulls...

THE KENNERBIRD: by Wayan; 1973/5/20; a naive shamanic dream.
I'm a cartoon flamingo; with my sisters, the frog and the rabbit-squirrel, I meet our Maker--the cartoonist...

KIBBLE FROM HEAVEN: by Wayan; 1986/10/13, a dream on love and money.
I'm a dog princess, on a world where kibble falls from heaven. When I meet our species' guardian angels...
CAUTION: DOG NUDITY, LAWYERS
KIDNAP LI PO!: by Wayan; 1990/1/16, a poetic dream.
I dream a Chinese fable: how the poet Li Po was abucted by the gods, till they face heavenly justice...
CAUTION: ABDUCTION, DRUNKS, EVIL PUN

KIDS' WORLD: by Wayan; 1996/8/2, a dream on solitude.
The children of some castaways refuse to go 'home': to them, this shore IS home. So what won't I leave?
THE KING OF PERSIA: by Wayan; 1990/4/1, an annoying family dream.
My dad has a time machine, so he generously invites the King of Persia over. And offers him MY room...

KIOSK: by Wayan; 1994/5/1, a 4-page dreamcomic on the power of song (or illustrated text version)
I'm a sexy singing beast, the Krelkin, trying to lure the Reading Man out of his Moral Kiosk...
CAUTION: NUDITY, INTERSPECIES FLIRTATION

KISS OF A SAVAGE: by Wayan; 1993/10/28, a dream of deep time.
I wake to find I'm a museum exhibit 15,000 years from now--a primitive man...

KISS THE GLASS: by Wayan; 1979/9/23, a dream on priorities.
My parents' house is now a sex club. I walk in, and meet my soulmate! But in awkward circumstances...
CAUTION: SEX

KRELKIN AND KIOSK: by Wayan; dreamed 1994/5/1, sculpted 1999/8/31-12/11; a career-advice dream?
A sculpture of me as the sexy singing beast who lures the Reading Man out of his Moral Kiosk...
KUBLA KHAN: by Samuel Coleridge; summer 1797, an interrupted dream-poem
In Xanadu did Kubla Khan a stately pleasure-dome decree (at least till that visitor from Porlock barged in)
CAUTION: POET ON PAIN MEDS

THE LEMON SEA: by Wayan; 1982/2/22, a dream warning.
I wake up as someone else. I go through her working day, till Captain Kirk comes to take me to...

LESBOY: by Wayan; 1996/5/20, a dream on one's identity and place.
My Aunt Squid advises me to join a lesbian artists' co-op. But I'm a man! Not for long, though...
CAUTION: NUDE SUNBATHING, GENDER BEWILDERMENT
THE LESSON: by W.H. Auden; 1942, a poem on three linked nightmares
I'm told "Your lives are not in order." The golden crown's too heavy. And
I win my lover's hand--only the hand. What are my dreams accusing me of?
CAUTION: SEVERED HAND, SUBTLE GUILT
THE LIBRARY: dreamed between 1976 & 1982 by Audrey Niffenegger; an book-inspiring dream
I die. But then I find a door in my grandmother's pantry leading to a beautiful library...

LILY THE LION: by Wayan; 1991/4/7, a small psychic dream.
My housemate Lily is a lion. She bursts into my room. Stare-down. And then she pounces. So I...
CAUTION: VIOLENCE! MUTUAL GLARING! THE VULCAN NERVE PINCH!
LILY OXYGEN: by Wayan; dreamed 1984/1/19, drawn 2000; a strong psychic dream.
I'm Emily Dickinson reborn in 2100 as a breeder of hydroponic lilies, till my dad drafts me as
an Arctic energy-prospector, where I meet a ghost, a fiery Beast, a new me, and the girl of my dreams...
CAUTION: QUEER-POSITIVE, NUDE PROSPECTORS, GNOMIC DICKINSON QUOTES

THE LIMIT OF HUMAN EXPERIENCE: by Wayan; 1974/3/13, a dream of madness.
Deep in the caves, a Voice announces I've gone as far as the human mind can stand. But ahead, I see...
LINCOLN'S ASSASSINATION DREAM: by Abraham Lincoln, ca.March 31 1865, a predictive nightmare.
Lincoln dreamt his body was lying in state in the White House. A guard said he'd been assassinated. Two weeks later...

THE LOCH NESS DANCE: by Wayan; 1987/10/14, a Zen dream.
I'm chasing a guy named Will (short for Willful Conformity) through the classes of a mad dance academy...
LOCKED ROOM: by Catshall; c. 2014/10/6, a dream haiku on a classic Jungian dilemma
Dreamt of locked room, door-knob fell off in my hand when I...

LOLA: by Wayan; 1995/4/22, a wild dream: psychic, shamanic and... economic?
How the hell do I summarize this? Lola, a werefox I'm hot for, becomes my feudal Japanese brother, and her
fox-shape reappears as the truck-driving maid for a Han Dynasty lady. We counter the interdimensional energy
vampires by importing ghost unicorns on sailing ships, who have an orgy. Two weeks later it all comes true.
Literally? No, but closer than you think....
LONG ROAD TO HEAVEN: by Edwin Muir; 1920, an epic hypnogogic shamanic initiation
Creatures in the primal sea touch my third eye, dragons cry their eyes out, I fight the Sphinx, and arrive at last in...

LOON LADDER: by Wayan; 1993/5/13. A dream of rising above.
I had this near-nightmare about climbing a DNA stair up to the sky, and stepping off...
CAUTION: NUDITY, INCEST ISSUES
LOVE IS REAL, REAL IS LOVE, BUT...: by Wayan; 1993/5/30, a musical mystery dream.
Singing a Lennon love song on a planet of giant women provokes first wonder, then disbelief. Why?
LUCID FLIGHT: by Lisa Reich; March 2003, an ecstatic lucid dream of flight.
I flew as if part of the air--an otherworldly freedom so exquisite I wonder if it's attainable at all in earthly existence...
THE MAN-EATER: by Carl Jung, 1879; a precocious formative nightmare.
Jung (at age three and a half) sees a terrifying god deep underground, and is told "That is the man-eater!"...

MANSON'S CAGE: by Wayan; 1992/9/10, a nightmare.
At the end of my long, tiresome tour of Hell, it's feeding time in the cage of the Manson cult...
CAUTION: SO MEAT REALLY IS MURDER!
MARABOU MONSTER: by Rustling Leaves; dreamed 2014/3/15
I've got too many obligations, an elderly relative to care for, and now giant birds are invading my house.
CAUTION: STALKING, KILLER BIRDS

THE MARTIAN FEUD: by Wayan; 1994/3/10, a warning dream.
On Old Mars, before it died, two rival families' teasing finally goes too far, despite the whale's warning...
CAUTION: VIOLENCE

MASTER OF THE HOUSE OF DUSK: by Wayan; 1994/10/10, an initiatory dream.
To enter the House of Dusk, I must say what haunts the Pass. Even if I guess right, do I really understand?

THE MATING GAME: by Wayan; 1992/3/18, a dream of spillover.
A TV crew invades the house, setting up for a special. I didn't expect to see a president on the work crew...

MELTDOWN VALLEY: by Wayan; 1993/2/13, a dream of scrupulous balance.
A park in San Francisco has melted into a bizarre mutation-zone. Its guardian is a lonely elf-woman...
CAUTION: ELF NUDITY

MERCURY: by Wayan; 1982/3/7, dream-poem of a lost future.
Mercury didn't spin! One side fire, one side ice. We farmed in domes, between--until the sun brightened...
CAUTION: RETRO SCIENCE

MIDWAY: by Wayan; 1994/2/4, twin shamanic dream-lessons.
I'm cold and dark and disoriented! What am I doing wrong? Nothing--I'm just halfway to Alpha Centauri...

MIGRATION THROUGH FIRE: by Wayan; 1999/9/3, a dream of what matters.
I'm a shaggy primitive whose tribe's outgrown our caves. We migrate, and meet two new species of people...

MILK ADDICTS: by Wayan, 1974/6/2, an early psychic dream.
I'm in what seems to be a village of very conservative Muslims. But they're really alien castaways...

MISFITS ON MARS: by Wayan; 1986/11/20, an epic dream; the climax of the dreamseries UNICORN TAG.
From the punk clubs of Frisco to the Safeways of Si Valley to the vermilion sands of Mars,
Silky the were-nightmare fights for the Misfits against every cliche in science fiction...

THE MONEYBIRD: by Wayan, 2005/3/18, a dream-poem on renunciation. Stupid renunciation.
Inspired by a bird who weaves her nest of dollar bills, I become a sort of monk,
sweeping, renouncing wealth--but my monastery's a Silicon Valley BART station...

MOOSE: by Wayan; 1984/3/12, a dream on the blessings of curses.
How the Supreme Court gave my brother antlers, and where his soul went: where I'll go, now that I know...

THE MOUSE BANNER: by Wayan; 1986/9/4, a dream fable.
I'm a mouse with a protest banner saying "FREEDOM!", having a slight argument with a cat...
MOVING: by Roswila, 2007/10/13 and 2007/10/23; a recurring dreamku
My dreams support a radical break from my past--to let go of possessions and friends in a cross-country move...

MULTIPLEX: by Wayan; 1987/1/9, a dream on multiple dreamselves.
Inside my brain's a fractured legislature--a hive-mind where da beez disagreez...
MUSIC HEALS SMOG: by Wayan; 1994/4/28, a career-advice dream
The smog of Portland is so bad it hides the dream-towers! Only one thing will heal it: making music...
MY MUSLIM MOTHER-IN-LAW: by Wayan; 1995/3/25, a dream on repression.
How exactly did I acquire a mother-in-law snooping on my phone calls, when I don't have a wife?

MY CUBIST CONSCIENCE: by Wayan; 1982/8/5; a dream warning of overharsh ethics.
I dreamed I was trapped in the maze of my pacifist vegetarian feminist anarchist eco-conscience...

MY FLUORESCENT WORLD: by Wayan; 1997/8/16, a psychedelic dream.
I always thought I saw differently than others, but when someone builds the Goggles...

MY GATE: by Wayan; 1996/5/29; a bizarre, joyful dream; 4-page comic (or ill. text version)
The full moon rises: I become Weregirl, do the Moondance, and gnaw open the lock on my heart...
CAUTION: MOONING

MY THREE HUSBANDS: by Wayan; 1981/2/26 furry polygamy dream drawn as a 15p comic
I'm three women who marry a unicorn, a goat philosopher and a magic cat. But cops raid our commune...
CAUTION: INTERSPECIES MARRIAGE, TEEN SEX, THREEFOLD DREAMER, BAD COPS

NAIAD AND GOD-DOG: by Wayan; 1980/11/7, a manipulative dream-tragedy.
I love a Naiad who's lost her God. Tragedy strikes us. I'm devastated till I meet the aliens who explain...

NATIVE LANGUAGE: by Wayan; 1996/11/17, a dream about senses and speech.
I'm at the beach, seeing it through English linguistic filters. Or do I? Is there a language under language?

NEUTRALITY'S ROOMMATE: by Emily Joy; 2007/4/19, a spooky dream.
At our commune's new house, pandemonium breaks out when
our matriarch meets a spook. Can we live together in peace?

NIGHTMARE STUDIO: by Gary Panter, 2003, a 5-page comic of his lonely surreal dream world
Rather than a dream narrative, this is a tour through Gary's common dreamscapes--
forgotten places, empty streets. Or ones you wish were empty...

"NO ONE REALLY": by Wayan; 2019/7/13; a ghostly dream of weak borders
My new bedroom has huge windows, but no blinds. I pin up bedsheets for now--flimsy.
A girl walking by peers in. Wait--we're 50' up! She's in my room--and transclucent.
I yell "WHO ARE YOU?" She looks shocked I can see her, says "No one really" and fades...
OBISPO'S OUT OF RANGE: by Wayan; 1997/2/2, a dreamtale on ESP.
I move hundreds of miles away to escape my family's psychic broadcasts. Pathetic, but... does it work?

OCTOPIA: by Wayan; 1996/3/21, a spiritual dream-comic on play; ill. text version
I'm a stratospheric bat who finds a flying swastika. Is it creeping fascism?
Or a Hindu blessing? Neither! It's an Octopian frisbee. I return it...

ONE FRUIT REMAINS UNEATEN: by Catshall; November 1983, a journal dotted with dreams
My day life as an artist and explorer of the San Francisco underground scene
gets regularly commented on by my dreamlife...
CAUTION: SEX, BONDAGE

ORBITING THE CRYSTAL PALACE: by Wayan; 1998/1/12, a dream of making a home.
A wild flying dream lands me among feral children fighting to live in a glass conservatory of lost flowers...
ORIOLE GIRL: by Wayan; 1992/1/23, psychic dream told as illustrated poem.
While conducting a census of fairies in Golden Gate Park, I fall in love
with an abused oriole-girl, and we try to heal one another...
CAUTION: AWKWARD SEX

OUR BEST SONG: by Wayan; 1983/10/25, a decade-long dream of song and flight.
The artcops search-and-destroy our flying band, and my wings are shorn. But ten years later,
songless, apathetic, I climb through my TV--and the women of Vietnam show me a new way to fly...
CAUTION: LANGUAGE, ATTITUDE, ALTITUDE

AN OUTGROWN BED: by Wayan; 1990/10/14, a dream of growth and time.
I'm a girl in a Catholic school. But a chance photo and the length of my bed combine to change my life...
CAUTION: MASTURBATION, QUEER-POSITIVE, CHRISTIAN-NEGATIVE

THE PARABLE OF THE CAVE: by Wayan; 1993/9/18, an antisocial dream.
Plato never did say what shed the light that cast those shadows on his cave wall. I find out.
CAUTION: CUT-RATE APOCALYPSE

PARVATI SAWS THE WALL: by Wayan; 2013/6/26, a dream-poem about a Himalayan kook
Martial-arts student Parvati just won't fight the teacher she loves (too much!)--
not even for her final exam. Instead she gets a rotary saw and...

PEGASIA: by Wayan; 10MB mini-site (200 maps & images), spring 2006 to present (ongoing); tours of an alien moon.
A contest! Here's a wide, fertile world full of empty ecological niches for intelligent creatures. Design one!

PESCADERO MONET: by Wayan; 1983/11/4, a happy art-cult dream.
Monet is over 100 now, living in an art colony. I visit him, but my parents come along. Bad idea...

PETER PAN SYNDROME: by Wayan; 1995/1/10, a dream on those books...
I meet Peter Pan grown up: a stark, fey prince in exile. Why do only I see him, and the Lost Children? Oh.

PICARDIAN ANGELS: by Wayan; 1993/1/7, a dream of time and wishes.
I walk on Martinique with Captain Picard of the starship Enterprise. He's here to see a dreamy boy...
PIED MAGE: by Wayan; 1995/2/6, an architectural dreamfable.
A wizard into spots and dots invites me into his beach house, hungry for advice on his peculiar fears...

THE PIRATE TWINS: by Wayan; 1996/7/25, a dreamtale on intrigue.
I love the Twins. They love intrigue. So when a hired crocodile sabotages our Egyptian treasure-hunt...
CAUTION: BAD GIRLS

PONYBOY: by Wayan; 1982/12/9, a dream about the control room of dreams.
The child who runs with wild horses finds the secret spy-room of dreams! But no one's watching...

PORTRAIT OF LADY DRACANTHRA: by Wayan; mid-2001, acrylic dream painting.
Among the family portraits in the hall of my ancestors was this one of a formidable old... woman, I guess.

POTLATCH SMOKE: by Wayan; 1988/5/10, a shamanic dream-inside-dream 4 levels deep!
Refugees flood the spirit worlds! War looms. Wolf, Silky, Dr Who, even the Bug-Goddess of Love are alarmed.
I'm just a blonde ditz, but I help inspect realities till we trace the source: a Tlingit potlatch! Why?

THE PROWLER: by Wayan; 1997/2/4, an illustrated dreamtale.
My sister hears a prowler. I go out blind in the dark, and learn she's right. But what a strange intruder!
PUPPY: by Naoki Higashida; March or April 2015, a role-reversal dream
I walk home with a puppy to meet my mum, who addresses the dog by my name
and invites him in, while I head for my doghouse in the garden...
PURE LOVE: by Wayan; 1986/10/9, a dreamtale on the truth.
A tangle of time travel, as two shapeshifters meet and fight and love over the centuries...
PYRAMID POWER: by Wayan; 1981/2/2, a dream of love and time.
We drive into a zone of perpetual night to see Sweet Melinda, but our time-path splits! Two lives at once?

RABBIT WORLD: by Wayan; 6-page comic of a 1990/9/26 shamanic dream.
I'm a telepathic rabbit defending our world from space-laser attack. We do, but do we modernize too much?
CAUTION: IDEAS

RANGE: by Wayan; 2019/8/19; three advisory dreamlets plus a confirmation dream
My dad can't see my world. Literally can't see my world...
The House of Busyness is unlivable--busy, crowded, noisy...
Achievement takes twelve factors--any one can block you...

RAZOR GHOST: by Wayan; 1974/5/5, a nightmare posing a problem.
A man slowly walled in by neighbors till he died, is now a mad, murderous ghost.
And he's me! Can I exorcise MYSELF?
CAUTION: VIOLENCE

REFLECTIONS IN THE POOL: by Wayan; 184K total, 2 panoramas; a 1994/7/2 dream.
Night. A mirror-maze of contradictory preachings. But in the secret mermaid pool, I find love.
Then... sphinx-angels war in the air! A war of riddles. Can I, a batwinged devil, make peace?
CAUTION: SEX, NUDITY, MEAN ANGELS, AND ONE HAPPY DEVIL
REMARKABLE: by Joseph Wilkins; 1754, an out-of-body dream
Wilkins visits his parents in a dream. Only they think he's a ghost, and panic--in the real world...

A RENAISSANCE WOMAN: by Wayan; 1997/7/3, a dreamtale.
I'm an abused girl turning tricks to survive. But this is San Francisco: I join a prostitutes' co-op, and meet...
CAUTION: PROSTITUTES WITH SELF-RESPECT, OH NO!

REVOLUTION IS MESSY: by Emily Joy; 2006/4/26, a political dream
When whites invade, two shapeshifting Native American cubs resist architecturally...
ROCKET BREATH: by Wayan; 1989/2/17, a physics dream.
Floating in my parents' house, I get trapped in free-fall! How can I get a grip? (Nothing symbolic here!)

SALIA AND CHUR: by Wayan; 1989/2/25, a psychic Star Trek dream.
Our starship signs up a strange new woman whose quirks turn out to be fallout from slavery...
CAUTION: SEX, ABUSE ISSUES

THE SATURATION DIAL: by Wayan; 2015/11/7, a surreal lucid dream with a control knob!
Night. Two moons. I go lucid! Find a knob adjusting the dream's color saturation.
Dial it up--and find I'm not alone! Ghosts of pure color...

SATYR: by Wayan; 1999/4/1, a frustrating wish-fulfillment dream (yes, both).
I'm a faun, the oracle for a Greek village. But my predecessor set up rituals I want to change...
CAUTION: SEX, PAGANISM, SELF-SATYRE

SAX: by Wayan; 1991/5/31, an 8-page digital comic--a true nondream story.
Alone in my blue room, I heard sax music. Two sunbathers were jamming outside my window...
CAUTION: SEX AND SAX
SEA EAGLE: by Robert Moss, 20th century, a psychic dream
I dreamed a sea eagle I saw as a boy led me back to my native Australia, to a Dreaming place.
Later a 'spirit man' of the Mununajali in Queensland led me to the exact place I'd seen in my dream...

SEA MASSAGE: by Wayan; 1995/10/3, a puzzling dreamtale.
I can fly and breathe water. So I fly into art-rich mansions, though
not to steal--I earn plenty from undersea massage...
THE SECURITY GUARD: by Wayan; 1994/12/30, a nightmare on anger.
A crazy security guard with a deadly squirt gun kills freely over and over, for the cops keep paroling...
CAUTION: VIOLENCE

SERAFINA AND RAM DASS: by Wayan; a 2000/11/6 dream anticipating an 11/9 experience with auras
A Finnish shaman/witch gives me a lesson in night flying; in the waking world
I meet Ram Dass and sense him speak astrally before his body can get the words out...
CAUTION: HIGH MYSTICAL QUOTIENT; IF ALLERGIC, AVOID

SERRANA: by Wayan; Oct-Dec 2004, a sculpture/webtour; 60 maps, photos & sketches
A dry little world with many small seas, Serrana has at least six intelligent species
and an anarchist culture. It's a tribute to Ursula Le Guin's anarchist utopia,
"The Dispossessed", and Kropotkin's theories of biological cooperation...
CAUTION: ANARCHIST POLITICS, ALIEN NUDITY

THE SHADOW OF LIBERTY: by Wayan; 1989/7/8, a comic nightmare, possibly telepathic.
My sisters get bored with the game of power, so I watch TV--
until it melts, and a terrifying giant rises to chases me...

SHADOW PUZZLE: THE LORD AND HIS SERVANT: by Wayan; 1984/5/23, a reflective dream.
A puzzle-game of eyes and mirrors and shadows starts revealing the players' deepest secrets...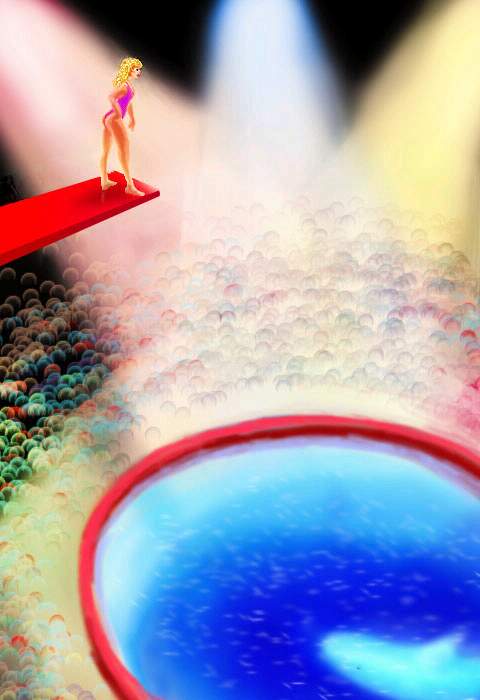 SHARK SENSE: by Wayan; 1988/12/9, a diagnostic dreamtale.
I'm a circus tiger, then a performing shark. One day, I block my human partner's high dive... Why?

SHASTA OCCUPATION: by Wayan; 1996/11/1, a dream of telepathic spill-over.
I'm teaching in a wizard's college near Mt Shasta when one astral world decides to occupy another...
A SHELLFISH EPIPHANY: by Wayan; 1996/6/14, a spiritual dream.
Our family of Japanese pearldivers is cast away on an atoll. One day, lonely, scared, I cast away fear...
SHOCKWAVE: by Wayan; 1996/7/27, a predictive nightmare.
My childhood home explodes into a vast pyroclastic cloud that comes boiling toward me, miles away...
CAUTION: DOOM

MY SISTER'S GRAVITY WELL: by Wayan; 1995/4/25, a dreamtale.
We play with worlds for balls, and gravity wells for goals. How do the worlds see it? Well... I find out.

SISTERS OF THE INTERFACE: by Wayan; 1983/12/21, a shamanic dreamtale.
My sister's beautiful; I'm plain. When she's murdered, I ride into the Interface Desert, where worlds meet...

SKUNKERPILLAR: by Wayan; 2018/4/7, an advisory dreamlet about metamorphosis
After I (sort of) foil some elf-burglars, a friendly elfwoman shows me
a black caterpillar, then the rare white-striped skunkerpillar...

SLAVES DON'T DANCE: by Wayan; 1999/8/1, a 17-page Shakespearean dream-comic (or ill. text)
Stolen by the Fairy Queen, I'm forced to nurse her great project: creating life! But her synthetic baby is...
SLEAZE: by Cecy and Wayan; 1991/7/28; subtle shared dreams.
Our ranch has arsonist neighbors who call the cops and blame us for it! Meanwhile, my friend dreams...
SLUG ETHICS: by Wayan; 1974/10/7, an undream tale.
A man who wants to love and respect all life has unwanted kitchen guests: a wave of slugs...

SMOKING REX : 25K, 1989/3/29, a dream of alliance.
A cigar-smoking tyrannosaur moves into our neighborhood, upsetting us bluebirds and vampire bats...
SNOWDRIFTS: by Catshall; c. 2014/11/5, a dream-haiku on the drought
I dream of snowdrifts too deep to get back home, even though...

THE SOLE FISHER OF THE EIGHTH NODE: by Wayan; 1986/9/25, a prescriptive dream.
The pier jutting into the sea of dreams has an 8th chakra at the end, where a lonely woman fishes for, um, sole...

SORTING HAT, DRUNKEN CAT: by Wayan; 2013/10/18, a steadily mutating warning-dream
I discover a Sorting Hat, as in Harry Potter--and it moves in with us. Our cat crawls in and plays peekaboo.
She becomes a teenager eager to get drunk at Thanksgiving--like every adult in her life. But she's not
puking drunk like them, so she must be OK! Just as I think I am--I only overwork to exhaustion.
CAUTION: DRUNK TEEN CAT, SEVERELY ALCOHOLIC ADULTS
THE SPELL BLURS WOMEN: by Wayan; 2013/5/5, a poem from a Lorelei dream
In a creepy castle on the Rhine, whenever I'm near three women, they blur
into one. A powerful spell! Now where have I seen this effect...?
CAUTION: DISSES PATRIARCHAL RELIGIONS
SPEWING WINE: by Wayan; 1992/8/17, a disgusting dreamtale.
My family moves into a damp basement. My dad just sneers at the leaks. "I'll show you REAL leaking..."

STANDING UP CITY: by Wayan; 1970? childhood imaginary world
As a kid, my Ecotopian fantasy city was hollowed out of living rock, with hanging gardens and terraces...

STINKING RICH: by Wayan; 1993/1/20, a dream about class rage. Stupid class rage.
I envy and resent a rich family's mansion so much I break in and sabotage their giant meat freezer...
CAUTION: HOSTILITY, ENVY, WASTE OF BAD FOOD

SULE SKERRY: by Wayan; 1984/8/13, a non-nightmare.
My sister and I are on a ship abandoned by its crew, heading full-steam for the rocks, when...

SURRENDER DARCY!: by Wayan; 1982/6/14, a dreamtale on pride and prejudice.
I'm Doctor Who, being chased by an air-surfer who demands we give up a reserved, proud man named...
CAUTION: MILD NUDITY

SWAN: by Wayan; 1995/4/8, a transformation dream; 3-page dreamcomic (or as ill. text)
I wake amnesic in a cabin in Alaska, in a dress printed with self-putdowns.
I track down the wizard who cursed me. He turns me into a swan! Worse?
No! His first curse was on a human being, and now I'm a bird. My mind is free!...
SWEDENBORG'S VISIONS: by Emanuel Swedenborg, 1759-1761, as told by Immanuel Kant; 3 examples of ESP
Swedenborg stuns the Queen of Sweden by whispering a secret only she and a dead man knew;
A widow begs him to ask her late husband to find a lost receipt. Swedenborg reveals a secret drawer;
Swedenborg, at a dinner party, grows alarmed by a fire that nearly burns his home--500 km away!

TAROT: DIRTY DISHES: by Wayan; Tarot card, 3x5", summer 1978.
It's time to tackle that unpleasant task. But so what? You know how. And you have gloves...

TAROT: THE YIN-YANG EARTH (the Wheel of Fortune): by Wayan; Tarot card, 3x5", summer 1979.
Earth is never shown from its axis. Polarly, it's a vast wheel, the real Wheel of Fortune...
TARZAN AND JANE IN SUBURBIA: by Wayan; 1993/7/11, a dreamtale.
Well, Tarzan and Jane are living in suburbia now, but though Tarzan's given up so much, Jane complains...

THARN: by Wayan; 2006, 45 p, 200+ ill., a nondream virtual world: maps, photos, portraits, tours
Tour a rugged, scenic moon with air and water in deep canyons sheltering a dozen intelligent species
CAUTION: ANARCHISM, NUDITY, SCIENCE

THEA'S HOUSE: by Wayan; 1987/3/23, a life-changing dream.
I dreamed the Earth Goddess invited me to live with her. She was lonely to be seen for who she was...

THEN I REVISIT SELMA CALIFORNIA: by Jack Kerouac, late Oct. 1952, a predictive dream
Strange wide brown houses are on the tracks... A knock wakes me--our train's moving out.
As we pass through San Mateo, I see them on the rails, ready to roll--the first prefabricated ranch homes.

THEY DON'T BELIEVE ME: by Wayan; 1989/10/4, an unbelievable dream with 15 illus.
My dog and I are abducted by aliens who turn us into cats. We escape & go feral to survive.
How we got back, and what happened along the way, even my own shrink refuses to believe...
CAUTION: LEWD SQUID AND KLEPTOMANIAC BUGS

THIEF OF DREAMS: by Wayan; 1996/11/29, a sexy soul-swap dream; a 22-page comic (or text w/pics)
I was a mermaid trying to find Count Coyote's stolen dreams, so I could marry my human girlfriend...
CAUTION: NUDITY, SEX, LESBIAN MARRIAGE, ANTI-FUNDAMENTALISM
THIRTY DAYS; 1980/4/15-16 by Wayan; a poem on an ill-timed premonition--or something worse
Did sex turn creepy because I sensed the madman stalking us?
Or did sex-without-love somehow summon him?
CAUTION: CREEPY SEX, CREEPIER PREMONITIONS

THOSE BITCHES! OOPS, I MEAN... GREAT GODDESS!: by Wayan; 1988/8/19, a dyslexic dream.
I live in a beehive. We must mate with dogs. I'm assigned a bitch. But I'm allergic to gods! Oops, I mean...
CAUTION: SEXUAL THEME, DOGGESS WORSHIP
THE THREATENERS: by Wayan; 1997/4/23, a small psychic dream.
Two gunmen break in, call me by a strange name, and demand I repay a loan I never borrowed...

THREE DREAMS: by Al Davison and two friends, 1985, a shared nightmare
I dreamed I checked my neighbor's flat for prowlers; I got shot and fell out a window. The same night
my neighbor dreamt she asked me to check her flat, I got shot and fell out a window; the same night
her best friend dreamt she came by and saw from street level the gunmen and my fall out the window...
CAUTION: VIOLENT ATTACK FROM THREE VIEWPOINTS

TIAMAT'S REBELLION: by Wayan; 1988/1/1, a dream about neoteny.
That day: I read of a young healer in rural Indonesia harassed by the local mullah.
That night: I dream she leads a revolution on a starship against her elders...

TIE MARK UP: by Wayan, 2019/2/1, three dreams warning lifelong habits demand serious change
1: A parade of grotesque crystal-skulled wizards, lion- & dino-people. 2: I curl up with three wild creatures but they're skittish. Patience!
3: My friend Mark's grown thuggish--tries to rape me. I hit his head, tie him up, seek a restraining order. Will the cops believe me?
CAUTION: RAPE ATTEMPT

THE TIGER CUBE: by Wayan; 1996/1/19, a mysterious not-quite-nightmare.
An alien tiger and his human girlfriend herd me to their house
and show me a cube of raw flesh... but why?
TIGERBORN: by Wayan; 1996/7/28, a dream of an alternate life.
I was raised in the redwoods in the nest of a black tiger.
Only a foster child, but emotionally, I'm tigerish...

TIMEDOORS OF THE GODS: by Wayan; 1998/2/17, a mysterious initiatory dream.
I'm mortal, yet I'm offered a residency in the Commune of the Gods,
along with Xena the Amazon Warrior and... Little Red Riding Hood?
TIME WITH A NIGHTHEAD: by Barbara Gordon Paine; c.1960, a nightmare-poem on overconfidence
A toy's delivered, unasked. A jumping jack. It tries to eat me! I defeat it but then peer in the box to be sure...
TOADFISH TOWERS: by Wayan; 1992/8/6, a psychic little dreamtale.
I'm in Houston, gawking at giant starfishy towers looming through the smog. Their shapes are familiar...

TRAILER PARK ELF: by Dolores J. Nurss; 2001/11/18; a troubling dream of incompatible realms
I dreamed I was a blond guy tracking down an elf who lived in a trailer park. She'd gone mad; elves trapped
in the human world mostly do. Awake, I sketched her, then saw she's a lot like my younger self! Disturbing...

THE TRAIN ON TIME CAFE: by Wayan, 1981/12/20, an epic political dream.
Silicon Valley goes enthusiastically fascist. I hide in a berry patch. They build a shining world, and then...

TRUSTING FOXES: by Wayan; 1997/8/20, 2-page comic of a psychic dream.
Evicted. Lawsuit. I dream a lawyer sends me a letter full of fox-girls! In East Asia, foxes
mean trouble, but these are friendly--good news is coming! I wake to find we've won a home...
TUBA BEANS: by Wayan; 1996/3/24, a Star Trek dream.
Changelings invade our orbital station, selling drugs, kidnapping teachers--but Constable
Odo can handle that. What's weird are the beans pouring out of that kid's tuba...

TWO-HEADED BEAST: by Wayan; 1997/7/31, a 5-page Gothic dream-comic (or as illus. text)
In Castle Frankenstein, will Mary Shelley wed Elmer Fudd? His two-headed monster has marital advice...

UNDER THE FUR: by Wayan, 1997/10/7; a 5-page dream-comic (or as ill. text)
A strange creature slunk into our yard, carrying a skunk lunch.
But she dropped her fur coat, and I recognized a kindred spirit...
THE UNICORN MASK OF IGNORABILITY: by Wayan; 2009/10/13, a predictive dream; Dreamverse #59
My family home's invaded by ancient Egyptian architects. So
I put on my unicorn mask and eavesdrop on their plans...

A VALLEY NEAR HOPE: by Wayan; 1984/10/17-19, an epic dream.
I wander a valley where unicorns love cyborgs but fear giant ants, who love unicorns but
fear cyborgs, who love ants but fear unicorns! And while the Three Tribes squabble, cave-monsters
sculpt them all. I set up peace talks between these four aspects of my tetrahedral soul...
CAUTION: SWEARING, DRUNK LIONS, CYBORG SURGERY, AND GOGGLE-BARFING

VAMPIGS AND SMILES: by Wayan; 1991/12/9, an advisory dream.
Our landlady was a friend, but she broke our rental agreement. Talk, compromise, or rent strike?

THE VAT MESSIAH: by Wayan; 1985/2/27, a major dreamtale.
In our cult, we lie in vats of goo till we grow wings. But we're feared more than we knew...
CAUTION: SPECIST LYNCH MOB, NUDE IN SCHOOL, LESBIAN FEELINGS, OBSCENE CARROT
VELOCIRAPTORS AND BANANAS: by Wayan; 1994/2/6, a dream.
After a visit from our landlady's angry, crazy son, a pack of vicious dinosaurs invades our house...

THE VERIZON EXPERIMENT: by Wayan; 2014/3/31, three linked dreamlets, the last self-flagging as predictive
1: A nature spirit's physics experiment proves that time forks. But how much? How dense is the multiverse?
2: I sculpt a model of this multiverse. A physicist likes it; the nature spirit likes it more. So she swipes it...
3: A 'friend' offers refugees my bedroom, crowding me and my work into a corner. I wake. The phone rings...
VIRGINIA'S TRAIN: by Emily Joy; 2005/9/24, a psychic dream and poem
We lose control of our new time machine, which seems to have its own agenda...
CAUTION: CONTEMPLATION OF SUICIDE, CHRONOLOGICALLY IMPAIRED DREAMER
VRILLASSA'S ONLY PRIEST: by Jo; 2007/2/10, a dream of meeting God
A job as the only priest on an island colony sounded perfect, only I'm the wrong religion...
CAUTION: DOGMATISTS AND DEAD BIRDS TALKING

WALL TO WALL WATER: by Larry Vigon; 2003/3/18; a surreal, beautiful dreamlet
The home we were to stay in was on fire. The next had a living room
that was shallow water, wall to wall, where turquoise fish swam...

WAPATO BIRDS: by Wayan; 1986/2/2, a subtly psychic dream.
I'm a Wapato Bird: part crane, part elk, part tree-bud. Despite my
shyness, I must lead our people's migration to the Grand Teton lakes...

WATERCATS: by Wayan; 1987/9/10; an epic, clear predictive dream
I dream I find a few 'extinct' watercats--in a slum! They talk. They say I'm one of them,
brainwashed to think I'm human. I wake, go to a dinner, and hear a tale of... watercats!

WATERSHIP DOWNTRODDEN: by Wayan; 1983/6/22, a dream of another life.
I'm an intelligent rabbit in an alphamale's harem, organizing a feminist movement...

WAYAN'S STUDIO: Wayan, 1999/10/6, ink sketches of workspace
These sketches bare my work process: I multitask, but without planning, in a
flow state. I really do just follow my bliss. Works better for me than logic.

WHAT LIES BENEATH: by Susan Vasiljevic; undated, 2012? 13?, a feminist nightmare-painting
A male real estate agent knocked on the door. The house was full of sleeping crocodiles.
She fled through the house, trying not to rouse the attention of either sort of predator...

WHAT TO DO IN A WIZARD'S LAIR: by Wayan; 2013/4/23, a comic dreamlet
A friend who's a sorceror's apprentice shows me his Dark Master's tower. And
his Dark Master's bed strewn with all his stuffed animals! I just can't resist...
WHERE'S MY MUM?: by Pauline Ramsey; 1972, a long-term predictive nightmare.
My mum's under my bed, unconscious, her head cracked. I wake knowing she'll lose her mind...

WHO ATE MY LETTUCE?: by Wayan; 1983/1/13, a short dreamfable.
An invisible monster is eating my lettuce patch.
It casts a huge blurry shadow, leaves footprints, but...

THE WILD HUNT: by Wayan; 1998/7/24, a dream of myth--or abuse?.
We're exploring the English farm we inherited, when The Wild Hunt storms over the hill...

WINDFALLS IN EDEN: by Wayan, 2000/3/30, a religio-politic dream.
I'm a part-owner of Eden, harvesting windfalls.
But a renter says his Landlord promised him all the apples...

WITCH AT THE IRON CORE: by Wayan; 1998/10/16, an engineering-proposal dream.
A witch in the future invents a new way to terraform small dense moons--and it'd work!...
WITCH, FLY FREE!: by Wayan; 1997/5/3, a predictive dream.
A castle of witches in Europe. Persecuted for centuries, they're wary.
Still, such a treasure-trove of kindred spirits! Can I find a witch to love?
CAUTION: PAGANS CRIPPLED BY SIEGE MENTALITY...

THE WIZARD'S HORSE: by Wayan; 2018/9/3, a magical dream about... toxic waste?
I'm a wizard's horse, trying to warn him about a toxic spell on a roadside corpse...
Wake into a second dream, but try to return to being a dream-mare and warn my rider...
And then wake to realize my Nightmare was warning about a home-renovation project!
WOLF AND BURROWING OWL: by Wayan; 1999/12/5, a scientific fairytale dream.
A burrowing owl invites her friend the wolf over for tea. It sounds very Beatrix Potter, but...

WOLVES EVOLVE: by Wayan, 1983/11/11, a Darwinian dream.
After seeing 'Rear Window', Grace Kelly and I are wolf children in a pack that's quickly evolving into...
CAUTION: VIOLENCE, CHILD SEXUALITY, WOLF-SLANDER
YOU NEED TO FIND HER: by B. Bigham; 2010/4/27, a strong psychic dream of history
I walked into a 19th century home--and family quarrel. Decades passed in seconds; then
the house burned--with me in it. Two years later I learned the house and its history were real...
YOU'RE THE EAGLE: by Wayan; 2000/2/8, a dream fable.
A hermit spends his life wrestling with shadows. His only disciple becomes famous. Who was happier?

ZENNA CAT: by Wayan; 1972/10/13, a childhood dream.
My cat dissolves in the shower. I follow her to a telepathic world. I want to stay, but can I?...