World Dream Bank home - add a dream - newest - art gallery - sampler - dreams by title, subject, author, date, place, names

Dance of the Sun

Dreamed 1972/10/23 by Wayan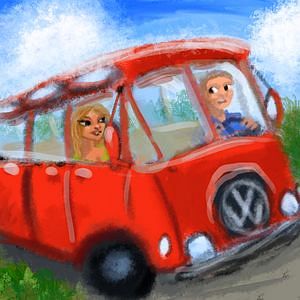 I'm driving our red VW bus. Heidi, a friend of my sister's from down the block, rides in back. I feel too shy to talk much with her--she's just too sexy.
Stop at a gas station, buy $3 worth at 30¢ per gallon, but it only takes 3.5 gallons. Hey, it's a VW, they don't use much. Drive around the pumps and straighten out the bill with the gas station attendant, who turns out to be my uncle Hugh.
Then my Uncle Otto comes out of the trees at the edge of the lot; says "can you ease her forward?"
"Yes, but I don't have the key, so if the ignition's not on already, I can't start it." It's running though, keyless, so I start forward slowly, into the forest.
Climb a gravel road. Soon it's dirt. Very rough. Below, ferns cover the valley floor in virulent green. Must drive with care because the back hatch is open; cargo may fall out. We're on a trading mission, bearing samples.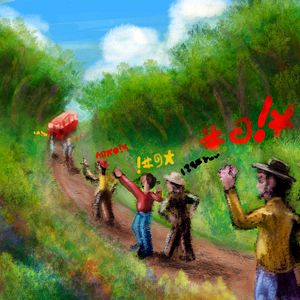 Hulking, twisted men in ragged flannel shirts and torn Levis come the other way down the road. I think they're Gold Rush miners! Unsuccessful ones. They glare bitterly at me. I yell "Howdy!" to one. He snarls as if I'm to blame he went bust. Why?
The terrain gets harsher, the road rougher, the men more openly hostile. They're all slogging away from our goal. There's a final steep, stony grade up to a group of five or six men at a pass, where a huge gate is sealed. It's made of some clear substance, thick and very high. Glass?
Through the wall, we can dimly see the far side. The forest ends: a rough lava-flow, mostly bare, drops steeply down to a deep blue bay. Looks hot. Looks like Hawai'i. Sailing ships moored at small piers. A bitter man says "Why do you want to go down there, anyways?"
"Because we got trade-cargo."
"You can't carry cargo back over THIS crummy road!" snaps the guy.
"No, by boats in the bay. We may run the whole trade that way from now on, so nobody has to use this road."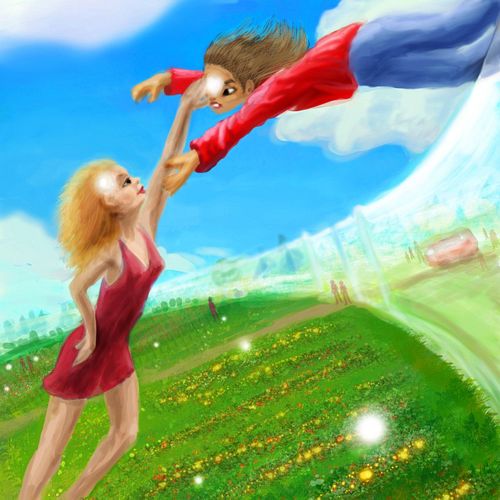 The gate opens and a girl peers out warily. Examines us. "You can come in," she tells me, "but SHE can't," pointing at Heidi. And shuts the gate again!
Whaaaat?
Maybe it's a test of some kind. Could I trick them into opening their pearly gate? I doubt it. She seemed pretty definite. Can I climb the wall? Smooth glass. Hm. Climb a tree that overhangs the wall? They're alll carefully trimmed. These folks are careful...
I vividly picture just leaping right over the glassy wall, even though I'm no high-jumper.
Instantly I am, for real! Soar like a Calaveras frog. The glass wall a ribbon of light below... Green lawns and gardens. Strange little pale sparks floating around. The girl, grinning up at me.
The girl grinning up at me snatches one of those floating sparks, and as I dive by her to land on the turf, she slaps it into my head!
Now I can see that she has a light inside too. A soul! So does that gardener. That woman with the basket...
Wait, didn't I have one before? Are souls added?
"Okay!" she says. "You can explore now, you have a soul--and curiosity." She seems very unguarded now. Open and loving, in fact.
Her people live in undersea apartments in the tropical bay. She invites me in. A hard dive for me, seems effortless to her. Can these folks breathe water, or do they just hold their breath as long as dolphins?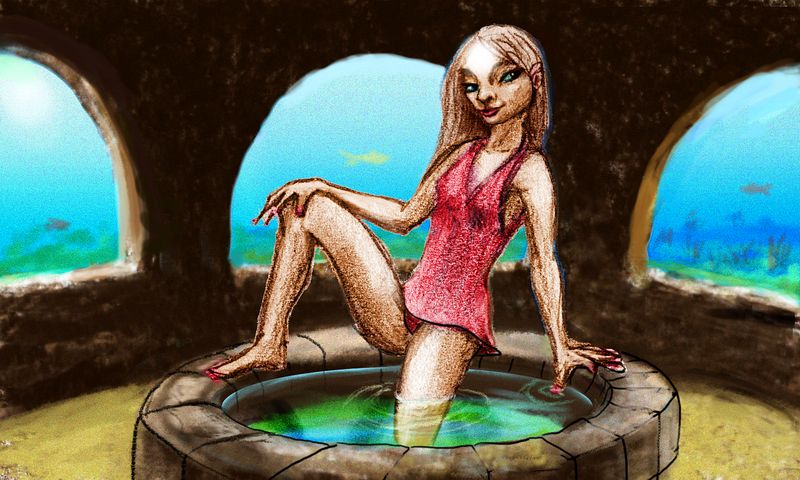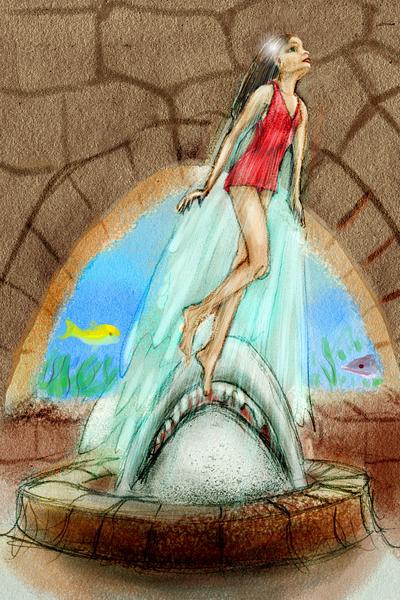 Later, I swim out in the bay with her. Wow; she's seal-fast too!
A sharklike thing starts to chase her. Immediately a Rescue Boat comes to save her, but instead of catching the shark or pulling her out, it just slips between them. She goes fully underwater and speeds up even more.
Wow! She outswims the shark's top speed, reaches her underwater docking chamber and bursts from the pool so fast she shoots right out of the water like a dolphin leaping, eight feet in the air.
Good that she does, too, because the shark's great maw comes snapping after her legs.
Later, she explains "Our people can ride the shockwaves right under the rescue boat like dolphins. You can outswim anything that way. So there's normally no need to get out to escape predators. That particular shark is just persistent."
I admire her people's live-and-let live attitude, even with a problematic shark.
A couple of leading elders come in. The older is barely more than a skeleton now; the skull keeps slipping sideways and falling off, oops!
"Say, I'm sorry to leave now, but I've got to go to Heaven. You..." and the Eldest points at the Younger Elder, old and bony but not a bare skull, "You can lead now."
"But I'm not WISE enough," says the other skull-elder.
"No thoughts in that skull smarter than mortal thoughts," says the dead leader.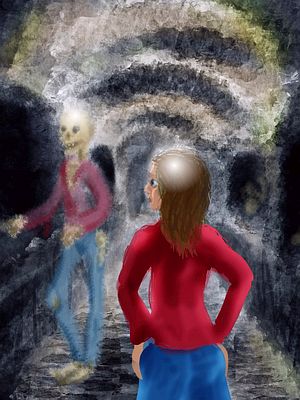 "Um," says the other, baffled. Which skull does the dead one mean? Was that a compliment? Taken literally it sounded more like 'Yup, you're stupid'...
The dead one is not interested in clarifying. Walks his bones to a niche, puts them there, mentally brushes off his hands on his jeans (her jeans? Skeletons, who knows?), and leaves. That little soul-light flits off into the clouds...
I love this girl. But then they're all very loving, these Gate people, not like my family (reserved, complicated, sometimes downright devious), or the gold miners on the road (just plain mean).
I start musing aloud. "This place would make a great play or movie" I find myself saying. "A love story (that part's real enough) about a Gate-girl and a foreign man (real enough, me and you). The girl loves everybody--him in particular but everyone really, as her people do (true). But he, from his culture, can love only her (don't worry! Not true!) A nice mess! Such a parable about wide and narrow love might loosen things up a bit in my own society."
We're walking through fruit trees outside the Building of the People, Gate Girl and me. Work out part of the play--a musical. The fruit-eating scene. Need someone to play Heidi, the Girl back Home, and other roles--need actors who can sing.
Oh, here's Heidi now! She's with another girl I know from school. Gate Girl finally let them in and slapped souls in. Good.
They join us. They sing beautifully.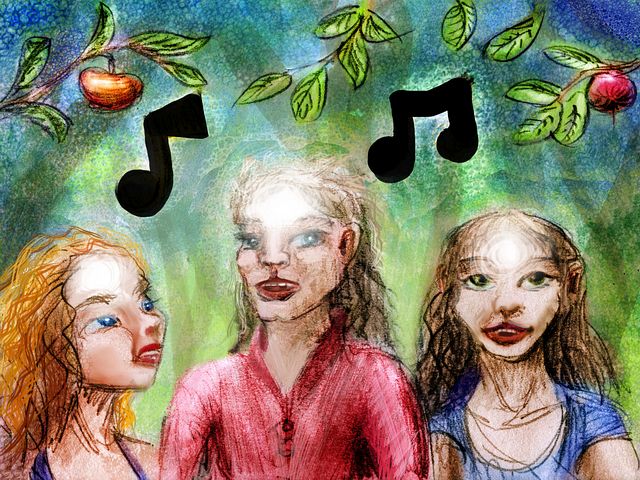 What they sing, what the fruit-eating scene is:
THE DANCE OF THE SUN

A small world orbits a big red sun. It's hot. Native beings wander in the Dance, led by the tall graceful woman, the Demigoddess of the Sun.

She says "Dance backwards; three steps, then two; don't look backwards, or at least only at the end, on the last beat." Our feet keep coming down between rocks or on steep drops on the fifth beat, but we keep dancing.

A sacred mountain above; too hot to climb right now. Three beats then two, three then two, backward to the valley, and through.

At the other end it opens out and down to a bowl-plain. At the valleymouth stands an altar-rock with crinkled seeds or dried pods on it. Eat some--and taste Gate-fruit! And see my Gate Girl.

On the rock, the wrinkled seeds have turned to full, red fruit again!

The Promise will be fulfilled.
NOTES IN THE MORNING
No key, so can't restart the hippie bus if it dies:

Literal: a few months ago on a road trip, the solenoid or starter on this bus died and we couldn't find parts, so we drove nonstop from Twin Falls to Seattle, since we couldn't restart the motor if it died.
Symbolic: I act like a placid "mellow" hippie, but as a result I'm fragile--stall me and I can't restart easily.

Bitter men: my rage over being bashed in school age 10-13? Or over the misery of the male role--all that competition I hated? Gold Rush references hint it's about work/money.
Miners: a pun? "Mine! Mine!" Again suggests they're business, competition, greed.
Heidi, sexy, warm friendly: Healthy relationship? Loving a sane, normal girl?

The (pearly) gate: to the spirit world?
Gatekeeper: my anima, female side of me? Strong.
Heidi can't come in: spiritual part won't let me have sex with anyone normal? Might become too attached to the gold-grubbing world?
Heidi/normal people are soulless? But so am I--yet when I get in, a soul's supplied. And Heidi gets in later anyway. Was this spirit girl jealous, wanted me all for herself? Notice I left Heidi readily enough to get in...
The enclave: maybe dreamwork itself? Is a soul not a birthright, is it built up through work and withdrawal from the world?
Sharks: devouring fears from family, from school? People here don't slay them, just outrun them--coexist comfortably.
Fruit: Eden?
Heidi finally does get in: sex and healthier relationships will appear--eventually! But first, the soul.
Livable planet with big red sun: if it were a real red giant, this world would have fried--red giants engulf their rocky planets. This "big" sun must be a red dwarf--the planet's just close in. Such stars last much longer than yellow suns like ours, so, like Heidi eventually getting in, this may mean patience too--working long-term.
Goddess-sanctioned music: what I'm meant to do?
Backward steps: need to regress to problems at age 2 or 3?
Happiness after hard road: my life will eventually heal from the abuse I faced! Though maybe only after I'm dead...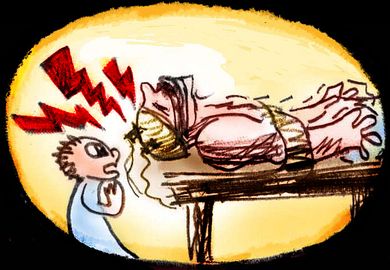 45 YEARS LATER
This dream, over 900 words long, was a new record for me at age 18. Not just epic; so vivid and strange! The visible soul-spark; the palpable hatred on the road, the radiant love in the enclave; flying, diving and the bizarre episode of the shark; the talking skeletons; and above all the compelling rhythm of the climactic Dance of the Sun.
Uncle Herbie sells fuel: my quest may be "fueled" by buried memories of his abuse in Agnews State Mental Hospital, infamous for lobotomy & electroshock. When I was two years old, he lived with us for months and told me all about the abuse. I buried the memory but dreamed for decades of prisons, wires, torture, monstrous psychiatrists. Eventually I asked my folks why. They lied to hide how they'd helped lock him up; took decades to pry out the bare facts.
Letting sharks chase you: I suspect the coexist-with-sharks scene is about my parents. Bright, scholarly, creative, absent-minded, rather neglectful, very complex, rather unreliable, occasionally treacherous--as with Uncle Herbie. Present and absent, supportive and abusive...
The cost: I learned not to trust authorities, to be skeptical of love, to expect murky motives and sharp teeth...

Heidi excluded at first, lacks spark: my parents (and school psychologists) lied about something else besides the horror story of Uncle Hugh: they told me an IQ of 187 was high but common, maybe 1 kid in 100. It was really about 1 in 100,000; even in fast-track classes I was not among intellectual peers, and (as I later learned when I read up on child prodigies) we find it hard work relating to 1-in-100 gifteds, and can barely communicate with normal folks at all. I wasn't an ugly duckling; but I wasn't a swan either. I was a phoenix--or pterodactyl--told I was an ugly duckling who'd grow up to be a swan. Wasn't gonna happen. And didn't.
What happened to Heidi? Well, I met her 40 years later. She was friendly, chubby, happy... and normal. Her beauty and sunny personality as a teen had blinded my lust-crazed brain to the fact that intellectually she was average--just lacked much spark. I now think the dream was an early warning not to chase normal girls. In the 45 years since, I've never had even a successful fling (let alone a longer-term relationship) with anyone non-gifted... and not for lack of trying. Mutual bewilderment. Nothing in common.

Auras, soul-sparks: If IQ elitism make you grit your teeth, here's a worse interpretation: the dream's about those of us with second sight. After all, in the dream I literally can see soul-sparks. The enclave is the minority with strong ESP! At 18, I couldn't reconcile my scientific worldview with the sixth sense that runs in my family (example: the telepathic nightmares of The Murders). So the dream rubs our freakiness in my face: "most people are trapped in a dog-eat-dog material world. Seeing another realm threatens the value of their struggle; you enrage them."
Souls aren't inherent, they're inserted: at the time I knew nothing about shamanism. But this scene's a classic shamanic initiation! As with calculus or ballet, a lot of hard prep work is needed before magic works. A long hard road past hostile moneygrubbers in a slow, fragile vehicle, an impassible gate, and then... you leap the wall and someone slaps your head full of light.
Dancing backward to music with a 5-beat, 2 than 3:

The dream may be prompting me "Step back to age 2-3." That's when my uncle Hugh told me that my parents had locked him up to be tortured. A buried memory that needed unearthing! It made me hide my multiple deviances, for fear they'd fry me like they fried Hugh.
But what if it was literal? Today I'm in a band, The Krelkins, who actually play dream-inspired songs with complex beats including 3/2 and 5/4. The dream may have been looking 16 years back--or decades ahead, too.

---

LISTS AND LINKS:
THE JOURNEY: road trips - Uncle Hugh - quests - epic dreams - anger - trade & business
THE ENCLAVE: gates, locks & keys - outcasts - leap into flight - souls - auras & such - community - love & soulmates -
UNDERSEA: underwater dreams - house & home - swimming - sharks - monsters - hunted! - You Are Lunch -
THE ELDERS: leaders - elders - skeletons - death & the dead - transformation & metamorphosis - caves & the underworld
DANCE OF THE SUN: other worlds - dream beings - animal people - aliens - music & dance - goddesses - babes, hunks & sexy creatures - shamanism - initiations & rituals - fruits & vegs
YEARS LATER: Uncle Hugh - brains - dream dating-advice - ESP in society - ESP examples - transcendent dreams - pencil & digital dream art - the Krelkins

World Dream Bank homepage - Art gallery - New stuff - Introductory sampler, best dreams, best art - On dreamwork - Books
Indexes: Subject - Author - Date - Names - Places - Art media/styles
Titles: A - B - C - D - E - F - G - H - IJ - KL - M - NO - PQ - R - Sa-Sh - Si-Sz - T - UV - WXYZ
Email: wdreamb@yahoo.com - Catalog of art, books, CDs - Behind the Curtain: FAQs, bio, site map - Kindred sites