GIRL IN THE WATER: by Wayan, 2000/10/7, twin dreams on... dreamwork?
In a California with no Gold Rush, wild deer carry a girl over the San Fernando hills to a secret dream-pool...
Then in a Japantown hotel lobby, that girl floats meditating in a huge aquarium, as local gossips lie about her...
GISLI THE OUTLAW: by Gisli the Outlaw of Iceland; 966-973, a series of at least ten life-saving dreams.
Gisli had two spirit-wives who told him in dreams how to evade the bounty-hunters after him... for 13 years!

THE GOLDEN JOCKSTRAP: by Wayan, 2017/3/8, a dream on meeting your own needs
I walk into a Castro fashion shop with Dalí décor--golden underwear draped on branches. And my friends all buy it...
CAUTION: UNDERWEAR JOKES

GRAMPA HAS SPOKEN: by Wayan; 1989/11/26, an oracular dream.
In a worldwide junkyard full of warring spooks, I finally meet the one whose message I need to hear...

HARPY: by Wayan; 2000/6/2, a stylized nightmare
Day: my dad's paralyzed, and my car's stolen.
Dream: a harpy made of steel, like a living Calder statue, holds three girls hostage...

HERE COMES A CHOPPER: by Wayan; 1983/6/20, an absurd nightmare on families and denial
The helicopter over our family home dipped too low. CRASH! Burning rotors in the living room.
I call 9-1-1, but the pilot scolds me! "Calling over a little explosion like this!"...

HUBRIS EGGS: by Wayan; 1981/6/11, a short defiant psychic dream.
I'm wrapping my heavy-metal eggs too slowly, so the Judges sink my car! I set out to get revenge...

IGUANA: by Jim Shaw; between 1987 & Jan. 1995, two surreal dreamlets on water damage
In a flooded room, an indignant iguana scolds me, while
my wife Marnie checks her computer implant for water damage...

JILL THE PEST: by Wayan; 240K, 2001/2/22, a nondream visionary comic.
I had a headache and couldn't sleep. I started drawing, and asked for a cure. And a cartoon angel said...
CAUTION: TANTRUMS, MASTURBATION, JUNKFOOD, ANGELIC SCOLDING

KISS THE CATS: by Wayan; 2008/8/23, a dream poem, Dreamverse #13
I have to kiss a mess of cats. Fishy, but I'm not chicken. My real beef is with the humans watching...

LBJ'S CAGE: by Lyndon Baines Johnson; May-June 1924, recurring teenage nightmares
I found myself in a cage, with only a bench and piles of old books. A mirror showed
I was old and twisted with speckled skin. In horror I said "I must get away"...

LION NOW, EMANCIPATION LATER: by Wayan; 2000/5/5, two dreams as my dad lay dying
We must hunt a man-eating lion to protect our village--our village full of slaves. But
we can't deal with our looming social crisis now--gotta focus on the lion in front of us..
CAUTION: SLAVERY, ILLNESS, DEATH
LOSE YOUR TEMPER!: by Emily Joy; 2007/8/30, a tough-love dream.
My mom hires a therapist who really goes for my throat! Why is she so desperate to make me lose my...
CAUTION: OVER-THE-TOP CONFRONTATION

MARTIAN ROBOTS DRESS LIKE FREUD: by Wayan, 1975/8/16, an absurd dream... predicting my life-path?
Martian robots pester me. I flee through the Asteroids, leaving chaos, cratering Earth.
Years later on my farm, a bot shows up disguised as Freud. I start mudslinging...

MOM POPS: by Wayan; dreamed 1983/8/5, a dream of bursting your inner critic
The flood sickens my fuchsia bush. My mom says my fuchsia is hopeless,
but I make up a treatment. When it works, well... read the title.
CAUTION: PUNS, EXPLODING MOM
THE MOUNTAIN, THE MAGPIE AND THE ROAD: dreamed 2013/3/26 by Rustling Leaves; epic nightmare
I visit a beautiful artificial mountain with loved ones--but my demons overwhelm me one by one.
CAUTION: SUICIDAL FEELINGS, BODY HATE/FATPHOBIA, IMPLIED RAPE

OTTO SUGGESTION TO A HORSE IN DRAG: by Wayan; 1995/8/8, a dream on body image.
My uncle mocks the racehorse he rides! Smears lipstick on this stallion, calls him a wimp... Why?
CAUTION: DREAM PUN, NUDE MARES

OWL AND CHEESE: by Wayan; 1986/7/8, a dreamtale of a Shadow?
An alien woman makes a mess of our economy, ecology, world--but insists she wants to be my friend...

PIGEON WITH A HEAD LIKE QUEEN VICTORIA: by Jenny Badger Sultan, 2010/7/26, painting of a pest
A pigeon with a head like Queen Victoria's keeps fastening onto
my clothing with its beak, and this nagging feels familiar...
THE PLAY: by Georges Perec; February 1972, a dream with the attention span of a gnat. Dream #108
I'm in a play. Fear, then joyful sex, then ranching, then silly hats, as a man drones on
about class struggle. Weird chairs, pingpong, coffee, impossible double utterances.
At last I tell friends my dream--backwards. Then I write the dream down on slices of cheese...
CAUTION: SEX ONSTAGE

POIROT AND THE DICKHEADS: by Wayan; 2010/3/11, a comic antilucid dream
I'm detective Hercule Poirot, but I'm losing my case and my brain--
because my story isn't by Agatha Christie, it's a knockoff...
CAUTION: PINK DILDO HATS

PRECAMBRIAN SLEUTH, or, MURDER BY ATMOSPHERE: by Wayan; 2013/6/2, a warning dream-poem.
I'm a detective sent to a research station two billion years ago. The ancient atmosphere isn't just anoxic, but deadly...

REFLECTIONS IN THE POOL: by Wayan; 184K total, 2 panoramas; a 1994/7/2 dream.
Night. A mirror-maze of contradictory preachings. But in the secret mermaid pool, I find love.
Then... sphinx-angels war in the air! A war of riddles. Can I, a batwinged devil, make peace?
CAUTION: SEX, NUDITY, MEAN ANGELS, AND ONE HAPPY DEVIL
REJECTED! SO?: by Wayan; 2004/11/12, a dream of political AND personal advice
A middle-class girl rejects me, and a newsman declares my politics irrelevant. "Liberal media" my ass...
CAUTION: POLITICS
SHARK, SHARK, SHARK!: by Thomas Madden; 2017/12/3, a non-nightmare about fear
I'm in a crowd as a man lectures about sharks. He points at me and asks "Shall I throw him in with...?"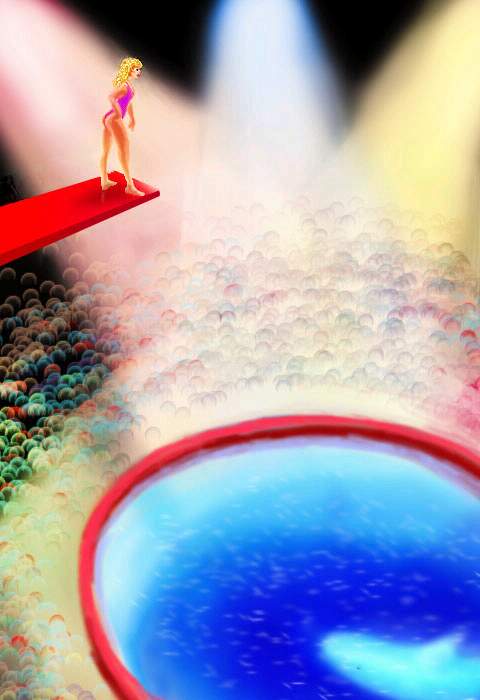 SHARK SENSE: by Wayan; 1988/12/9, a diagnostic dreamtale.
I'm a circus tiger, then a performing shark. One day, I block my human partner's high dive... Why?

SING TO MY ALIEN FRIEND: by Wayan; 2017/3/7, a dream-poem on... alienation?
From a crowd in a gym, I sing to my wolflike alien friend. But she can't recognize my voice--
too convincing a falsetto! I slide deeper, but she's already tuned me out as femme...

SONG FOR THE DANCE: by Roswila; 2000/11/25, a dream-poem
A joyful song about ignoring your critics. The last stanza came verbatim from the dream...

SOUL-SHARD: by Wayan; 2000/10/5, a rebellious dream
I'm a wolf in an ashram studying astral travel with my spirit-wife. Our souls blend a bit, enraging our guru, a Hindu god, who sends demons to make us stop this spiritual "contamination"...

SPIN-WITCH, or, THE MAGIC LIGHTER: by Wayan; 1985/8/10, a dream on defensiveness.
Leona's a fighter--she rejects compromisers like her husband,
her friends, that miniature catgirl she's been sitting on...

A SQUIRRELY BUSINESS PLAN: by Wayan; 2009/3/2, a Looney-Toons dream
I'm slow to catch on that this skunk's slidetalk isn't a business pitch; it's about seduction...
CAUTION: ABSURD LOVE TRIANGLE, KINKY SKUNK

STAGE FAILURE: by Dana Hughes, art by Jesse Reklaw; pre-2000; a dream of surrender
I'm on stage. I have to sing. They just stare. I try dancing. Stony silence. At last,
a second me leads me offstage, saying "You can only fail so many times"...

TAROT: GUILT TRIP: by Wayan; Tarot card, 3x5", summer 1979.
When the card CARING comes up reversed, you get this crucified guy floating over your bed...
THORHADD'S FOURTEEN DREAMS: by Thorhadd of Berufjord, c.1018; 14 warning dreams (2 predictive)
Thorhadd's been slandering his enemy Thorstein. He spars publicly with a dream expert who
interprets all his dreams as: "Your tongue just can't quit!" True. It can't...
CAUTION: VIKING EGOS (AND BODY COUNT)

THREE CATS: by Georges Perec; April 1972, a painful comic dreamlet. Excerpt from Dream #114
I go home. Our cat is there. And a small, striped new cat. Then I step on a third, much bigger cat.
This is just one cat too many! "This cat's not real!" I say...
The nonexistent cat leaps up and scratches my face.

TURTLE HARANGUE: by Wayan; 1997/1/29, a warning dream.
A man mocks a turtle he caught, calling it "inept"--he knows adept turtles, then?
I distract this fisherman-ranter while the turtle quietly tiptoes...

THE UNMAKING OF A DANCER: by Wayan; 1994/5/22, a journal extract on dance and health.
Ballerina Joan Brady quit, but ten years later, returned. Her body rejuvenated! So what can MINE do?

AN UNPRODUCTIVE SQUIRREL: by Wayan; 2013/11/27, an advisory shamanic dreamlet
I meet a giant squirrel. But a Committee condemns the squirrel for such long periods
of unproductive hibernation. The squirrel points out a teensy flaw...
THE VERA DREAMS: by Vera and Wayan; 1991/7/25, a pair of shared/psychic dreams.
I dream my friend Vera's ordered to just study & sleep--no play, no dates. Then I dream
Vera works with gangs as an armed peacekeeper. I tell her; Vera's shocked, since...

VERITY, TOO?: by Wayan; 2000/11/5, a comic nightmare with good advice--if I avoid Freud!
My painting mentors turn on me! My mom accuses me of hereditary inferiority,
and then my art teacher Verity sits on my head and intones...

THE VERIZON EXPERIMENT: by Wayan; 2014/3/31, three linked dreamlets, the last self-flagging as predictive
1: A nature spirit's physics experiment proves that time forks. But how much? How dense is the multiverse?
2: I sculpt a model of this multiverse. A physicist likes it; the nature spirit likes it more. So she swipes it...
3: A 'friend' offers refugees my bedroom, crowding me and my work into a corner. I wake. The phone rings...
VICARIOUS ATONEMENT: by Anna Kingsford; 1880/1/31, an anti-shamanic dream
Kingsford meets a girl who burns herself as a protest. K flips out! Rants instead of helps...
CAUTION: RANT MIDWAY YOU'RE BETTER OFF SKIPPING
VRILLASSA'S ONLY PRIEST: by Jo; 2007/2/10, a dream of meeting God
A job as the only priest on an island colony sounded perfect, only I'm the wrong religion...
CAUTION: DOGMATISTS AND DEAD BIRDS TALKING

WIND OF SELF-HATE: by Wayan, 1976/4/4, a dream warning of family brainwashing
Biking around blindfolded and half-naked, I fight winds
of self-criticism and self-hatred that only I can feel...

"YOU'RE INSANE": by Wayan; 2000/5/26, a nightmare warning I've been misjudged
DAY: My dad's sick; my mom nags me to visit, though hospitals endanger me (weak immune system).
DREAM: My parents say "You're insane. We must take control of your life." So I divorce my family...
CAUTION: UGLY FAMILY VALUES