ERMINE, or, GOTHMOG'S GHOST: by Wayan, 1984/2/11, a gender-bent & species-bent warning dream
I'm a delicate little ermine-chinchilla whose best friends are all sewer rats.
They push their food and drink on me, and I nibble to be polite...


ERODE THE MUTING CURSE: by Wayan, 2014/8/23, a dream of... health advice?
The Fairy Queen curses me, taking away my language. Recovery often takes years,
but I practice hard, and speak full sentences--the next day. The Queen is slipping...

FIVE ELVISH DREAMS: by Dolores J. Nurss; 2005/6/10-2005/6/19, an incubated lucid-dream sequence
1: I visit Elrond and Bilbo in Elvenhome, but overthinking traps me in a timeloop;
2: Elrond says he renounces seriousness for joy, and plans a great, inclusive party;
3: I feel unworthy, but set out on a desert quest with Elrond's young apprentice;
4: I meet joyful, drunken, singing elves but hide in a tree, too shy to join in;
5: I meet a nervous elven singer and a dolphin trapped in a tiny pool in my bedroom...

FORESEE ELECTION, BUT BLIND TO SEX: by Wayan; 2012/10/23, a predictive dream only half heeded
On hearing the election results, a girl at Esalen Hot Springs joyfully dances naked
around me. I heed the dream's prediction about the election, but not about...
CAUTION: NUDITY
(A DREAM OF) FRANCES SPEEDWELL: by Robert Graves; 1971?, a dream-poem
Decades ago, I was too shy to talk to Frances. Now I'm going upstairs with a girl who looks like her but...

FUNERAL FOODFIGHT: by Dan Schmidt, art by Jesse Reklaw; pre-2000; a revenant dream
As they lower me into my grave, mourners don't throw dirt but--cottage cheese? I toss it
back, starting a huge foodfight. I climb out to join the fun. Only the poor pastor looks lost...

THE HACKER: by Wayan; 1993/11/23, a psychic nightmare.
Who's the demon? Mom, the Dragon, the Smiler, the Rubber Ax Murderer, the Doll Princess or the Tiger?...
CAUTION: VIOLENCE

HANK AND THE BENGAL TIGER: by Jenny Badger Sultan; 2009/2/27; painting in the Box of Dreams
At a party, I go hunting for my husband and find him on a terrace facing a Bengal tiger...
A HAUNTED HOUSE INDEED!: by Anna Kingsford; 1887/4/12, an epic ghost dream
I was warned about soul-devouring art in the haunted house, but I didn't expect to find an entire art salon...
CAUTION: ABSORBING ARTWORK
HEADLESS NAG: by Jules Engel; 1975/5/25, nightmare of a corpse that won't quit
Every good party leaves a corpse or two. Cleaning up, I behead this one and drag it across the street to the
empty lot where we leave them. But its throat forms a toothless mouth and starts biting--well, gumming me...

I GUESS IT WAS MY BIRTHDAY PARTY: by Jack Kerouac, early Oct.1952, a transcendent nightmare?
My party's a slow disaster. Talk, booze, pot, sex--nothing works out.
What will Mom think? At last, trapped in an office, I get the Message...

IN EL RIO: by Wayan; 1994/5/14, a singles nightmare.
My family runs a bar. I walk through, after hours. Who are all these silent figures?
CAUTION: UNHEALTHY READING FOR SINGLES

IS SOLITUDE HOLY?: by Wayan; 1998; a watercolor on dreamwork's isolation.
When I compare Julia Butterfly up her tree with those hermits who sat atop columns in the desert...
ISLAND LOVERS: by Sunshine; 2015/9/14, a horror-film dream gone soft?
They sneak off from a party to have a thresome, but monsters try to harvest their organs! Inept monsters...
CAUTION: SEX (OFFSTAGE)

KICK THE FAERIE BELL: by Wayan; 2015/8/20, a bizarre dream-poem with a practical message
I'm a courier with a message for the Faerie Queen. Can I avoid all these
colorful, sexy, crazy distractions, and focus on the Studio and the Gong?

KISS THE GLASS: by Wayan; 1979/9/23, a dream on priorities.
My parents' house is now a sex club. I walk in, and meet my soulmate! But in awkward circumstances...
CAUTION: SEX

THE LION KING: by Wayan; 1995/9/15, a time-travel dream on social skills.
When I wake up, animals rule the earth. How do they cope with specism? Well, it's complex...

LUCID FLIGHT TO VALHALLA: by Paul W. Coca; 1991/4/5, a lucid flying sex dream
I realized I was dreaming, and flew. My friends were skeptical and held me down a while, but
soon I had them flying too. At a party in Valhalla, I made love with a mer-angel named Ealswa...

THE MELTING POT: by Wayan; 1982/7/30, a nightmare on fitting in
They were swimming in the glowing, molten pool of the Melting Pot, and beckoned me to join them...
CAUTION: SUICIDE SOUP?

MORTAL MIST: by Wayan; 2010/10/19, a lucid dream of a new sort for me
I miss all sorts of cues I'm dreaming, but I ignore my conviction I'm awake and try to fly anyway...

NIETZSCHE EATS A TOAD: by Frederick Nietzsche; c.1867; a (prodromal?) nightmare
At a party, Nietzsche told a young woman "my hand was transparent as glass;
and a fat toad sat on my hand. I felt compelled to swallow it, and did..."
CAUTION: CREEPY DREAM, CREEPY FOLLOW-UP

THE NIGHT OF CHANGE: by Wayan; 1994/2/8, a dream on the order of deep changes.
Festival night in a strange town, where, one night a year, dancing in the street transforms you into...
CAUTION: SEX TALK

ON THE NIGHT RIDE HOME: by Wayan; 1971/11/8, a dream-poem on pushing past prejudice
As I bike home at night, strange doings--a rat is sacrificed; gemstones delivered;
an astronaut shows glowing alien objects; a second rat becomes a... firefighter?

OSENTO: by Wayan; 1991/2/15. Digital painting based on a dream.
Osento is a bath house that my friends all love. But women only. So I dream I change sex just to...
CAUTION: NUDITY, GRATUITOUS HAPPINESS

OWL TAVERN: by Dan O'Neill; before 1994/11/2, a dream-comic
I stumble into a bar where the TV stars from my childhood are
drunkenly arguing metaphysics--Howdy Doody, Beany & Cecil, Flipper...
PARLOR GAME: by a bridge builder's wife; pre-1961, a party game interrupted by a real premonition
I had fun playing fortuneteller, until David. My hands turned icy. I asked "Where are you going?"
PAST PARTY, FUTURE HUSBAND: by a Georgia woman; before 1959, a psychic dream fusing past & future
I dream a stranger's observing a lawn party at a house I've never seen.
My beau recognizes the party from three years ago, but not the man. Two years later...

PEGGY'S CAKE: by Jenny Badger Sultan; l998/10/26 , a nightmare plus surrealist painting.
At a party I meet a friend I thought was dead. She's become a small talking rabbit made of cake, and I...
CAUTION: UGH
RAGS TO RICHES: A FIGHT FOR LOVE: by Hyal; October 2006, a dream of courage.
I was just a street rat, but I danced with the princess at a ball, and fell in love. Three rich suitors pulled their blades...

RED HORSE: by Katherine Kean; undated, 2016? 17?; a dream demanding... solitude? wildness? more?
I was at a nice party when a wild horse burst in and insisted on taking me into a wilderness...
CAUTION: CUT-OFF ADVENTURE?

RING OF WHITE WATER: by Wayan; 1983/1/30, an epic astral dream.
I'm a raft guide on a circular river that may just be reincarnation. A girl in my
tour group jumps ship: she dreads the white water of rocky relationships ahead...
CAUTION: METAPHYSICS, SEX, WEAK SOULS...

THE RIPPLE EFFECT: by Wayan; 1992/6/19, a double dream of false judges.
A dream of innocent incest turns guilty, growing to a war of ghosts versus a cult of sexy but dishonest psychics...
CAUTION: INCEST ISSUES, NIGHTMARE
ROSEMARY AND FRANCES: by Rosemary; 1936/6/5, a predictive mood & flash saves one of two sisters
Gloom clung to me & I skipped the dance. I begged Frances to ride in a safe car, but coming home...

SATYR AND TWILIGHT: by Wayan; 2018/9/1, an epic dream perhaps foreseeing the pandemic
A spell kills off nearly all humanity and mutates the rest of us. Now I'm a satyr living in a co-op home with
unicorns, dryads, cattaurs, and shy vampires. Thing is, I prefer the Apocalypse to what came before...
CAUTION: NUDE CREATURES

SELF-POSSESSED: by Wayan; a 2000/7/10 dream of a ghost (representing the World Dream Bank itself?)
In a pizzeria, customers walk blindly through a ghost; briefly possessed, they
echo his moods. But for such an insubstantial figure, he seems strangely stable...

SEX FIRST, THEN SADNESS: by Wayan; 1998/12/12, an advisory dream.
At a party, a sad girl attracts me. But to reach her, I must have an affair with a sexy, frustrated writer...

THE SEX WORKSHOP: by Wayan; 1997/4/6, a dream on taking the next step.
The teacher of our sex workshop picks me for a demonstration in front of everyone. Gulp...
CAUTION: WELL WHAT DO YOU THINK?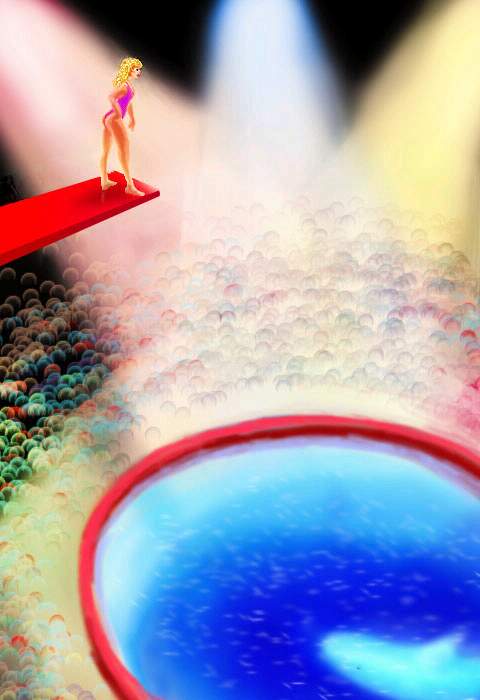 SHARK SENSE: by Wayan; 1988/12/9, a diagnostic dreamtale.
I'm a circus tiger, then a performing shark. One day, I block my human partner's high dive... Why?

A STAGE FRIGHT: by Wayan; 1993/11/17, a revealing automatic writing-trance
I froze in dance class when I followed anyone else's script. Was it fear? A dragon inside said no...
SUN AND MOON: by Katherine Mansfield; 1918/2/9, a dream-story
I dreamed a short story--even its title. Not that I read it. No, I lived it, through the eyes of a 5-year-old...
SWIMMING IN VAN GOGH'S OCEAN: by Amandaclay; c.2011/12/9, a dream of love & beauty
On a cruise to Catalina Island, I find friends, a boyfriend and a magical sea of color...
TARZAN AND JANE IN SUBURBIA: by Wayan; 1993/7/11, a dreamtale.
Well, Tarzan and Jane are living in suburbia now, but though Tarzan's given up so much, Jane complains...
THREE SEVENS: by George Antheil; summer 1932; a psychic dream in a dreamlike time
I dream I play 7 and win three times at Monte Carlo. I wake and head for the casino with witnesses...

THREE WOMEN IN ONE: by Katherine Metcalf Nelson; 1984/2/5; a multiple-self dream
Intimidated by stylish friends, I split in three--myself, and a small child
nursing at the breast of an earth-mother priestess--or Earth herself...

THROUGH WALLS TO SEX CLASS: by Wayan; 2017/6/22, a therapeutic/advisory dream
A trusted college advisor says "Slip through cracks in the classroom walls!"
There's no direct route. Yoga to taekwondo to ballet to... a sex workshop!
CAUTION: ABOUT SEX

THROUGH THE WIRES: by Wayan; 2007/9/16, two surreal contrasting dreams
I meet some alien wolves, and see the social scene as they do--pack, status issues. But then...
I cross a pasture & slip thru a barbwire fence, as I explain cows, wires & organic life to an energy-being...
TO KEEP HIM COMPANY: by Robert Southey; 1806/1/23; a Wertheresque suicide dream-comedy
My German friend resolved to commit suicide, so I agreed to poison myself to keep him company...

TOWER OF THE MARTIAN DEAD: by Wayan, 1983/7/7; a dream-poem of an exo-Valhalla
Climbing a mountain on Mars, I reach a hall where I'm transformed into a cryophilic being.
Then I feast on methane soup with the heroic Martian dead...

TRADING PLACES: by Wayan, 1983/6/20, an intuitive flash overriden by rational relatives
My sisters want to see Trading Places in the nearest theater. I ask to go to a more distant theater
but can't explain why. We arrive to find the showtime had a typo. Gotta wait an hour. At last we file in,
the lights go down...and out. Totally out. Power failure! They can't fix it. I never did see that movie...

TSUNAMI: by Wayan; 2011/12/31, a feverdream, maybe predictive, definitely prescriptive
I cling alone to the cliffs of Lands End, so when the tsunami hits,
I survive. Had I been in the low, crowded Sunset district I'd be dead...

TURTLE HARANGUE: by Wayan; 1997/1/29, a warning dream.
A man mocks a turtle he caught, calling it "inept"--he knows adept turtles, then?
I distract this fisherman-ranter while the turtle quietly tiptoes...

UNDER THE FUR: by Wayan, 1997/10/7; a 5-page dream-comic (or as ill. text)
A strange creature slunk into our yard, carrying a skunk lunch.
But she dropped her fur coat, and I recognized a kindred spirit...

UNDER THE HEIRESS'S SPELL: by Wayan; 1997/7/30, a wish-fulfilment fable.
A glamorous heiress casts a spell that spills over, so I can have anyone I see! But who DO I see?...

THE VAT MESSIAH: by Wayan; 1985/2/27, a major dreamtale.
In our cult, we lie in vats of goo till we grow wings. But we're feared more than we knew...
CAUTION: SPECIST LYNCH MOB, NUDE IN SCHOOL, LESBIAN FEELINGS, OBSCENE CARROT

WOLVES EVOLVE: by Wayan, 1983/11/11, a Darwinian dream.
After seeing 'Rear Window', Grace Kelly and I are wolf children in a pack that's quickly evolving into...
CAUTION: VIOLENCE, CHILD SEXUALITY, WOLF-SLANDER

"YOU'RE SO GAY!": by Wayan; 2013/1/24. A psychic dream of a time-short oracle.
I'm in line to meet a shockingly accurate psychic. But she's running late, so as I frame my question...
CAUTION: I'M NOT GAY BUT I SURE AM QUEER